'That Groove Was Undeniable': Making Earth, Wind & Fire's 'All 'N All'
Larry Dunn, the keyboard player and musical director of Earth, Wind & Fire, talks about recording the band's album All 'N All, which turns 35 this week.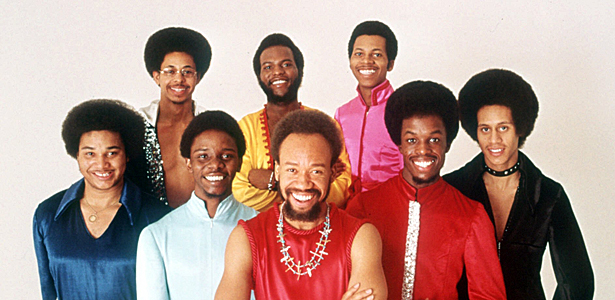 AP Images
By the middle of the 1970s, Earth, Wind & Fire had had already become one of the most influential forces in popular music. But after putting out the classic, platinum-selling albums That's the Way of the World (1975), Gratitude (1975) and Spirit (1976), they still had more in them. The 11-song All 'N All, released in 1977, would go on to be their most commercially successful record and equal anything else in their catalog for critical acceptance. Led by the masterful harmonies of group founder Maurice White and Philip Bailey and the unforgettable melodies and arrangements by musical director Larry Dunn, Verdine White, Al McKay, Fred White, Ralph Johnson, and the Phenix Horns, the album would win two Grammy awards and produce songs that live on now both on their own and as sampling material for today's hitmakers.
On the occasion of All 'N All's 35th anniversary this week, I spoke with Larry Dunn about recording it.
---
How did you become the musical director for the group?
On Last Days and Time (1972), I did all of the keyboard work on that album. The next album, Head to the Sky (1973), I began writing with Maurice. I wrote "Clover." I wrote the intro and bridge to "Keep Your Head to the Sky" and on different stuff as well. It was just a natural progression to become musical director for the group due to the fact I was the keyboard player. I really enjoyed it. I was the youngest member of the band during that time and I was able to create the interludes and make sure the music was correct. I tell people that Earth, Wind & Fire is one of the greatest bands of all time. We had extremely talented musicians, but at the same time we rehearsed and rehearsed and rehearsed. So—you put together brilliant musicians and cats who weren't scared, but cats that enjoyed rehearsing. That's how you end up with our sound and those shows that were just phenomenal.
Related Story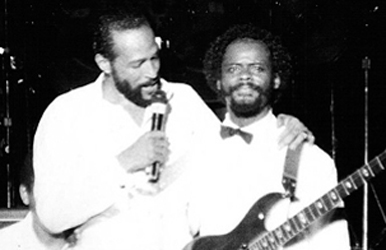 By the mid-1970s, the group was essentially a juggernaut. Coming into the making of this album, what direction were you trying to go with the sound?
It wasn't something that I really thought about. It was just the music that was coming through us. I think this was the second album after Charles Stepney passed. I was renting a little house out in Culver City. I made a little ghetto studio in the back with just eight tracks. I bought a drum set from a pawn shop. All of the guys would come over every day. Freddy would be on the drums, I would be on the keyboards, Verdine and Al would be there as well. Some of the stuff we wrote together, like the song "Magic Mind." We just came up with the groove in that little room.
Other stuff, like "Be Ever Wonderful," I came home one night from hanging out at some clubs and I wasn't really sleepy. It got later and later and something was coming up. It was raining outside and I stayed up all night and went into the studio. By noon, I called Maurice and told him I had finished all the music for the song. I played it over the phone and he was like, "Yea!"
There wasn't really a formula. We really had to pull together. It was a great loss, losing [Stepney], but I was around him a lot and I learned a lot from him. I remember asking him about arranging because I was also blessed at 21 to start my producing career with Caldera then Ramsey Lewis, Tequila Mockingbird, Stanley Turrentine, Lenny White, and stuff like that. When I asked him about arranging, he told me, "Hey, man. Sometimes when it comes to arranging, it's not so much what to write, but what not to write." Space is an important part of music just as important as the notes.
Could you talk about the creative dynamic that existed within the group?
I tell people often that I don't live my life based around astrology. There are some basic little traits or whatever, but Maurice did a lot of astrological charts and stuff. The thing that was ironic is the fact we were exact opposites to the day. He was born on December 19th and I was born on Juneteenth, which is June 19th and a celebration of the emancipation of slaves. With us being born on the exact opposite day and him being a drummer and me being a keyboard player was cool. He played drums for the Ramsey Lewis Trio. I grew up playing all types of music from The Temptations, James Brown, The Stylistics, The Dells, Santana, Jimmy Smith, and on and on and on. I learned jazz music at a young age, so when Maurice and I would get into a room together, he had a sense of rhythm and I had the chords and notes. Maurice would always say, "When me and that cat get in a room together, something good is going to pop off." And, luckily for us, that was the case. The Phenix Horns added an amazing spark to our group. Johnny Graham had a great sense for blues music and incorporated it within the group. Andrew Woolfolk grew up with Philip and I in Denver. Freddy White was Maurice's half-brother and Verdine's brother. He actually played with Donny Hathaway when he was 16. Ralph Johnson was great as well. It was just an amazing aggregation of musicians who were very serious about their music.
Can you describe the studio atmosphere when the group was constructing this album?
Sometimes I would bring a tune in and the music would already be there. So—we would go into the studio and we would cut what was called the basic track. The basic track would be the rhythm section. It would be either Maurice or Fred White or Ralph Johnson on drums. On bass would be Verdine, Al McKay, and Johnny and me on keyboards. And we would cut the basic track. It would take about six hours usually. We had to make sure that groove was undeniable and that everything was tight. Back then, they didn't have hard disc recording. We were recording on two-inch tape. Once in a while, take No. 3 from the intro to the bridge was killin' and then from the bridge on out it wasn't as great. But on take No. 6 from the bridge on out would be great. The guy would take the razor blade and cut the tape and then splice it together. And, then we would have our masterpiece: the basic track.
After the basic track, we would start overdubbing. The basic track is like a cake and the overdubbing would be icing and sprinkles on the top. After we got that great groove from beginning to end, then we would start overdubbing additional keyboards, synths, horns, other guitar parts, and background and lead vocals. From that point on, we would mix it by making sure each part was at the right level and at the right panning in the speakers and the right compression. It was definitely a science.
How was each song developed by the group during the recording process?
I think Sonny Burke was one of the writers on "Serpentine Fire." He was a great writer and he had the basic premise behind it. Maurice came up with the beat for it on the drums. Tom Tom was on the horns, Al McKay and I were on clavinet and Fender Rhodes. What can I say? From the minute we started doing this track, we knew the groove was locked. After I heard the track with Maurice and Philip's great vocals on there, I knew it was great.
My first production was with this wonderful group called Caldera. It was a Latin fusion band. It had Eddie Del Barrio as one of the band members. Eddie Del Barrio and I were really close. I introduced him to Maurice, and they wrote the song, "Fantasy." I remember being in the studio playing the Rhodes and he played the grand piano. I played the grand piano on the intro to the song. The same thing happened with Philip and them going in there and killing the vocals.
Stuff like "In the Marketplace (Interlude)" was music that we were doing between takes of songs. We would start jamming a little bit and before you knew it we had something that sounded great. Then we would go in and add some overdubs to it and mix it nicely.
We were at my house working on grooves and we started striking up one of those grooves. Maurice and I worked on the intro to "Jupiter." Between Maurice and Verdine that bass line was deep, man. The rhythm on it made me say, "Who does that?" It had some serious funk on it.
When Maurice was writing the lyrics to "Magic Mind," it actually started out with the title "Midget Mind." It would've been great with that title as well because it was talking about how people do stupid stuff. It was a brilliant move on his part because he didn't want to get caught up in that political incorrectness.
I had my little eight-track set up at home when I was working on "Runnin'." I sat up one afternoon and I just started writing and I came up with this song. I got with Eddie [Del Barrio] and we worked together on it. We took it to Maurice and he loved it. We went into the studio and finish it up. Al put on his guitar part, which was killin'.
As you look back 35 years later, what makes this album more special than the others you've done as a group?
It is a great feeling to know that people love your music. To hear other musicians cover your songs is great as well. With Earth, Wind & Fire, we made sure there was no filler with our albums and shows. People work hard for their money so you have to give them their monies worth. To me, All 'N All was definitely one of the main pinnacles for the group along with That's the Way of the World. All 'N All was the first album after we lost Stepney. It ended up being a great work of art.