Sunday May Be the Beginning of the End for Eli Manning or Aaron Rodgers
Legacies are on the line for the Giants' and Packers' almost-legendary (and aging) QBs.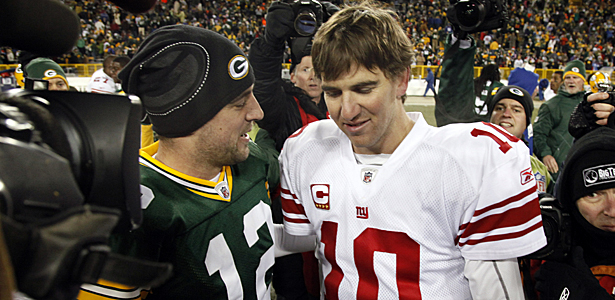 AP
This Sunday night may bring the highest-rated pro football game of the regular season when the Green Bay Packers, led by the reigning Most Valuable Player, Aaron Rodgers, face the New York Giants and Eli Manning, the 2011 Super Bowl MVP. There's a lot at stake in this game. The two teams, each excellent in recent seasons, have been surprisingly lackluster this time out. Both will be looking for a win Sunday to shore up their unexpectedly shaky shots at the playoffs this year.
But there's something more at stake: their quarterbacks' legacies. Both Rodgers and Manning are at the cusp of enduring greatness, but their quests to attain Hall-of-Fame status are only going to get tougher after this game.
Aaron Rodgers is probably the best QB in the NFL today. I say probably because a cloud still hangs over his reputation. Common wisdom holds that to be regarded as one of the all-time greats, a quarterback must win at least two Super Bowls. That's grossly unfair, especially since some of the best passers ever to play the game—such as Dan Marino—never won even one, at least partly because they played most of their careers for inferior teams. But that's the way it goes.
After winning the Super Bowl for the 2010 season, Rodgers seemed to be on the verge of his second ring in 2011. He had put in one of the greatest QB performances ever, throwing 45 touchdown passes against just six interceptions, topping the league in the NFL's quarterback ratings at 122.5, and leading NFL passers in the most important of passing stats, yards per attempt, 9.2—roughly the equivalent of a hitter in baseball finishing with a .400 batting average.
Then came the NFC Division playoff, in which the 15-1 Packers had to defeat the 9-7 Giants. Suddenly, Rodgers could not hit men wearing yellow helmets with consistency; his 26 completions in 46 attempts produced just 264 yards and an average of 5.7 yards a toss, 3.5 yards less than his average. It was his worst performance of the season. Eli Manning, who had a much inferior season, overall was uncanny, throwing 33 times for 330 yards and 3 TDs as the Giants beat the Packers by 17 points.
To many NFL fans, it was a shock. This was thought to be the game where the Packers took a giant step towards establishing themselves as a dynasty reborn—under Vince Lombardi, Green Bay won five NFL championships in the 1960s—and Rodgers walked off with his second ring, joining the ranks of the immortals. Some of his bad game against the Giants could certainly be credited to New York's fierce pass rush and confusing coverages, but those are things a great quarterback is supposed to be able to deal with. All afternoon, every time he set up in the pocket, Rodgers resembled like a Fox News analyst looking at the Electoral College map this past election night.
The irony, of course, is that the quarterback who went on to win his second Super Bowl ring was Manning. In 2007, Eli had a good-but-not-great season, throwing 23 touchdowns but leading the league's passers with 20 interceptions. After finishing 10-6, Manning and the Giants caught fire and stormed through the playoffs to take the championship, beating the undefeated New England Patriots in the Super Bowl, 17-14.
Related Story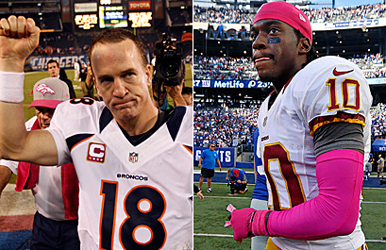 In 2011, the Giants, who had come very close to missing the playoffs altogether, did it again, rolling over the opposition for four straight wins as Manning, with laser-like efficiency, threw nine TD passes in four games with just one interception.
But Eli has been terrible this season. The NFL ranks him just 22nd among the league's 32 starting QBs. He has thrown almost as many interceptions, 11, as TD passes, 12, and his 7.3 yards/pass average is his lowest in four seasons. If he loses on Sunday, it's very likely the Giants won't make the playoffs at all and Eli may find himself following in the footsteps of Jim Plunkett.
Plunkett, who played from 1971-1986, was an unspectacular QB during the regular season, but he had the golden touch when it came to the postseason, going 8-2 as a starter for the Raiders, including two Super Bowl victories. He is the only passer in league history to have two Super Bowl rings without being voted into the Hall of Fame. Manning, who is 9-3 in postseason play, could be headed for a similar legacy. Of course, if he wins a third Super Bowl, Hall of Fame voters likely won't care that he never led the NFL in passer rating.
However boyish he looks in his many TV commercials, Eli Manning is no longer young for a football player. He is 31, and by the time the postseason starts he will have turned 32. Aaron Rodgers will be 29 next month and may soon be past his physical prime as well. Though he's the highest-rated passer in the league, his numbers overall are considerably down from the ones he posted in 2011, and the Packers have already lost two more games than they did in all of 2011. I'm not implying that this is the last hurrah for either Manning or Rodgers, but it is likely that the loser of Sunday night's game isn't going to win much of anything this season, and football won't be getting easier for either man as he gets older.