The peculiar yet delightful hybrid may just be the best animated movie of the year.
Paramount Pictures
Years ago, when writer/illustrator/filmmaker William Joyce wished to tell his kids stories about Santa Claus and the Easter Bunny, Jack Frost and the Tooth Fairy, he realized to his dismay that he didn't really have any stories to tell. "There wasn't a mythology," he explained in a radio interview last year. "We have a mythology for Superman and Batman and the Green Lantern and all those guys, yet the one group of fellows that we grew up believing in—actually believing in—have no unifying mythology."
So Joyce set about writing one. The result was his Guardians of Childhood series (consisting of two picture books and three novels to date), which in turn inspired the animated film Rise of the Guardians. Given that the movie was precipitated, essentially, by the question Why do we know more about Green Lantern than the Easter Bunny?, it's little coincidence that it takes the form of a children's fable reimagined as a superhero flick. The surprise, rather, is that this peculiar but delightful hybrid just may be the best animated offering of the year.
Related Story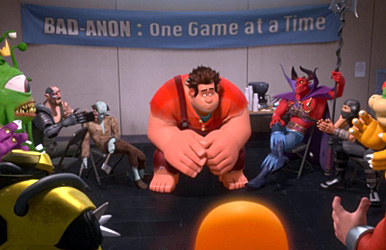 Here we are introduced to Santa as a massive Slav, his Popeye-scale forearms tattooed, Russian-mob-style, "Naughty" and "Nice." (The voice, served up with goodly portions of ham and relish, is by Alec Baldwin.) Joining St. Nick are Bunnymund (Hugh Jackman), an oversized rabbit from Down Under with a penchant for pastel eggs; Tooth (Isla Fisher) and her army of humming-bird-ish dental retrievers; and the Sandman, a doughy yet doughty keeper of dreams, silent as Harpo Marx.