Inside the Arizona Fall League, the MLB's Grad School for Top Prospects
Why is baseball the only major sport to rely on a sprawling farm system?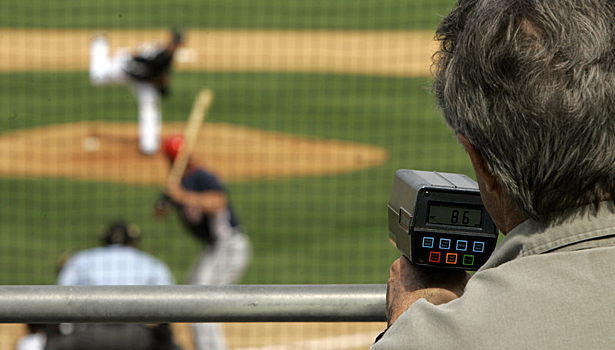 AP Images
Tonight at Salt River Fields, the stadium is so quiet you can hear the whiff of the bat missing a curveball. Rows of pro baseball scouts sit behind home plate, radar guns trained on the mound. They note the velocity, spin, and shape of the pitch. When the hitter connects with a fastball, they click stopwatches, timing his dash to first base. A couple hundred fans cheer from the vacant grandstands, a pack of kids prepare to chase the next foul ball, and scouts scribble notes on their clipboards, pausing to spit tobacco into plastic bottles.
MORE ON BASEBALL
Here in the Arizona Fall League, far from the flashbulbs of the World Series, the future stars of Major League Baseball are trying to make the final leap to the big show. For 20 years, the AFL has served as an off-season "graduate school" for top prospects. In some ways, it feels like the culmination of an antiquated system: While football and basketball have relatively straightforward paths to the pros—paths that lead through the NCAA—baseball stands apart with its scaffolded leagues of minor-league farm teams. But spend some time with the players and scouts at the AFL, and you start to get a sense for how that grueling, long-odds system is uniquely suited for this grueling, long-odds sport.
"You have to pay a price to learn the game," says Roland Hemond, a three-time MLB "Executive of the Year" credited as the architect of the Arizona Fall League. A trim, white-haired 82-year-old, Hemond has been around baseball long enough to tell stories about the Milwaukee Braves and the early days of video. Folks at the park treat him like a national treasure. We sit on the third base line, watching the Surprise Saguaros, a blended squad of Cardinals, Mets, Rangers, Red Sox, and Royals prospects, play the Salt River Rafters, a team of Blue Jays, Diamond Backs, Nationals, Rockies, and White Sox up and comers. Peering at the field through glasses, Hemond is fond of elbowing you in the ribs to make sure you see when a player does well. "It's a badge of honor to be selected for this league," he says. "It's a vote of confidence from their club."
At the end of the regular season, every Major League organization sends seven top prospects to compete on one of six AFL squads. For a month and a half they wear their future Major League uniforms, roving the greater Phoenix area by bus, playing six days a week in the same stadiums where clubs hold their annual Cactus League spring training games. The goal is to give these players the extra at bats and innings pitched they need to refine specific aspects of their game—opposite field hitting, a pivot at second base, an off-speed pitch—and master the tools they need to succeed in the pros, often as soon as next April. In baseball, those extra chances to hone skills can make the difference between a call-up to the Major Leagues, and another year on the bus.
"You have to play the game on a regular basis to conquer it," Hemond says. "They don't play enough games in college." Unlike NCAA football, which can reasonably simulate the punishment of an NFL season, The NCAA's 14-week long baseball season is but a shadow of the seven-month Major League grind. Cold climates in northern schools also make it harder for those players to get regular competition and scouting attention, which is why top baseball programs tend to be concentrated in warmer climates like California, Texas and Florida. The use of aluminum bats in college ball gives players a boost in power, and even the best college players can need years of development afterward to adjust their game. And so while dozens of college baseball players are drafted each year, it's not unusual for them to spend five years of obscurity in the farm system, which is part of the reason why many elite high-school players sign contracts right after graduation to get a jumpstart on the long road to the majors.
Unlike the meteoric rise of some football and basketball stars, baseball prospects face a long and unglamorous climb. That's because baseball is a game of failure. Get a hit three out of every 10 times, and you're a star. Two out of 10, and you could still cut it in the pros. But getting those hits, or keeping batters from hitting your pitches, becomes harder as you rise through the farm system. Batters see more aggressive pitching and fielders with greater range who can rob what might have been a hit in the lower levels. Pitchers face stronger batters, the looming risk of injury, and arm surgeries that can set them back for months if not years. A player with fantastic stats in low-level ball might have to adjust his entire approach at the next level. "I sometimes think statistics can belie a player's ability," Hemond says. "Sometimes players are feasting on mediocrity." That's why the Arizona Fall League can be a breakthrough experience for so many prospects, giving them a chance to test their skills against some of the best talent across the farm system.
Many of these players have been on the road since early February, away from family and friends, wives and children, and in some cases, living thousands of miles from their home country. This year, the AFL rosters list players from 11 countries, including Australia, Brazil, Taiwan and South Africa, as well as traditional baseball hot spots like Cuba, Venezuela, and Dominican Republic, where all 30 MLB teams now run development operations. For many international players, farm league baseball is as much about learning how to succeed off the field, mastering a new language and a new culture.
Alex Monsalve, a 20-year-old catcher from Boqueron, Venezuela, was sent here by the Cleveland Indians to work on his defense, and also his communication in English so that he can learn to call games better. He's been speaking English for a year now, and in two years of professional ball, he's noticed a real difference between the game back home and here in the U.S. "Latin guys enjoy baseball more," he says. "We're joking around, always laughing. Everybody here takes it real serious. They're all quiet."
But as Monsalve knows, it's a serious opportunity to be here. Scouts attend from every Major League organization, evaluating internal talent, but also eyeing future trade prospects from other farm systems. The scouts show up for routine batting and infield practice to get a sense for how much a guy applies himself. In an era of statistical analysis, when clubs can access a player's numbers from high school or earlier, many scouts believe there's still no substitute for firsthand evaluation of a player's intangibles, especially how he behaves in game situations.
Tim Fortugno has been in professional baseball for 27 years: 14 years as a player, and 13 years in player development. "Baseball is a lot harder than you can actually even imagine," says Fortugno, a regional supervisor for the New York Mets. "Since the league started in 1869, only 17,900 guys have played Major League Baseball—even for a day. A lot of it's mental, but there's a part of it that's luck. "
Good luck can mean not getting stuck on a roster behind a player who could own his position for a decade or more. Unlike sports like football and basketball, where frequent substitutions allow players to develop from the bench, it's tough to improve if you're only seeing four or five pinch-hit at-bats per month. Even an elite minor-league third baseman in the Detroit Tigers organization has little chance of replacing Triple Crown winner Miguel Cabrera. That's why Nick Castellanos, the 11th best prospect in the country according to Major League Baseball, is here working on "outfield stuff" so that he can change position. This year he's been playing baseball with hardly a break since February 11th, earning MVP in this year's All-Star Futures Game. "You miss home, you miss your friends and family," the 20-year-old says, but he's having fun with the grind, and he says the guys in this league don't sweat the presence of scouts. "They didn't get here by worrying about who's in the stands. If they do worry, they do a good job of hiding it."
Some days the seats are packed with front office personnel and managers. At a Tuesday afternoon game in Peoria, Hall of Fame second baseman Ryne Sandberg, newly appointed third-base coach for the Phillies, scouts prospects with a group of colleagues, signing autographs between innings. Earlier this week, the entire Milwaukee Brewers front office attended a game in Scottsdale to evaluate their top talent. Even when front-office personnel aren't physically present, general managers have access to stats and daily video collected from cameras strategically placed throughout each stadium. Every pitch and swing is recorded from multiple angles, giving GMs the ability to call up individual at bats or pitches from any player—looks that could inform off-season trades or roster changes before spring training next year.
But the Arizona Fall League isn't just about player development. Dusty Baker, who managed the Cincinnati Reds to a National League Central Division pennant this year, earned his stripes here before earning Manager of the Year during his debut season with the San Francisco Giants in 1993. MLB umpires receive special training here before they ever call a Major League game, practicing the four-man formation according to league policy. Trainers, coaches and front office staff also get their start here. Even young people like Special Projects Assistant Sarah Evans—who manages the AFL Twitter account—has an opportunity to prove herself for an MLB job in the future.
As far as development leagues go, it's hard to argue with the AFL's stats. In 20 years, 60 percent of alums have made it to the Major Leagues, including 182 All-Stars, 22 Rookie of the Year winners, 10 MVPs, and 3 Cy Young award winners. Josh Hamilton, Albert Pujols, and Roy Halladay all went through the League, and baseball's latest phenoms Bryce Harper and Mike Trout, played outfield on the same team last fall.
Yet dozens of these players won't make the cut—at least not next spring. For Salt River Rafters manager Matt Williams, a former power hitter who's hit World Series home runs for three teams, it's about fostering a player's strengths even if he doesn't have what it takes just yet. "You keep plugging them in there," he says. "You try and focus on what the guy does well, and you foster those skills, but you also put them in a situation where they can learn and try new things."
For Roland Hemond, the thrill is watching these young players elevate their game, day by day, inning by inning. "It's a testing ground," he says. "When opening-day rosters come out, I'm always eager to see who made it."
At the crack of a bat he looks up from his lineup sheet to see White Sox second-base prospect Carlos Sanchez stretch for a sharp grounder and deliver an off-balance throw, flawlessly, to first base, robbing what would have been a base hit anywhere else in the farm system. Hemond gives me an elbow to the ribcage: "Now that's a Major League play."