In Houston, Jeremy Lin and James Harden Plot Revenge on the NBA
Two seeming hotshots took inglorious paths to the Rockets' backcourt, and now they're basketball's duo with the most to prove.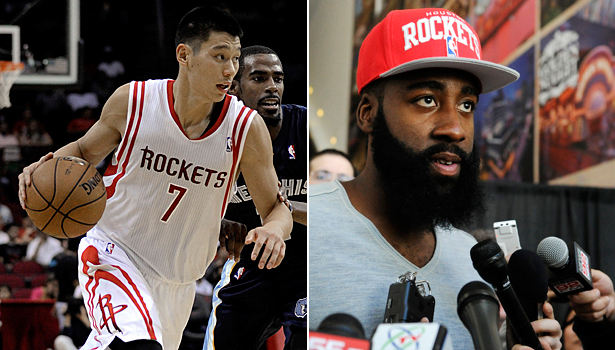 AP Images
The NBA's most fascinating backcourt is not in Miami, where Dwyane Wade is joined by pedestrian point guard Mario Chalmers. It's not in Brooklyn, despite the billboards throughout New York featuring Deron Williams and Joe Johnson. It's not even in Los Angeles, where Steve Nash and Kobe Bryant have five NBA titles and three MVPs between them (but have played a combined 2,315 games and more than 78,000 minutes).
No, the backcourt tandem to watch this year is in Houston, where Jeremy Lin and James Harden enter the season with a lot to prove. Those two kids, with a combined age of 47, are setting out to show their former teams and the rest of the league that they are worth every penny of their contracts and then some. And one of them just happens to be among the biggest breakout stars/cultural icons the NBA has ever seen.
Related Story
Eight months removed from bursting onto the scene in New York and spawning the Linsanity meme, Lin enters the season as a starting point guard for the first time in his career. The 24-year-old point guard has yet to show he can be a day-in, day-out success in the NBA, but he has the ball-handling skills, preternatural court vision, and insatiable drive to be an All-Star point guard if he puts it all together. And there's no doubt that Lin's global fame is unmatched by anyone in the NBA not named LeBron or Kobe.
Lin's persona is part of what drew Rockets' general manager Daryl Morey to offer him a three-year, $25-million contract in July that was based on marketability and future performance, rather than existing results. The deal was backloaded with a third-year salary of $14.8 million, a so-called poison pill designed to impose the maximum luxury-tax penalty on the Knicks if they matched the offer. New York owner James Dolan, the bane of Knicks fans for nearly two decades, refused to shell out the extra cash, and just like that Lin was a Houston Rocket.
Dolan's snub and unprofessional dealings with Lin (the young star found out about the Knicks' trade for Raymond Felton while surfing the Internet) will look much worse if the point-guard sensation lights up the scoreboard in Houston. Like so many NBA stars before him, Lin has the added motivation of proving that he's worth the money.
The same can be said for Harden, a top-25 NBA player who was treated like a fungible commodity by the Oklahoma City Thunder in the offseason. Though casual fans may know Harden because of his awe-inspiring beard, the 23-year-old shooting guard has shown himself to be one of the most dynamic offensive players in the league, a more-athletic Manu Ginobili with a knack for creating space in the lane with his herky-jerky dribbling style. Harden's biggest strength may be his shooting: He made 49 percent of his field goals and 39 percent of his three-point shots last season for Oklahoma City.
Harden had a breakout spring and summer: averaging 16.3 points per game in the playoffs as the Thunder reached the NBA Finals, and winning a gold medal on the U.S. Olympic team in London. But with star teammates Kevin Durant and Russell Westbrook signed to max-level contracts and power forward Serge Ibaka getting a high-cost deal of his own, Oklahoma City general manager Sam Presti was unwilling to give Harden a no-trade clause or a four-year, $60-million contract, the most he could have offered under the NBA's new collective bargaining agreement.
When Harden balked at those terms, Presti shipped him off to Houston in exchange for inferior shooting guard Kevin Martin, draft picks, and salary-cap flexibility. The Thunder were immediately excoriated by the sports media for choosing profits over championships, and Harden was suddenly Lin's new backcourt mate.
Like Lin, Harden was snubbed by his team, deemed unworthy of the asking price, and unceremoniously shipped out of town. Harden may even have the bigger gripe, because he had demonstrated his worth by steadily improving over three seasons and becoming one of the five best shooting guards in the league. Now he will have the chance to lead a team to the playoffs, a task he actively shunned in 2009 when he lobbied Presti to draft him to be the Robin to Durant and Westbrook's Batman.
The rest of the Rockets are either unproven or ineffective, except for defensive specialist Omer Asik. The offensive burden will fall on Harden and Lin night after night. And the two players have very similar styles that depend on being the dribble man on pick and rolls, a role that will likely be split between them now. They will have to develop a symmetry on offense that allows them to leverage the best part of their respective styles: Harden's outside shooting and careening drives to the basket, and Lin's interior passing and pick-and-roll game.
Whether Lin and Harden can succeed without a competent big man or bench help remains to be seen. But the long-term reputation of both men is at stake, and if sports history has shown anything, there are few more powerful motivators behind greatness than pride.