"He has most unwarrantably abused the privilege which all politicians have of being ugly."
Wikimedia Commons; DreamWorks; Library of Congress
TO THE NAKED EYE, IT MAY APPEAR THAT: The Daniel Day-Lewis vehicle Lincoln, out this weekend, portrays the 16th U.S. President Abraham Lincoln the way people viewed him in real life at the time: strong, decisive, and rugged, yet commanding of respect.
BUT ACCORDING TO SOME EXPERTS WHO THOUGHT REALLY HARD ABOUT THIS: The heroic Abraham Lincoln we so fondly remember today is actually more like a composite Lincoln—patched together from some of the more favorable portrayals of him that survived. In his lifetime, President Lincoln was the target of the same kind of mean-spirited partisan snickering that we've come to associate with modern presidential elections, and his image was subjected to some pretty liberal editorializing by artists, writers, and cartoonists.
Though our collective American sentiment today is overwhelmingly positive toward Lincoln, he didn't start out a hero. According to a 1987 Illinois Historical Journal article by Harold Holzer called "Confederate Caricature of Lincoln," portrayals of Lincoln during his presidency, especially by cartoonists, were unforgiving in both the North and the South.
Never before had so much political anger boiled over into political art. But never before had a historical figure seemed better made for pictorial parody. As a contemporary recalled: 'The peculiar characteristics of Mr. Lincoln made him a splendid subject. ... His long arms and legs, his leanness of flesh, his big nose and mouth, and his disheveled hair were distinguishing features for the exaggerations of the cartoonists' who, in turn, 'labored to make him appear ridiculous.' Their artistic legacy was rich and provocative—and, in many cases, genuinely funny.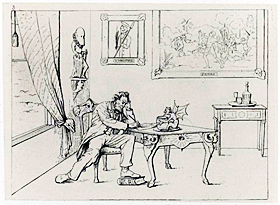 Lincoln's unusual appearance—tall and gangly, with distinct and asymmetrical facial features—didn't go ignored by his critics or his constituents. In 1860, the Houston Telegraph wrote that the presidential candidate was "the leanest, lankiest, most ungainly mass of legs, arms, and hatchet face ever strung upon a single frame. He has most unwarrantably abused the privilege which all politicians have of being ugly."