Baseball's Most Fascinating MVP Race This Century Gets Decided Today
Miguel Cabrera has history on his side. But Mike Trout represents a new standard for excellence.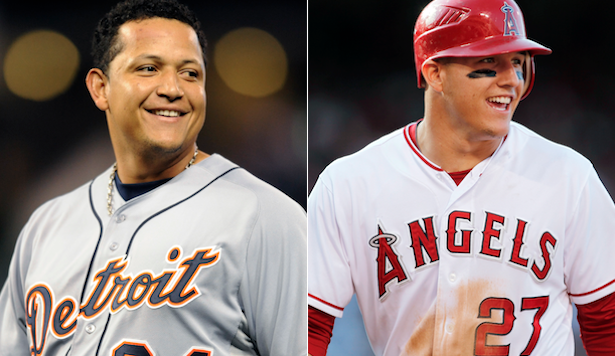 Reuters: Dave Kaup/Danny Moloshok
Today at 5 p.m. EST, MLB Network will announce the winners of the 2012 American and National League Most Valuable Players. While the National League is up for grabs, the American League has come down to a two-man race—and it's most interesting MVP race of the new century for the way it reveals the dual, competing ways that fans see baseball nowadays.
Related Story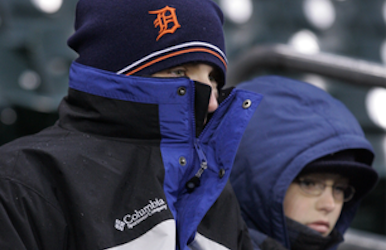 That's not to say the vote will likely be close, though. Detroit's Miguel Cabrera is definitely favored, in large part because he has the overwhelming force of history with him: He won the Triple Crown—leading the league in batting average, homers, and runs batted in—and the last man to do that was Boston's Carl Yastrzemski in 1967. Yaz was the AL's MVP that year. The Orioles' Frank Robinson took the Triple Crown the season before, and he was AL MVP. Mickey Mantle did it in 1956, and was the landslide choice for the award.
"I don't know how anyone can get around the fact that Miguel Cabrera is the first Triple Crown winner in 45 years," said MLB Network's Peter Gammons two weeks ago, summing up the opinion of much of the pundit class. Retired New York Times columnist Murray Chass has blogged that Cabrera is "the real thing" and "has demonstrated that throughout his 10-year career."
But the argument for the Los Angeles Angels of Anaheim's Mike Trout has become a cause célèbre for baseball analysts, especially younger, more statically minded ones. The lens of history be damned, they say: When you dig deep into the numbers, Trout is, as SB Nation's Rob Neyers put it to me, "a much better all-around player." And the thing is, if you follow their math, team Trout is actually right.
Here's the standard line for Cabrera and Trout:
| | | | | | | | | | | |
| --- | --- | --- | --- | --- | --- | --- | --- | --- | --- | --- |
| Player | G | AB | Runs | HR | RBI | SB-CS | BA | OBP | Slg | OPS |
| Trout | 139 | 559 | 129 | 30 | 83 | 49-5 | .326 | .399 | .564 | .963 |
| Cabrera | 161 | 622 | 109 | 44 | 139 | 4-1 | .330 | .393 | .606 | .999 |
Looking at the raw numbers, there is no question that Cabrera had the better season. He had far more home runs and RBIs than Trout, a slightly higher batting average, a better slugging percentage, and in OPS, a favorite analysts' tool that combines on-base percentage and slugging average, he is ahead of Trout by a wide margin.
The case for Trout must be made by reading between these lines. First off, there's the ballpark factor. Detroit's Comerica Park has been ranked over the last couple years as a hitter's park—not by much, but batters do have a slight advantage there. Angel Stadium has been ranked, since 2010, one of the worst parks to bat in in the AL. So Trout should get at least some consideration for playing his home games in a tougher hitter's park. This would bring him closer to Cabrera.
Let's confirm this by glancing at their home and away stats. Playing at Comerica, Cabrera hit .332 with 28 home runs. While in other AL ballparks, he hit just five points slower but with a big decrease in power—just 16 home runs. Trout, on the other hand, hit just .318 at Angels Stadium but .332 in the league's other parks. His power was pretty similar at home and on the road: 16 homers in Anaheim and 14 everywhere else. But you might look at it this way: If the real test of a hitter, as most analysts believe, is what they hit in visiting ballparks, then Trout for the year was .332 with 14 HR while Cabrera hit .327 with 16 homers. Cabrera's hitting advantage over Trout practically disappears.
One stat that jumps out at you in the comparison is stolen bases. Trout was sensational, stealing 49 and getting caught only five times. Cabrera, who stole four out of five, generally stays put at first base and waits for his teammates to get him home. Whatever stolen bases are worth in terms of runs, it's evident that either stealing or by taking the extra base, Trout is a far superior base runner and that his speed is a valuable asset to his team.
Here's one of those little stats not on the chart above: Trout grounded into only seven double plays all season, while Cabrera led the league hitting into 28. That's big plus for Trout.
Next, let's consider fielding. I won't weigh you down in numbers. But the most advanced fielding stat I know, BaseballReference.com's Defensive Runs Saved Above Average—or "Rdrs," the number of runs above or below average the player was worth based on the number of plays made—credits Trout with preventing 23 runs this year. The same metric figures Cabrera cost his team four runs.
Let's put it in terms that any fan can understand: Mike Trout is a sensational centerfielder while Miguel Cabrera was a slightly below-average third baseman.
There are other factors to consider. For instance, that Cabrera's team won the AL pennant and went to the World Series (never mind what happened there) while Trout's Angels stayed home. But the counterargument points out that the Angels played in a tougher position and won 89 games during the season, one more than the Tigers won.
Then, finally, there's WAR. I don't mean the battle being waged between traditional sportswriters and the new breed of baseball analysts; I mean the so-called superstar stat WAR, which stands for Wins Above Replacement. As the official definition reads: a single number that presents the number of wins the player added to the team above what a replacement player would add.
For the 2012 season, Trout led the AL at 10.7 while Cabrera's WAR value was 6.9. You don't have to accept WAR or even understand it to see that Trout was the most valuable player in the American League this season. The difference between his performance and Cabrera's is not so great that a victory for Cabrera should be considered a disgrace. But in nearly all statistics, simple or complex, that contribute to winning games, Mike Trout is just a little better.