For decades, storytellers used the bloodsucking undead to portray sexual deviancy. But Stephenie Meyer changed all that. After Breaking Dawn—Part 2, will chaste and sparkly remain the new norm?
Universal/WB/Summit
If Dracula wrote the book on the modern vampire fiction, Twilight creator Stephenie Meyer's four Twilight books (and their five film adaptations) have given it an enormously unfaithful, enormously successful rewrite. Even before the release of Breaking Dawn—Part 2 this past weekend, the Twilight franchise had earned $2.5 billion dollars at the worldwide box-office, and Breaking Dawn—Part 2 is on track to make hundreds of millions more. By the time the final film finishes its theatrical run, the five Twilight movies will be the five top-grossing vampire movies of all time.
Related Story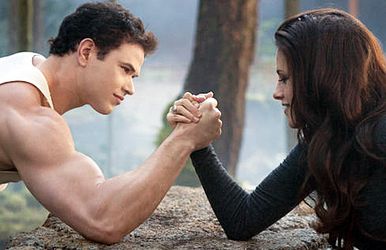 But while the last stake has been driven into the heart of the Twilight franchise, Stephenie Meyer hasn't left vampire fiction in the same place she found it. The bloodsucking creatures of the night that dominated horror films for decades have been all but replaced by the soulful, sparkly vampires of the Twilight saga. Today's teens and young adults have been weaned on a different kind of vampire—as Hollywood has surely noted, a far more profitable vampire—and the genre may never be the same.