A Storm in a Jar: 10 Very-Cool Art Installations That Imitate Weather
These artists captured dramatic weather phenomena and moved them indoors.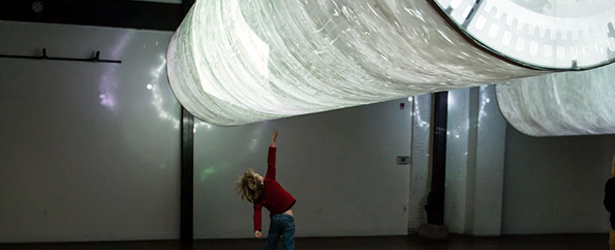 It's Nice That
Aristotle reasoned that imitation forms the basis of art, and that art imitates nature—some works perhaps more literally than others. Portraying the power, mystery, and grandeur of weather, in particular, has long been a curious obsession of landscape artists brave enough to bear the elements. After all, it's not easy to capture the immensity of a snow squall or a summer electrical storm.
But art has come quite a long way since the days of picturesque nature paintings, such as Thomas Cole's dramatic thunderstorm rolling across a somewhat exaggerated Connecticut River Valley. As far as aesthetic subject matters go, weather is just begging for interactivity, some movement and spectacle that don't just portray the elements, but actually imitate them. These brilliant contemporary art installations prove that there's more than one way for art to harness the power of Mother Nature.
Symphony in D Minor: An indoor thunderstorm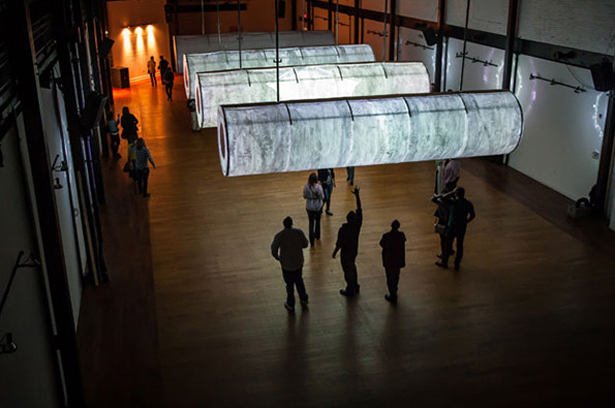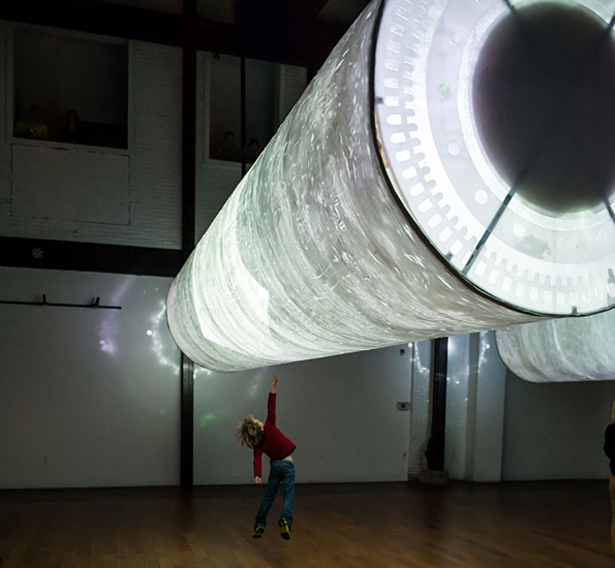 Symphony in D Minor is an awesome set of interactive hanging sculptures by Patrick Gallagher and Chris Klapper, currently on display at 2424 Studios in Philadelphia. Using video and sound, the hanging cylinders respond to movement, intensifying the effects of heavy rain, lightning, and thunder as the audience leaps and flails beneath.
Blur Building: A pavilion of clouds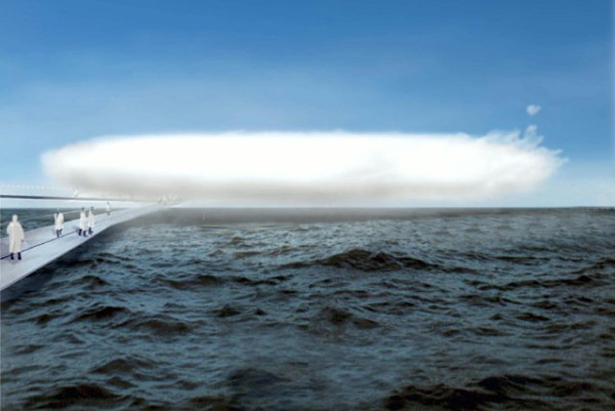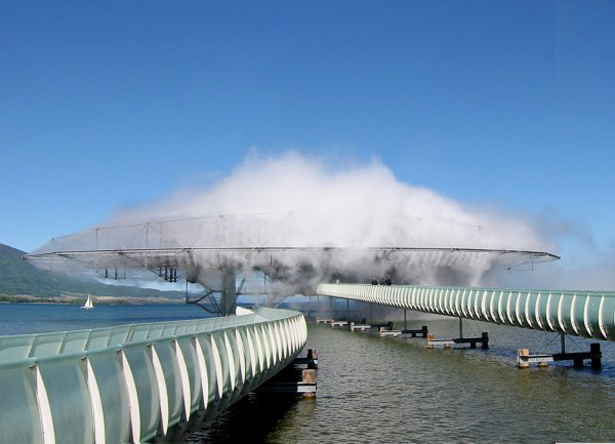 Architects conventionally like to use materials that are, you know, solid. But Diller & Scofido opt for a different approach with their contribution to the 2002 Swiss National Expo. The Blur Building is a multipurpose pavilion situated on a platform in the middle of lake Neuchatel that is perpetually enshrouded by an artificially generated cloud.
Rain Room: A rainstorm that keeps you dry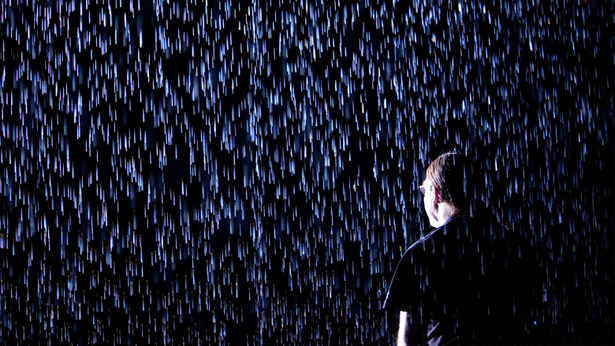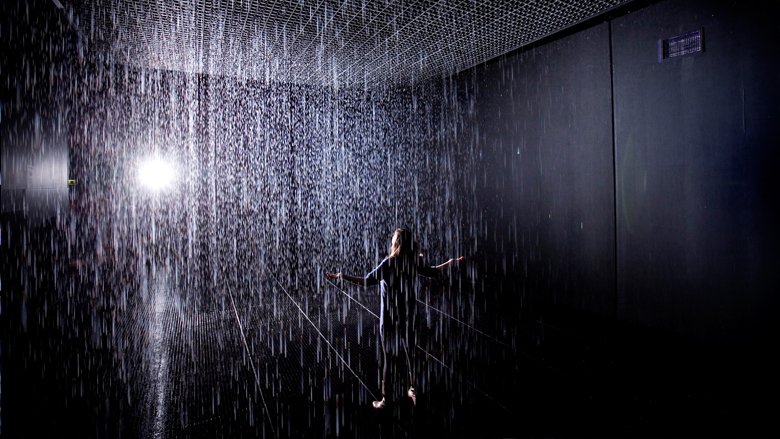 Photos via Random International
Despite its soggy appearance, Rain Room by art collective Random International purports to keep you dry. Created as an installation at the Barbican in London, its motion sensors detect the position of visitors' bodies, ensuring that they never get wet.
Snow: Not your typical snow globe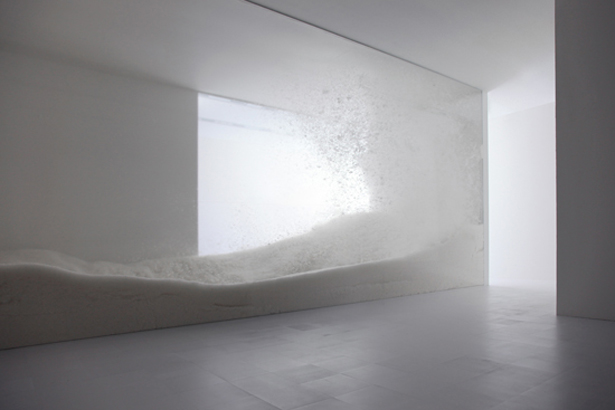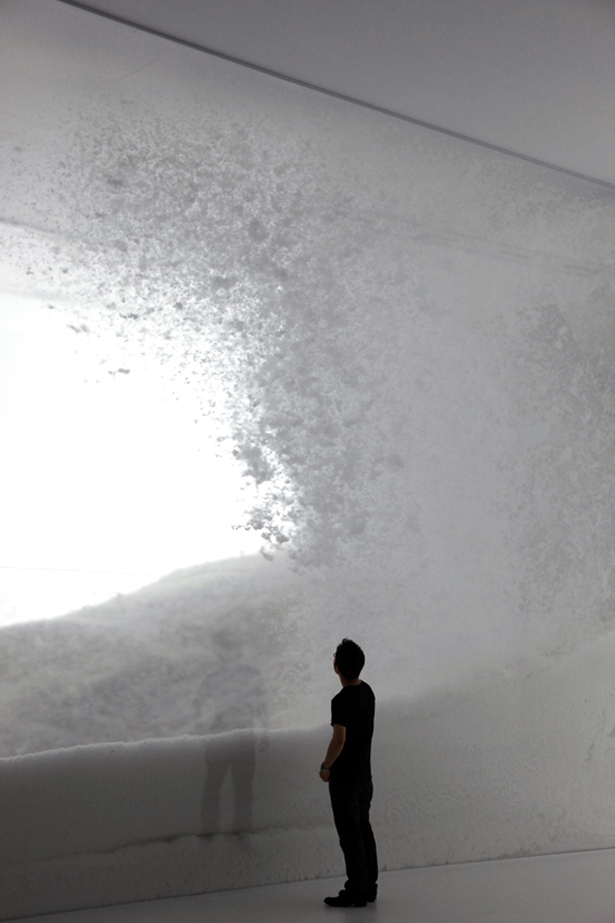 Tokujin Yoshioka's Sensing Nature exhibit challenges Japanese cultural perceptions of weather and other natural elements. His room-sized glass encasement of white feathers mimics the movements and drift of heavy snowfall.
Windswept: An intriguing visualization of the wind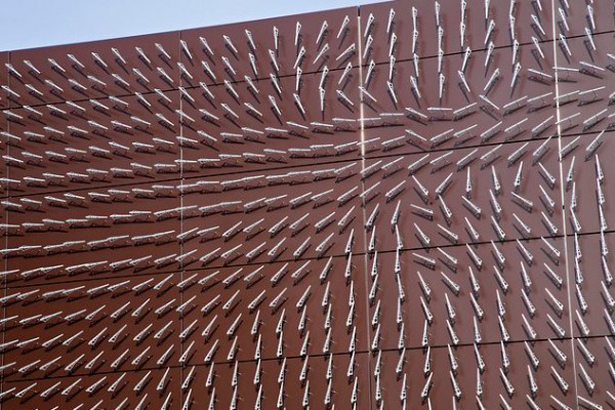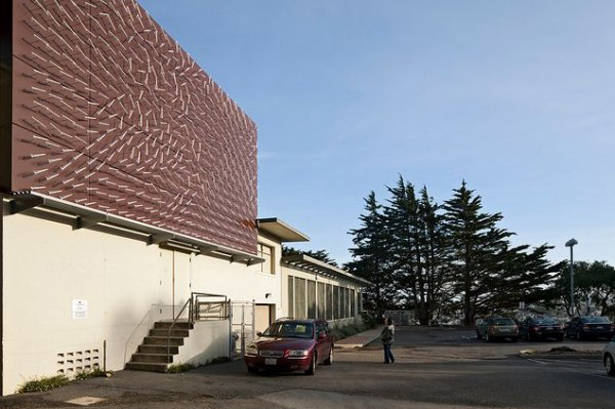 Commissioned for San Francisco's Randal Museum, Windswept by Charles Sowers Studios creates a fascinating visual interface between a building facade and the movement of air using hundreds of tiny, free-rotating weather vanes.
Nimbus: Ephemeral indoor clouds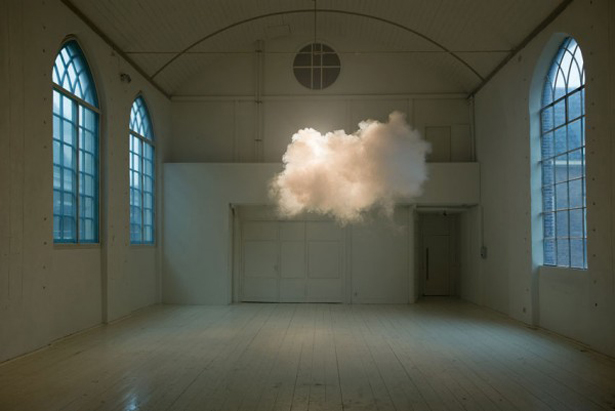 Berndnaut Smilde, Nimbus II, 2012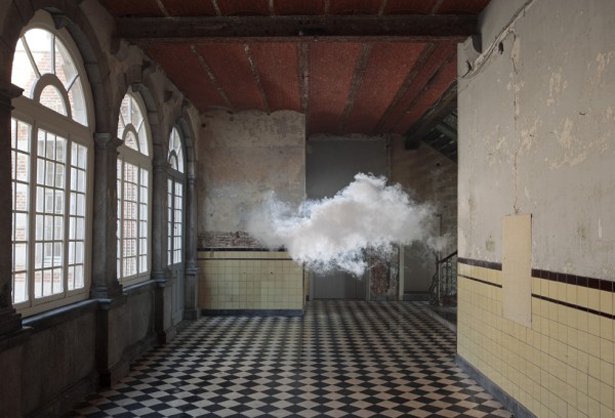 Berndnaut Smilde, Nimbus D'Aspremont, 2012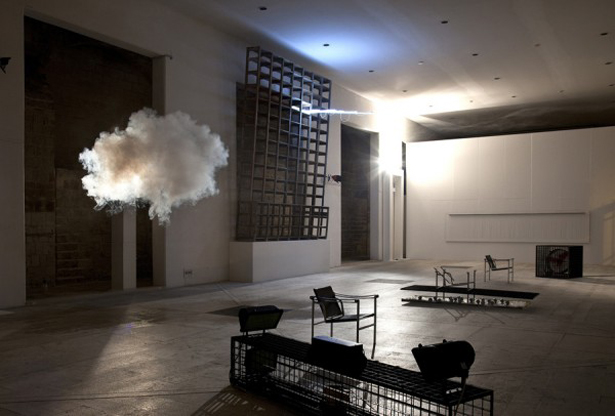 Berndnaut Smilde, Nimbus—Sala Murat, 2012
These magnificent portraits of artificially produced indoor clouds by Berndnaut Smilde create an almost unsettling sense of movement. Smilde turns real-life cloudbusting into a haunting and beautiful art form.
Your Rainbow Panorama: A colorful city skywalk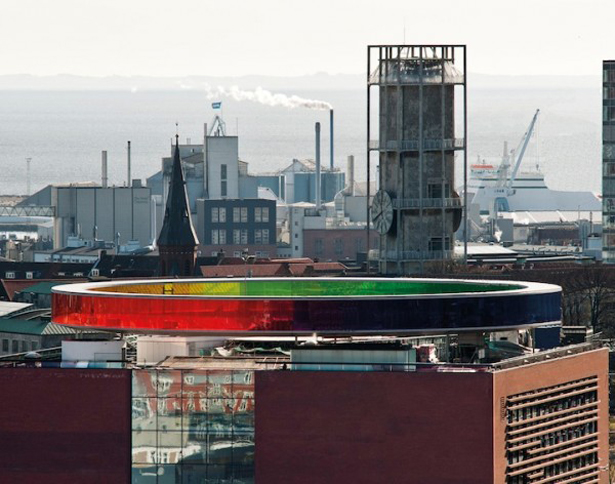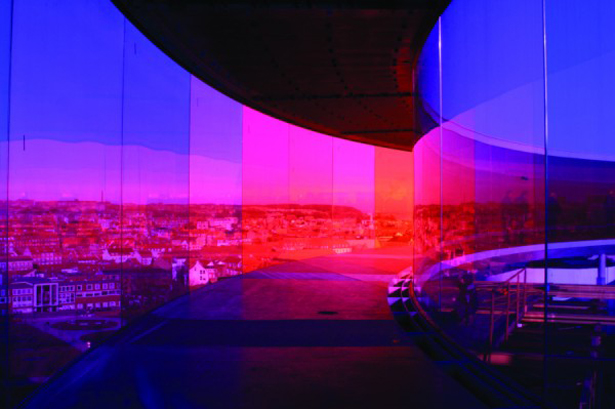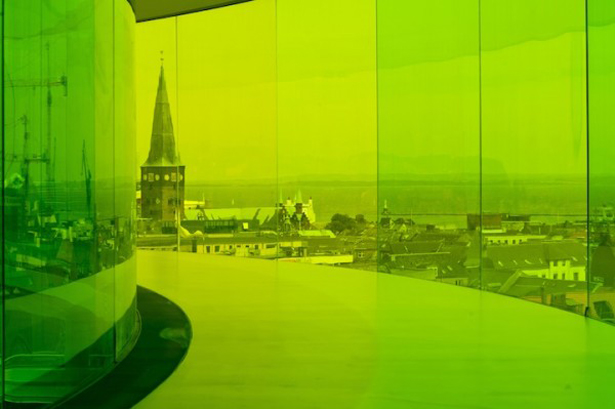 Olafur Eliasson is by far the champion of art-imitating-weather. In addition to this cool walk-through rainbow he created on the roof of ARoS Aaruhus Kunstmuseum, the Danish-Icelandic installation artist has quite the repertoire of elementally inspired works, including The Weather Project and an artificial waterfall created in New York City.
Blind Light: High art, low visibility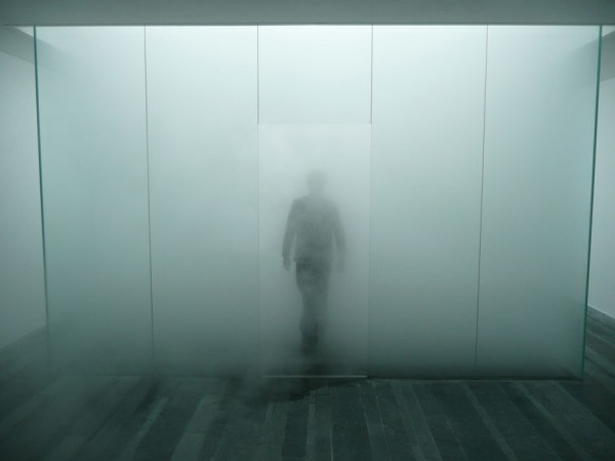 Blind Light by Antony Gormley invites its visitors to enter into a foggy world of obfuscation. Gormley likens the experience to being on top of a mountain or at the bottom of the sea, explaining: "Architecture is supposed to be the location of security and certainty about where you are. It is supposed to protect you from the weather, from darkness, from uncertainty. Blind Light undermines all of that."
Trafalgar Sun: Here comes the sun, sort of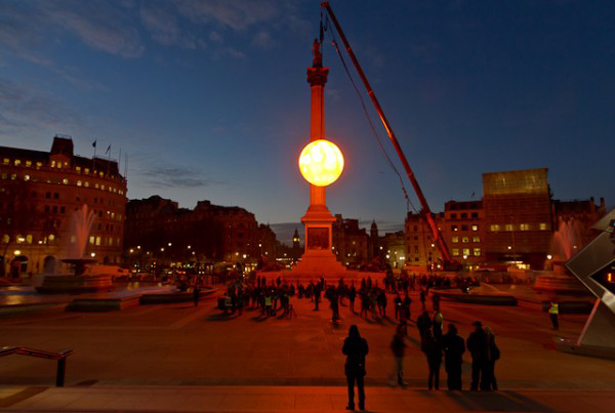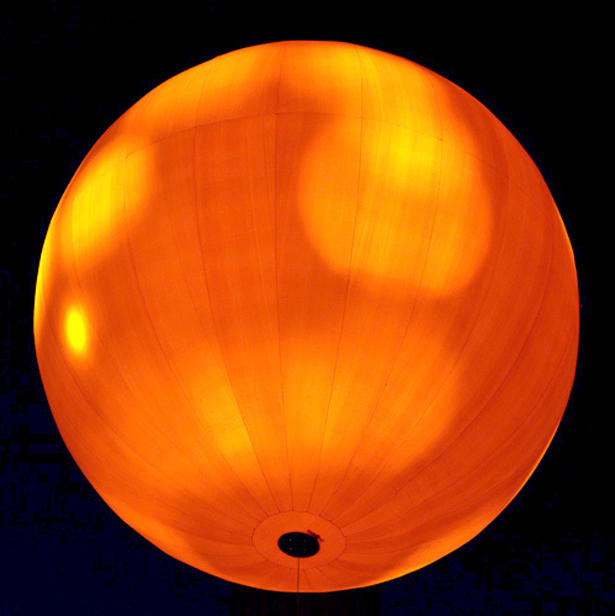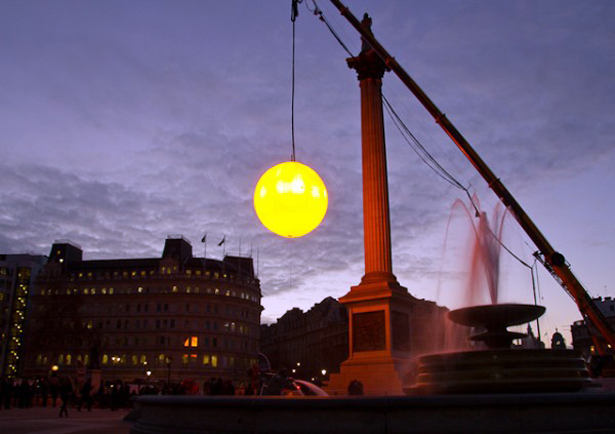 Photos via Londonist
Now is the winter of our discontent—unless, by chance, you happen to have your own artificial sunlight to keep a ray of hope alive through the dreary months. Greyworld's installation in London's Trafalgar Square last January did just that, erecting a sunny orb 20 meters off the ground to offer a warming glow. Unfortunately, it doesn't actually give off any heat.
Blow Up: Transforms breath into a gust of wind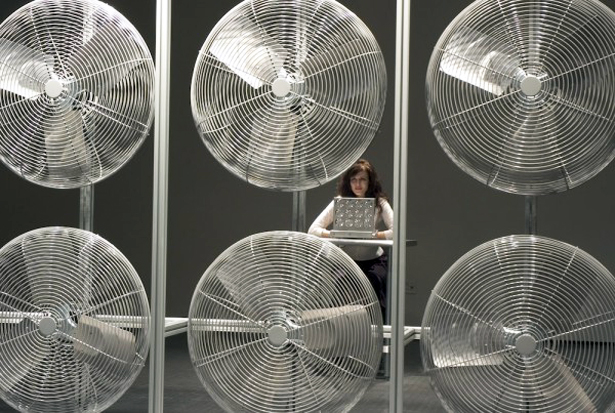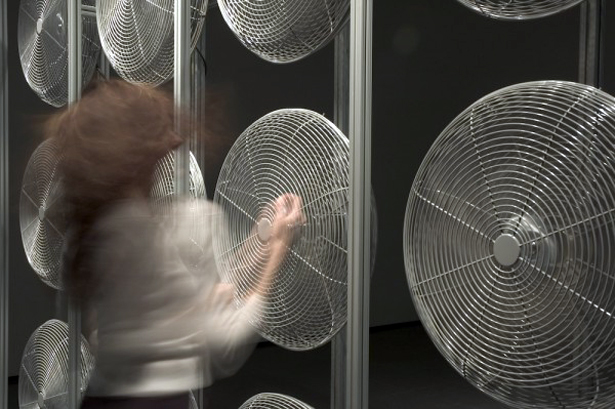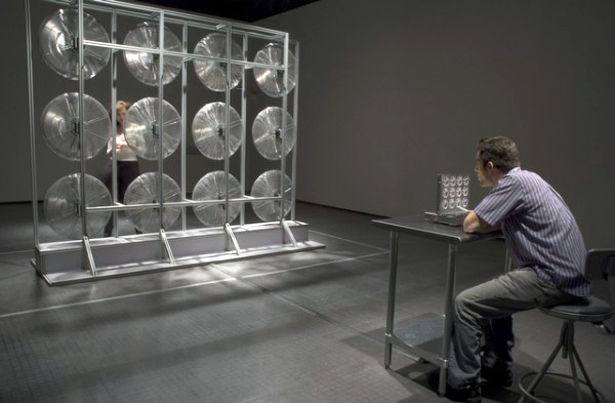 Blow Up is a marvel of an art installation by Scott Sona Snibbe that amplifies breathing into a roomful of wind. Visitors blow into a tiny array of impellers which, in turn, controls the intensity of a larger array of electric fans to create one very cool effect.
This post also appears on Flavorpill, an Atlantic partner site.