A Moving Story That Will Make You Give Thanks for Arts in Public School
"Nice cat," the renowned artist said to the young boy, who then used those words to fuel his own brilliant career as an illustrator.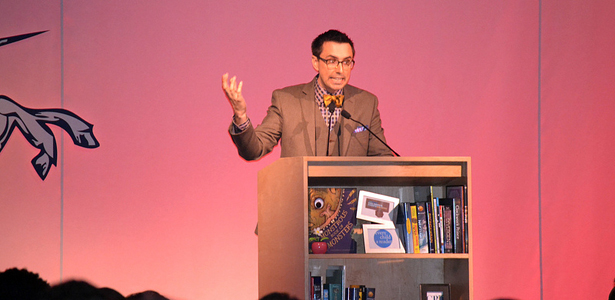 To all we are thankful for today, let us now add the blessing of art and the magic of the human imagination. Let us now be thankful for the expression of gratitude itself, by someone who has chosen to give back to his community after receiving so much from it. And let's be thankful for all those among us who refuse to allow their pasts or their presents to dictate their futures.
Below is a presentation given last month at Hampshire College by Jarrett J. Krosoczka, an author and illustrator of children's books. Take the time to watch it, especially with your children and grandchildren if you are lucky enough to have them close by. It's such a sweet story, such an American story, with such a profound lesson about the need to cultivate and defend the creativity in ourselves and in our nation's schools.
Next Monday, for the third year in a row, Krosoczka will honor his grandparents, who rescued him and nurtured his passion for art, with an auction to benefit the Joseph and Shirley Krosoczka Memorial Youth Scholarships at the Worcester Art Museum. The aim of the scholarship is to give today's young artists the same opportunities Krosoczka had when he was growing up. Now more than ever, young artists in our public schools need our help to allow their talents to develop.
I spoke Monday via email with Krosoczka, who is still amazed at the reaction his speech has generated.
The opportunity to give a TEDx talk was a phenomenally fortuitous moment of chance. About a month ago, my wife and I were planning the remainder of our workday on a Friday afternoon and making plans for that evening. It was a little after 2 in the afternoon. The phone rang. It was a coordinator of TEDx Hampshire College. They had a last minute cancellation and were wondering if I could fill in. Of course I would! I also of course thought they were talking at least a week in the future they were talking about THAT evening! I had 4 hours to prepare my talk, get presentable and get over there before the program began! I give many talks to elementary schools each year. Not on the topic of my challenging childhood, but on the topic of getting that first book published and the creative process I take to create my books. So with that, I had a collection of slides that detail my growth as an artist. But that slideshow is for a 45 minute presentation and I immediately knew that my TEDx talk could encompass so much more. But I have never talked so openly and transparently about the circumstances surrounding my childhood. So I edited my school visit slideshow, deleting some slides, adding some other slides that could more fully tell my story even when I'm speaking, I'm obsessed with telling stories with words and pictures. At the end of the day, it was far better to have four hours of anxiety than four months of anxiety. And with that, I think I was really able to shoot from the hip and candidly tell my story. The audience's reaction was tremendous. Many folks congratulated me afterwards. The outpouring of support since the TEDx video has been released has been tremendous. Public sentiments have poured in from just about every means of communication but a carrier pigeon. Some private messages have been from aspiring artists who have lived through similar experiences and derived much hope from my story.
And on the brutal impact of decreases in funding for arts programs in public schools, Krosoczka says:
As somebody who visits countless schools, I see firsthand the dire situation our educational system faces. Our country is a nation that has been made great by forward thinkers who have thought outside of the box. When arts programs are cut, we are shooting ourselves in the foot. Every single item that we come into contact with on a daily basis has been designed by an artist. From the toothbrush we use in the morning, to the defibrillator that could save our lives, an artist is behind the design. And not to mention the devices we all have in our pockets keeps us connected to the greater world through news and social media. Artist designed both the device and the content. I also see the ramifications of short-sightedness when librarian positions are cut. It is an awfully sad misconception that librarians simply check books in and out. The library is the heart of a school and without a librarian, it is but an empty shell. Librarians inspire imaginations and foster a love of reading by finding the right book for the right child. Librarians are teaching the next generation how to use digital media responsibly. And most importantly, librarians invite authors in to speak at their schools—authors who not only make writing a tangible, relatable reality, but who may just take a look at a child's drawing and say, "Nice cat." Last spring I visited elementary schools in Upper Darby, PA. Everything was on the chopping block—librarian positions, art teachers, music teachers, physical educators. Even though the community protested and $2.7 million was restored to the district's budget, deep cuts devastated all of the above mentioned programs. It is now a district with 12,000 students and only three librarians. What a sad day for education.
And on the success stories he's already seen from his charitable work:
I have a few students in particular I would like to point out. One energetic eight-year-old boy from Vietnam has started to take classes here at WAM thanks to [the] scholarship. He is always so excited every Saturday and has begun recruiting his cousins and friends to come take classes. He is the only person in his family that speaks English so he has to translate for us but it has been a great experience for him. Another recipient—12 years old—has had a history of bad experiences in the traditional school system. She has some special needs and has always struggled with both academics and social skills. Her mother has told us how important the classes have been for her and she considers WAM to be her "safe spot." Another person affected by the scholarships is a mother of three (6, 8 and 13 year old children). Her husband left her and she is raising the three kids on her own. This mother cried when we told her we could give her kids scholarships. She was so excited, saying "We had no other options..."
Give yourself and your family an early gift this year: Watch the video, and keep Krosoczka's story in mind the next time your child's school library or arts program is in jeopardy.