Why Wes Anderson's Movie About Kids Feels So Grown-Up
The director's fascination with parentlessness infused Moonrise Kingdom, out today on DVD, with warmth and wit.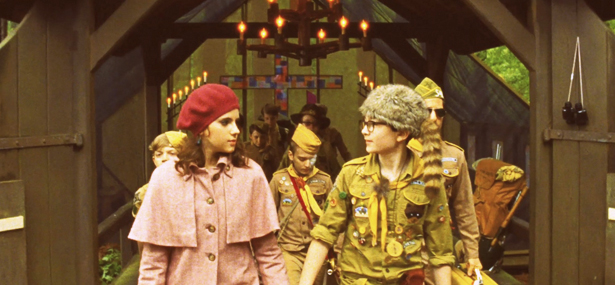 Focus Features
"I always wish I were an orphan. All my favorite characters are," 12-year-old Suzy tells Sam, the boy with whom she has run away from home in Wes Anderson's Moonrise Kingdom, out today on DVD. Sam, who actually is an orphan, responds curtly: "I love you. But you don't know what you're talking about."
It's an amusing exchange but also a telling one, given Anderson's long romance with parentlessness. Though few of the characters in his oeuvre are genuine orphans, nearly all are de facto ones. Dead mothers (Rushmore, The Life Aquatic With Steve Zissou), dead fathers (The Darjeeling Express), absent mothers (Darjeeling), absent fathers (Life Aquatic, The Royal Tenenbaums), parents that don't really register at all (Bottle Rocket)—Anderson's world is one in which the protagonists, whatever their ages, are of necessity sui generis.
And so we have Sam, the true orphan, and Suzy, the would-be one—the "difficult" eldest child of a pair of unhappily married lawyers—frantically self inventing, cobbling together identities from the odds and ends of an imagined adulthood: a coonskin cap and corncob pipe for him, candy-colored luggage and cerulean eyeshadow for her. Striking out on their own into the wilds of "New Penzance Island" circa 1965, they mime maturity in ways small and large—engineering earrings out of fishhooks and beetle carcasses; tiptoeing toward a sexuality they only dimly understand; chewing gum as they decide whether or not to get married.
Anderson mined similar adolescent terrain in his breakthrough film, Rushmore, and it is no coincidence that Moonrise Kingdom is his best effort since: winsome, wistful, and surprisingly witty. Newcomers Jared Gilman and Kara Hayward are exceptional as Sam and Suzy, and fine performances are turned in by the adults in their orbit, including Bruce Willis, Edward Norton, Bill Murray, Frances McDormand, Tilda Swinton, and Jason Schwartzman. As I wrote in my review:
Anderson's forays into the travails of adulthood—even young-adulthood, as in Tenenbaums and Darjeeling—have never been as moving as his examinations of the triumphs and complications of precocious youth. Sam and Suzy will no doubt one day be like Walt and Laura Bishop, or Royal Tenenbaum, or Steve Zissou: encumbered with disappointment and regret, with jobs and kids and spouses and houses. But for now they are still alive to a world whose possibilities are constrained only by resolve and ingenuity, both of which they have in abundance.

With Fantastic Mr. Fox, Anderson made a kids movie for grownups; with Moonrise Kingdom, he has made a grownup movie about kids. It may lack the glorious ferocity and tenderness of Where the Wild Things Are—another film about an island runaway and the new family he tries to construct. Yet in its whimsical way, it raises the same questions about how children are to navigate passage through a world so full of flawed adults. At one point in the film, Laura Bishop reminds her husband that they must persevere for the sake of the kids: "We're all they've got, Walt." He replies: "That's not enough." Of course it isn't. It never has been, and never will be. But somehow, they find their way through nonetheless.
Anderson was just 28 years old when he made Rushmore, and there have been times in the intervening years when it's seemed he might resemble a little too closely a character from his own roster of precocious protagonists, full of promise but peaking too soon. Moonrise Kingdom is the most persuasive—and heartening—evidence to date that such worries are unfounded.