Who Will Miss A-Rod When He's Gone?
Alex Rodriguez's days with the Yankees may be numbered. Good riddance? Or will the league lack for entertainingly egocentric superstar antics once his reign is over?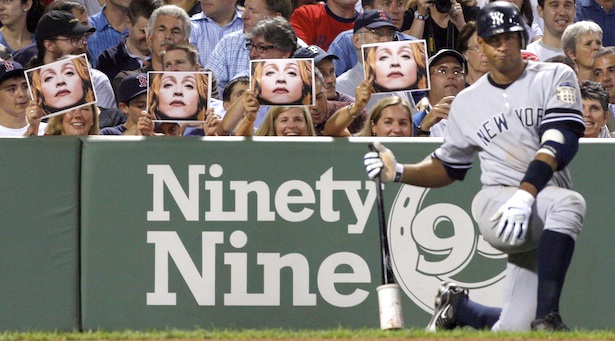 AP Images
Every week, our panel of sports fans discusses a topic of the moment. For today's conversation, Jake Simpson (writer, The Atlantic), Hampton Stevens (writer, ESPN and The Atlantic), and Patrick Hruby (writer, ESPN and The Atlantic) discuss what may be the end of Alex Rodriguez's superstar status playing for the Yankees.
---
Of all the "superstar + city" arranged sports marriages, none was more likely to end badly than the one between Yankees' third baseman Alex Rodriguez and the city of New York. In a town that likes its stars gritty, emotional and win-at-any-cost focused (that's why to most Yankee fans, Thurman Munson > Reggie Jackson), A-Rod fits in like a mismatched shoe. He's a prima donna (remember the centaur?), he makes roughly $30 million a year, and outside of a magical October in 2009, he's one of the least clutch great players in baseball history.
MORE ON BASEBALL
Now, with the Yankees hitting like the Houston Astros and Derek Jeter out with a broken ankle, the A-Rod fury is coming to a head. After the New York Post reported that the aging star tried to pick up a girl sitting behind the dugout during Game 1 of the ALCS—the same game that Jeter broke his ankle—the fan condemnation has been fast and furious. The Yankee superstar is 0-for-18 with 12 strikeouts against right-handed pitching in the postseason and has been benched for three of the team's final four playoff games, an unfathomably bold/stupid move by Joe Girardi that is undoubtedly poisoning A-Rod's relationship with the Yankee manager for the long term. The next bit of breaking news, that the Yankees have contacted the Miami Marlins about possibly trading A-Rod during the offseason, seemed all too pro forma, akin to a wife kicking her husband out of the house while she prepares divorce papers.
There are a plethora of questions to be asked here, but two stand out. One, with last night's lost, is this the beginning of the end for the current Yankees dynasty (five World Series and 17 playoffs appearances in the last 18 years)? Jeter and fellow veterans Mariano Rivera and Andy Pettitte have all suffered serious leg injuries this season and are at the tail end of their careers. No everyday starter in the Yanks' regular-season lineup is younger than 29, and the team's only still-in-his-prime star, Robinson Cano, just had a historically awful 0-for-29 stretch in the playoffs.
Two, what does this mean for A-Rod and his legacy? By the numbers alone (647 HRs, 1950 RBIs), Rodriguez is one of the 10 best players in baseball history and potentially the greatest right-handed hitter of all time. But great numbers can be forgotten in the face of steroid use (which A-Rod has admitted to) or general dislikability—just ask Barry Bonds. Now A-Rod may be shipped off to South Beach in disgrace, an aging, slightly above average veteran that no one really wants.
Where do you stand on all this, Hampton? As a Kansas City Royals fan, are you chortling over A-Rod's no good, very bad week?
–Jake
Jake, is this a trick question?
You can keep your Donnie Baseball and Mr. Coffee. Save your Jeter worship and chants of "Reg-gie, Reg-gie." A-Rod is the true "Mr. Yankee." Like the spoiled rotten Yankee fans who embarrassed themselves in the first two games of the ALCS, when the Greatest City in the World couldn't fill their own ballpark—and those who did show up booed—A-Rod is the personification of the team itself. Overpriced, over-hyped, and completely unaware of his own buffoonery, he's a rape of the future to pay for the present, and an athlete seemingly utterly uninterested in the vital subtleties of his own sport.
Rodriguez, a putrid 3-for-23 in this year's postseason, had his bad week keep getting worse. He received a very public slam from Donald Trump, another personification of New York City hype, followed by a reported pep talk from pal Kobe Bryant—another personification of a selfish player in a team game.
It didn't help.
Maybe Kobe should have talked to Joe Girardi? The Yanks' skipper benched the surefire Hall-of-Famer for Game Four of the ALCS in Detroit, and reports say the aging third-bagger will be shipped to Florida before the Tigers are even done celebrating the AL pennant they just won.
Dating Madonna, kissing his own refection in a mirror—it goes on and on. How about 2007, when Alex pulled the ultimate bush leaguer move—yelling at Toronto third-basemen Howie Clark to make him think his shortstop was calling for a fly ball. That was genuinely pathetic.
But let's forget all that rigmarole—and his salary cap-warping contract. Forget even his admitted use of PEDs. Maybe worst of all, Patrick, we can blame A-Rod for the fact that every player in Major League Baseball with the surname "Rodriguez" now gets force-fed a nickname of his whatever his first initial is followed by a "Rod." It's creepy and kind of gross.
How about it, Patrick? Will you be sorry to see Rodriguez leave New York. Or will you join me in chortling as he flies away?
–Hampton
Hampton,
Despite your polar perspectives—Jake is a Gotham-based Yankee lover, you're a flyover country New York haterade guzzler—both of you seem to have come to the same conclusion: buh-bye, A-Rod. Good riddance. Don't let the back page of the New York Post hit you on the way out.
Me? I'm going to miss the guy. Already do, actually.
Whether Alex Rodriguez decamps to Miami or remains bolted to New York's future postseason bench—a fate, somewhat ironically, that once befell Juiced author and original A-Rod steroid snitch Jose Canseco—his days of being kind of a big deal in pinstripes seem done. And that's a shame. Downright tragic, I think. And not because I feel badly for the 37-year-old Rodriguez, on the downslope of a long, ragged, humiliating decline, capped by a feeble 3-for-23 postseason hitting performance. (Hey, the man has 114 million reasons over the next five years to feel good about himself; he needs my sympathy as much as he needs a pep dial from Kobe Bryant).
No, the reason I find the End of A-Rod so disheartening is that he used to be so good. Never mind baseball. Forget home runs. I'm talking pure, unadulterated entertainment value. Click-and-share ridiculousness. The aforementioned tabloid back pages. For years, Rodriguez has been—with apologies to Reggie Jackson—the straw that has stirred the drink, and by drink, I mean a delicious cocktail of premium schadenfreude and 100-proof Internet snark, a concoction that ought to be named after Nelson from "The Simpsons'" signature catchphrase.
Call it the Ha Ha.Jake, you mention Rodriguez's infamous Centaur-themed self-portraits—reportedly displayed above his bed, no less!—like they're a bad thing. Au contraire. Those paintings are awesome. Just the idea of them is awesome. And they're, like, borderline Top 5 in the pantheon of A-Rod absurdities. Remember his shirtless day in Central Park? The Details magazine mirrored photo shoot? The STRAY-ROD scandal? The illegal poker games? His reported dating of Madonna? The time he opted out of his contract during the World Series? His half-assed steroid admission? The good-boy sweater he wore during said admission? The fact that he was getting his drugs from a guy named Cousin Yuri? The time he dated Cameron Diaz, and she started looking like she had been hanging out with Cousin Yuri?
Honestly, I was happy to see Trump blasting A-Rod. And to see the reports of Rodriguez trying to pick up women during a recent Yankees' playoff game. Just like old times. Except deep down, I know it can't last. That A-Rod—the one who gave us Madonna-as-"[expletive]-soulmate" -- is kaput, just like the one who once terrorized opposing pitchers. Everyone gets old eventually. Too bad. Jake, you say A-Rod fit New York like a mismatched shoe. I couldn't disagree more. He was a perfect fit. And no matter what the tabloids say—see here
I think they agree with me. Ha ha.
–Patrick