What Makes Denver the NFL's (Very Entertaining) Comeback Kings?
Even without Tim Tebow, the Denver Broncos still have a knack for staging incredible second-half comebacks. Why?
Even without Tim Tebow, the Denver Broncos still have a knack for staging incredible second-half comebacks. Is it the altitude?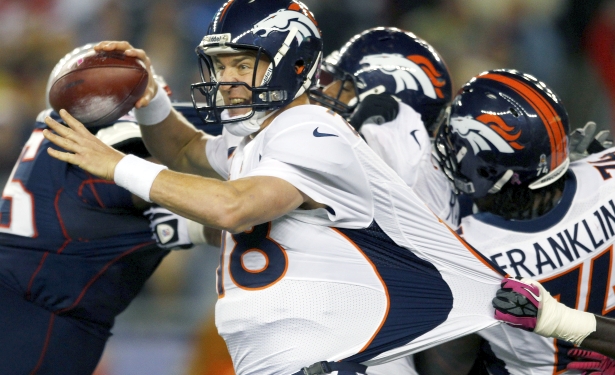 Reuters
Last football season the Denver Broncos enjoyed a brief vogue as the team Americans loved to root for whenever such support did not conflict with more established loyalties. Part of the Broncos' mass appeal stemmed from the play of Tim Tebow, the former college phenom whose atypical style of quarterbacking and unique personality made him something of a cult hero. But another reason why jumping on the Broncos bandwagon appealed to so many disparate groups of fans with no tangible connection to Denver was the team's habit of staging dramatic and improbable comebacks in games they otherwise had no business winning. Five times during the second half of the 2011-12 season, Denver trailed at some point during the fourth quarter and still managed to eke out a victory. Two of those comebacks involved game-tying field goals that were kicked with less than two minutes left on the clock. The most dramatic occurred when Tebow improvised a game-winning touchdown run with only 58 seconds left against the New York Jets as a bewildered Rex Ryan looked onward.
Since there is no statistical metric for measuring a team's ability to make clutch plays when trailing late in a game, analysts and fans were left without an explanation for Denver's fourth-quarter heroics. Given Tebow's devout Christian beliefs and proclivity to advertise them, it became popular to joke that divine intervention truly favored Tebow and the team he led. In reality, it was a combination of the Denver offense's uncanny ability to come alive in the final minutes, Matt Prater's steady leg, a stingy defense, and sheer good luck that contributed equally to Denver's wins. It was an incredibly exciting brand of football, but popular opinion deemed it unsustainable. The magic had to run out sometime, and the end came with a bang when the New England Patriots pointedly ended Denver's season with a 45-10 beat-down in the second round of the playoffs.
In spite of the team's unexpected success—all those comebacks helped the 2011 Broncos earn the franchise's first playoff berth since 2005—Denver's management, led by hall-of-fame quarterback John Elway, decided to shake things up in the offseason. They signed free agent quarterback Peyton Manning (an oldie but a goodie), shipped Tebow to New York, and looked to start fresh by building an offense that they hoped would be capable of scoring points before the final period. But while the new Broncos have some distinct differences from the team that Tebow led just a year ago—they no longer run the read option on offense—one thing that hasn't changed is the team's habit to win by coming from behind.
The 2012 Broncos are 3-3, and two of those victories resulted from fourth-quarter comebacks. In week one against the Pittsburgh Steelers, Manning threw a final-quarter touchdown to Jacob Tamme that gave the Broncos the lead for good, and then engineered another scoring drive that ended in a field goal. In week six, the Broncos trailed the San Diego Chargers 0-24 at halftime and 14-24 at the start of the fourth quarter, but Manning once again rallied the troops and threw two fourth-quarter touchdowns to give Denver the win. That game was so dramatic some have called it Peyton Manning's greatest comeback ever, which is not small praise since, according to Pro-Football-Reference.com, Manning has led 37 fourth-quarter comebacks, the most of any NFL quarterback since 1960. Even when the Broncos lose, they rally late. In each of the team's three losses this season, the Broncos have outscored opponents in the fourth quarter by a margin of 35-0. This is a team that seems preordained to play well down the stretch, and opponents have not figured out a way to stop the Broncos offense from coming alive late in games.
These stats raise the question why, over the past two seasons, has the Broncos offense been able to score so reliably late in games? Other than the switch from Tebow to Manning, most of Denver's offensive players were with the team last season. Is the unit's ability to mount late comebacks some sort of statistical outlier, or is it indicative of something else entirely?
According to the Elias Sports Bureau, since 2003 the Broncos have had 22 fourth-quarter comebacks. That ties them with the Carolina Panthers for second most in the NFL during that time period. The Dallas Cowboys and Indianapolis Colts (Peyton Manning's former team) both had 24 fourth-quarter comebacks over that stretch. So even in the seasons before Tebow mania and Manning, the Broncos were no strangers to coming from behind.
MORE ON FOOTBALL
Conventional wisdom holds that an NFL team's ability to mount fourth-quarter comebacks directly correlates with the downfield passing skills of its quarterback. The reasoning behind this line of thinking is that when teams fall behind late, they tend to ditch conservative play calling and just start throwing the ball downfield. Accurate passers thrive in this type of offensive scheme. Of the 10 quarterbacks with the most fourth-quarter comebacks since 1960, seven are already in the pro football Hall-of-Fame and three (Brett Favre, Peyton Manning, and Tom Brady) will be inducted as soon as they are eligible. This is one of the reasons that Tebow's ability to engineer come-from-behind victories was such an anomaly: Tebow is not a great downfield passer, and yet last season he continued to find ways to make enough plays to pull-off late victories.
Another possible explanation for why the Broncos tend to play well late in games is that since the team trains and plays in Denver, a city that sits at a higher than average elevation, the players may develop greater stamina than opponents who train closer to sea level. This would, in theory, prevent Broncos players from tiring as quickly and give them an advantage late in games, when many players are just running on fumes. According to a story on ESPN.com, Denver has the highest home winning percentage of any NFL team over the past 30 years, and several players say the thin air in Sports Authority Field at Mile High can wear opposing teams out. But the science behind the benefits of altitude training is not conclusive, and even though some athletes still favor training in high altitudes where lower oxygen levels force the body to adapt, it's unclear if altitude training gives athletes a distinct advantage when they compete at locations closer to sea level. Since slightly more than half of the Broncos comebacks over the past two seasons have occurred on the road, it's unclear whether the high-altitude at Mile High stadium is the reason why Denver is so dangerous late in games.
While coming from behind in the NFL makes for great on-field drama, it's not something players relish doing week after week. At the conclusion of the Broncos victory over the Chargers, Manning told ESPN's Lisa Salters, "It was not the start that we wanted—once again we had those self-inflicted wounds that put us in a hole." Manning, Elway, and Broncos Coach Jon Fox would probably prefer to enter the fourth quarter of every game with a comfortable lead, and finding a way to avoid falling behind early has to be the team's greatest priority at this point. Still, impartial fans can hope that Denver continues to live on the edge and rely on late-game fireworks to pull off victories. There's no single explanation as to why Denver is so adept at coming from behind, but there isn't a more entertaining NFL team to watch right now.