Three Definitely Infallible Predictions for the Rest of the World Series
The Tigers are good on paper, the Giants are on a hot streak—what's a prognosticating fan to do?
The Tigers are good on paper, the Giants are on a hot streak—what's a prognosticating fan to do?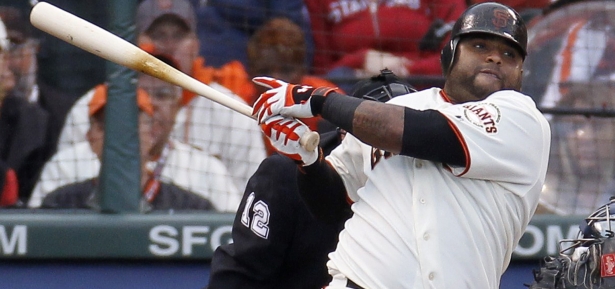 Reuters
Every week, our panel of sports fans discusses a topic of the moment. For today's conversation, Patrick Hruby (writer, ESPN and The Atlantic), Jake Simpson (writer, The Atlantic), and Hampton Stevens (writer, ESPN and The Atlantic) discuss what to expect going into the second night of the San Francisco-Detroit World Series.
---
In college basketball, March is supposedly mad; in the NFL, it lately seems like the silver Super Bowl trophy goes not to the best team, but rather the hottest. (Either way, that's two reasons the Dallas Cowboys haven't won squat since Jerry Jones was sporting his original face. But I digress). For sheer postseason wackiness, though, no sport tops Major League Baseball.
It's funny: Baseball has the longest regular season, which means bigger sample sizes, and the most easily-to-isolate-and-quantify player actions, which means better statistics. As the sabermetric revolution has taught us, the sport is fairly predictable. At least compared to Italian earthquakes. Until you get to the playoffs. Where, as everyone who has read Moneyball knows, Billy Beane's shit doesn't work.
Granted, all of us can rest assured that when October rolls around, Alex Rodriguez will vanish. But raise your hands: How many of you thought Luis Gonzalez would hit a broken bat blooper off Mariano "Hammer of God? I am God" Rivera to win the 2001 World Series? How many of you figured dial-up-modem-slow Sid Bream would somehow beat out a Barry Bonds throw to win the 1992 NLCS? Tell me, young Jedis, did anyone forsee the St. Louis Cardinals sneaking into last year's playoffs on the very last day of the regular season, and then winning it all? Did anyone picture the Washington Nationals blowing a six-run Game 5 lead to lose to the Cardinals this year, or the Cardinals blowing a 3-1 series lead to fall to the Giants? Did anyone expect Sandoval to hit three home runs off Verlander last night? Did Sandoval?
With all of the above in mind, here are my predictions for Game 2 and the rest of the World Series: Donald Trump will reveal Prince Fielder's Little League stat sheets on Twitter. Buster Olney will win a game while pinch-hitting for Buster Posey. And Verlander will sulk over his Game 1 loss exactly until the moment he realizes he's still dating Kate Upton. (Actually, that one is probably accurate). In other words, I have no predictions. And I think that's wise, given that of 58 combined ESPN and Sports Illustrated pundits who predicted World Series match-ups at the start of the season, a minuscule 58 got the eventual Giants-Tigers pairing wrong. Which, it should be noted, is statistically worse than random.
Fellas, I appreciate your best efforts. But here's a tip: sportswriters prognosticate. Baseball laughs.
–Patrick
Well, at times like these I'm reminded of Roger Angell's seminal passage on the Fall Classic after Carlton Fisk's legendary home run in the great October of '75...
Kidding. Let's get right to the series. On the one hand, you have the Giants, dancing with the devil in two straight series, who seem to Hulk up only when their backs are against the wall. They have a bona fide ace in Matt Cain (who won't pitch until Game 3), the MVP front-runner in Posey and the remarkable Marco Scutaro, who has channeled his inner Billy Hatcher this postseason. While their back-end starting pitching has two big question marks, namely Tim Lincecum and Barry "Is it 2001 again?" Zito, but their bullpen is strong and led by bombastic closer Sergio Romo. And yes Hampton, bombastic was used deliberately.
But as compelling as the Giants are, I can't see them beating the juggernaut that is the Detroit Tigers, not even with home-field advantage. The Tigers were built for the playoffs, with a killer starting rotation and a few superstars in the lineup. The light-hitting Giants managed to solve Verlander in Game 1, but they get strikeout machine Max Scherzer in Game 2 tonight, and the eerily consistent Doug Fister in Game 3. I simply don't believe the Giants can beat Verlander twice in a row, despite the reigning MVP's growing penchant for choking in the World Series.
Maybe I'm biased because I just watched the Tigers reduce my admittedly flawed Yankees to mush. But I said before the playoffs that Detroit would win it all, and nothing I've seen in postseason has made me rethink that opinion, not even Wednesday's Game 1 loss. TIGERS IN SIX.
Thoughts, Hampton?
–Jake
Maybe you can't see Detroit losing the series, Jake. But San Francisco sure can, as they made abundantly clear in Game 1. Detroit may be the better team on paper, but last night they looked like—wait for it—paper Tigers .
You can make the case that last night's game was a fluke. Detroit was obviously rusty from the 10-day layoff after sweeping the Yanks, while the Giants won with smoke and mirrors—also known as the ancient Barry Zito and three homers from a giant Panda. Things should be different for Motown from now on.
They should be, but don't bet on it. Detroit is statistically the better team. But stats only reflect the long-term. That is why, rephrasing Patrick's elegant elocution, Moneyball-style analysis doesn't work for the postseason.
Only magic counts. San Francisco isn't just hot. They are spooky like their black-and-orange for Halloween scorching. They're on an epic, historical roll—taking three straight to beat St. Louis for the National League pennant right after they won three straight in Cincinnati to beat the Reds. And they aren't just winning clutch games. They are winning with unsung heroes and lucky bounces on strange plays. Like the double Hunter Pence got last night from a crazy ricochet off third base, and how it weirdly echoed a bizarre, shattered-bat two-bagger Pence had in the series with Cardinals. The Giants also have an animal totem with their Giant Panda, shades of rally monkeys and squirrels. They had a Game 7 that ended, Kinsella-like, with the city's first rain in months, with fans and players dancing in the downpour. Beware of hair, always. Brian Wilson's facial follicles are already famous, and now Sergio Romo's beard has its own Twitter account, too.
They look relaxed, on and off the field. That alone can be enough to account for the extra fraction of a second that means the difference in baseball between hit and miss, win and loss. The Giants believe that something good is going to happen. For physiological or maybe mystical reasons that means good things usually do.
–Hampton