Ten years after punk and indie rock split, the two genres may be finally getting back together.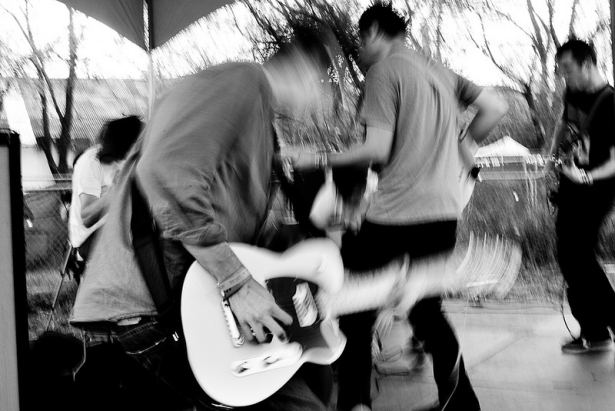 Like all aging genres, indie rock's begun to grow soft around the middle. Maybe it's all that craft beer, but the underground scene that once produced an album dubbed Songs About Fucking now wins Grammys for fluttery New Age music about not being magnificent. Bands that might've once smashed guitars in sweaty clubs now top summer festivals with backing tracks and face-paint. But this year, a handful of young acts are diving headfirst back into indie's mosh pit origins.
MORE ON MUSIC
A decade ago, indie and punk were a Venn-diagram overlap of thrift-store cardigans, pin-covered messenger bags, and chunky, prescription-optional glasses. (Also: guitars.) Acts from Bright Eyes to the Promise Ring got cozy within mom-and-pop record stores, AIM away messages, and Audiogalaxy share folders; groups such as the Appleseed Cast and Sunny Day Real Estate balanced punk antagonism with late '90s indie's experimental sweep. Groups from the Shins to the Constantines had been made possible, on logistical terms if not musical ones, by D.I.Y. predecessors from Black Flag to Fugazi, a legacy that drew respect.
But things began to change with the rise of a new, commercial breed of punk's subset emo, driven by the mainstream success of Chris Carrabba's Dashboard Confessional, mid-career breakouts Jimmy Eat World, and a generation of tearful, tattooed bands chronicled in Andy Greenwald's Nothing Feels Good. Blink-182 had already muddied the waters of punk status with its Total Request Live-charting videos for 1999's Enema of the State, paving the way for Hot Topic hits from the likes of Sum 41 and Good Charlotte—when Carrabba led the angstiest sing-a-long in pop history on a revived "MTV Unplugged" in 2002, it was punk's coolness death knell. Indie, dictated largely by obscurity fetishists on message boards and critical outlets such as Pitchfork Media, turned its back on its once-loved spouse.
Instead, the underground swerved into the irony-steeped post-punk of the Strokes and Interpol, the dance-floor incantations of the Rapture and LCD Soundsystem, and the soft, sensitive coffeehouse folk of Sufjan Stevens and Fleet Foxes. Not all gave up on anguished sincerity, but Arcade Fire's emotional bluster drew from the legacy of arena rock, not D.C. hardcore. Elsewhere, the White Stripes and Black Keys built their guitar noise on styles vintage enough to draw praise from the cred police. As indie's star rose, punk had a separate falling-out with the pop charts, dropping well below the sales stats of pop divas, hip-hop stars, and world-conquering DJs, whose myriad strains of electronic music now inform artists from Washed Out to Carly Rae Jepsen. The top-selling rock act of the 2000s wound up being Nickelback, a band whose consumption ode "Rockstar" sounds about as punk as overdosing in Paris Hilton's driveway.
Now, though, punk's experiencing an impressive revitalization within the indie scene. There have been hints at a reconciliation on prior efforts such as Fucked Up's David Comes to Life or the Hold Steady's Stay Positive, which sings praise to the Clash's "Saint Joe Strummer," but since January, the secret's out: tastemakers from Pitchfork to NPR have championed a generation of young acts including Cloud Nothings, whose pummeling latest, Attack On Memory, was recorded by Pixies and Nirvana producer Steve Albini.
Vancouver duo Japandroids' similarly raved-about sophomore set, Celebration Rock, is as enthusiastic as its title implies, all full-volume guitar chords, clattering drums, and youthful rebellion. "Don't we have anything to live for?" the band's Brian King sings on "The Nights of Wine and Roses," before delivering a line that could launch a thousand Williamsburg parties. "Of course we do, but until it comes true/we're drinking." It's music meant to be shouted along with, full of whoa-oh-ohs sized just big enough to leave room for the audience—a crowd-pleasing trick more often practiced on the Warped Tour than Coachella.
L.A. slacker-punks FIDLAR, Brooklyn amp torturers the Men and the Odd Future-endorsed Sacramento hardcore group Trash Talk have also entered the pit with sharpened elbows, but perhaps the best of the new punk wave is Brooklyn's Swearin'. With singers Allison Crutchfield and Kyle Gilbride leading the charge, the quartet nods to the guitar savvy of Built to Spill, the riot-grrrl fearlessness of Sleater-Kinney and the lyrical depth of the Weakerthans—a recipe that recalls what made indie and punk's previously aligned paths such fertile ground. With a full resume of past projects preceding this summer's debut, they're the rare act that acknowledges punk can age gracefully, or at least on its own terms: "No one likes you when you're as old as we are," Crutchfield sings on "Movie Star," swinging a baseball bat of power chords at Blink-182's immortal "Nobody likes you when you're 23."
Swearin' will tour with Japandroids in November, and despite the prevalence of laptop acts offering fashionable singers and light shows, stripped-down rockers have found support on the road. Even trend-centric summer festivals have spotlighted punk's regeneration, enabling reunion performances this year from Refused and At The Drive-In—late '90s cult icons whose visceral recordings, most notably 1998's The Shape of Punk To Come and 2000's Relationship of Command, respectively, prefigured (and outclass) today's hardcore. The old guard's ranks have swelled with the return of the pop-leaning Promise Ring and latter-day D.C. heroes the Dismemberment Plan, whose 1999 peak Emergency & I combined spiky musicianship with heady, introspective wordplay. (Members of both groups would join briefly in undersung '00s act Maritime before ex-Plan bassist Eric Axelson left the band.) Demand for the Plan's reunion gigs, which expanded from a planned handful to a not-quite-tour, have inspired new material and talk of a sequel to 2001's Change, while the Promise Ring will release a rarities set on Maritime's label, Dangerbird.
Punk's indie infusion comes as the mainstream-leaning side of the genre threatens to run out of gas completely. Outside of deathless monoliths such as Green Day, who will assert their dominance this fall and winter with a trio of new albums, pop-punk and emo have found themselves ghettoized at corporate fests such as Warped Tour and Bamboozle and fighting for scraps on what's left of modern rock radio. There are signs of life in Paramore, the Hayley Williams-led group that's ascended to global headlining status on the back of powerhouse vocals and genre-transcending songwriting, but the band may well be the last of its kind. Punk needs both cred and fresh ideas—and indie, with its once-beloved guitars gathering dust under MacBook Airs, could use a shot in the arm. "I just want you to love me, whoa-oh-oh-oh-oh," Crutchfield sings in Swearin's "Just." Let's hope these crazy kids can work it out.