The Two Kinds of Political Movie Stars: The Candidate and the Citizen
With Argo and The Promised Land, friends Ben Affleck and Matt Damon are putting out their most political work yet. But only one of them seems to be eyeing higher office.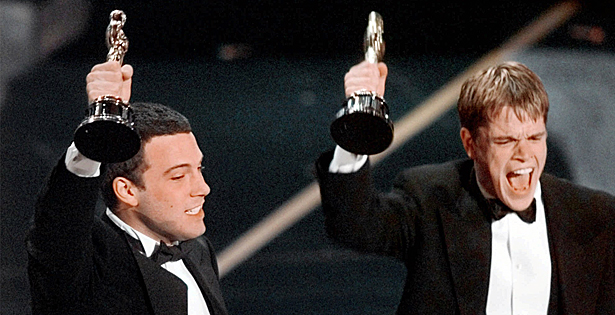 AP Images
When Good Will Hunting was released in 1997 and its wonder boys Matt Damon and Ben Affleck were catapulted into the upper ranks of Hollywood leading men, there was little indication of how politics would come to shape the two stars' careers. The populism of that film, in which a working-class genius defeats the oppressive intellectual elite, was always evident, but its politics have become even more visible with hindsight. As the pair have matured from touted Hollywood newcomers to respected and established filmmakers, they have gradually let their true political colors fly—and, of course, the color in question is blue.
Raised in the solidly Democratic state of Massachusetts, Affleck and Damon have supported liberal candidates throughout their careers, and pundits have sometimes wondered which of them might run for office someday. Damon in the press has been a solid "no" on the idea, even when Michael Moore publicly suggested he run for president, but Affleck has said that he may eventually become a candidate. Now, the two are putting out their most political films yet: the upcoming The Promised Land and the just-released Argo, respectively. These movies and their creators' careers show the two paths that exist for smart, politically engaged celebrities: that of the bold voice for change, and that of the guy who might actually win votes. In other words, we are far more likely to one day be saluting President Gigli than President Bourne.
Related Story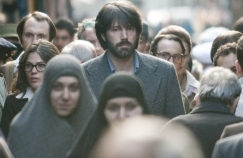 Damon has been more outspoken, and his liberal politics have come into sharp relief during the Obama administration. He has criticized the president from the left and made a campaign video for the Working Families Party in New York, but he ascended to liberal folk hero when he angrily spoke out for teachers during an impromptu interview at a teachers' rally earlier this year. Affleck, on the other hand, has been a vocal supporter of President Obama, defending him unreservedly recently on The O'Reilly Factor, but has largely avoided speaking out on controversial issues.
Each actor has the charisma and intellect to move from film to politics, but Affleck has charted a more propitious course. After a tumultuous career as a movie-star idol, he turned to directing in 2007 and made two crime movies set in his hometown of Boston, Gone Baby Gone and The Town. There was barely a whiff of politics in these two films, but they effectively revived his public image, which was previously on life support due to a series of flops and his much-ridiculed engagement to Jennifer Lopez.
But Affleck's path back to respectability was expertly planned, as his directorial efforts aimed low and mined familiar subject matter. His first two films were set in the world of organized crime in South Boston, which was particularly en vogue after the recent successes of Mystic River and The Departed. More importantly, Affleck's films did not overreach; they were simple but sturdy exercises in genre, and they highlighted his ability to entertain the masses. The plan worked: Both Gone Baby Gone and The Town were praised by audiences and critics alike, and Affleck was back in the public's good graces.
With the release of his third directorial effort, the potential of Affleck's future political career becomes clearer. Affleck merges his love of Hollywood with his deep admiration for the American intelligence community in Argo, his telling of the true-to-life joint mission between the CIA and the film industry to exfiltrate six American diplomats who escaped the embassy in Tehran before hostages were taken in 1979. Argo is being called a political thriller, which makes it sound a lot edgier than it is. While a few pundits have speculated that the film's generosity toward former President Carter is meant to blunt Mitt Romney's attempts to compare Carter to Obama, at heart, Argo is a reverent, nonpartisan tale of American heroism. Tellingly, the film has been praised by news outlets as politically diverse as the Huffington Post and Fox News.
Damon has also had his share of box-office success, but his film choices show him to be less of a political statesman and more of an activist. Syriana, Green Zone, and The Informant!—none of them hits—were each shrouded in populist anger at government corruption and ineptitude. Even further to the left, Damon narrated Inside Job, a penetrating documentary about the financial collapse, and had a bit part in frequent collaborator Steven Soderbergh's two-part art-house biopic, Che. Should Damon ever run for office, he might expect to see a clip from that movie on Fox News once or twice.
Later this year, Damon will offer up Promised Land, which dramatizes the controversial process of fracking in small, rural communities. The film, which he co-wrote and was at one point attached to direct, is already making him some political enemies. According to The Wall Street Journal, the natural gas industry is working on a public campaign to rebut the claims in the film, including new scientific studies, social media, and leafleting in front of movie theaters. There are no such protests outside of theaters showing Argo, whose politics are defined largely by its intent to please everyone.
Still, if history is any indicator, Affleck's is the better path from film to politics. Hollywood has a long history of politically active stars, but those who have run successfully for office rarely make the kind of activist movies to which Damon gravitates. In the 1970s, it was practically de rigueur for movie stars to take up political causes. From Warren Beatty to Robert Redford to Jane Fonda, left-leaning actors learned to use their fame to build grassroots support for their causes. But despite much speculation, none ran for office. Beatty came the closest; he played key advisory roles on the presidential campaigns of George McGovern in 1972, Jerry Brown in 1976, and Gary Hart in 1984 and 1988—not exactly a stellar track record.
The two most famous actors-turned-politicians, of course, are Ronald Reagan and Arnold Schwarzenegger, and they have more in common than their political leanings. Neither made overtly political films and instead ran campaigns based on the heroic personas they had cultivated in their film careers. Reagan was the cowboy: a maverick and a straight shooter. Schwarzenegger was the rogue agent who could force the world to bend to his will, a quality that California, a state in complete economic and political disarray at the time of his campaign, desperately needed. Affleck, who shrewdly cast himself as the central hero of Argo, seems to be collecting the kind of roles that will prove useful should he decide to seek elected office because they have cross-party appeal.
Perhaps the most revealing contrast of how Affleck and Damon view their place in politics may be the ways the CIA is depicted in Argo and the Bourne movies. The Bourne Identity and its sequels paint the CIA as ruthless villains, betraying a mistrust in government the likes of which has not been seen since Watergate-era films such as The Parallax View and Three Days of the Condor. Although Damon did not create the Bourne franchise, he is most closely associated with it in the minds of the public. Argo does not shy away from depicting the inefficiencies of government bureaucracy, but it ultimately portrays the intelligence community as American heroes. This film will win Affleck many friends in the Beltway, and if a career in politics is truly in the offing, friends like those—and a movie like Argo—will come in handy. In other words, Argo could be seen as Affleck's early fundraising letter to the two demographics most crucial to the success of any Democrat seeking higher office: Hollywood and the Washington elite.