'The Sessions': A Grownup Movie About Sex
In an extraordinary performance, John Hawkes takes us inside the mind of a disabled man attempting to lose his virginity.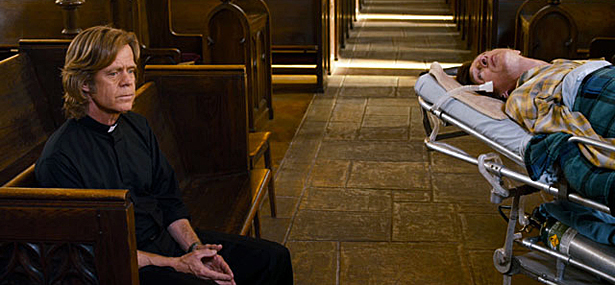 Fox Searchlight
Early in The Sessions, the protagonist, Mark O'Brien—poet, journalist, and involuntary virgin at the age of 38, polio having paralyzed his body from the neck down—is asked about his personal faith. "I'm definitely a true believer," he responds. "But I believe in a God with a sense of humor, a wicked sense of humor. One who made me in his own image."
That sense of humor, which propelled the real-life Mark O'Brien for 49 years until his death in 1999, is also the engine that drives The Sessions, the multiple-Sundance-award winner from writer-director Ben Lewin. Touching, amiable, and unexpectedly universal, the film offers a grownup take on a subject—the ecstasy and terror of crossing the threshold of Sex—too often entrusted to the hands of horny, inebriated high-schoolers.
John Hawkes stars as Mark, his body confined to a horizontal gurney but his mind fleet and his wit barbed. I wrote above that he was "paralyzed," but as Mark himself explains that is not entirely accurate. He is in fact capable of both erection and ejaculation—if anything, too capable, given that the opportunities for either are limited to the sponge baths he receives from his caretakers.
It is after his declaration of love for one such caretaker is rebuffed that Mark discusses with his priest, Father Brendan (William H. Macy), just how great a sin it would be, exactly, if he were to hire a sexual surrogate. "In my heart," the theologically flexible padre tells him, "I feel like He'll give you a free pass on this one." (It's a pleasant departure to see devout believers portrayed in a generous light, even if the price is such minor heresies.)
Enter Cheryl Cohen Greene (Helen Hunt): wife, mother, breadwinner, liberated woman, sexual surrogate. Over the course of a handful of frank, tender sessions—her upper limit, Cheryl explains, is six, because unlike a prostitute her goal is not repeat business—she will coach Mark gradually around the bases and across home plate.
A reliable character actor for more than two decades, Hawkes has been inching toward center stage for several years now—in Deadwood, in Me and You and Everyone We Know, in Winter's Bone, in Martha Marcy May Marlene. Well, he's arrived. The Sessions is Hawkes's film, and he makes the most of it, offering a portrait of disability that far transcends its medical particulars. In conversation and (especially) voiceover, Hawkes steers us away from Mark's physical limitations and into his mind, a destination at once familiar and inspiring. The result is one of the most memorable performances of the year to date.
As Father Brendan, Macy is not given a great deal to do—modest laughs accrue when he lights a cigarette or shows up at Mark's door with a six pack—but he does it all with his customary brand of irresistible modesty. Lewin, who like his subject was struck by polio at the age of six, offers up a neat script and understated, unhurried direction.
Which bring us to Hunt. Her performance as Cheryl is nuanced and powerful—and quite brave, entailing physical exposure that would have most actors demanding a body double. But her role is limited in a way that Hawkes's is not. If he takes us inside Mark's mind, it is from that vantage that we perceive Cheryl. She is a character in the tale of which he is the author, and she bears the attendant baggage of sexual redeemer, angel of orgasm, and inevitable love interest.
It is here that the film makes its one significant misstep, deviating from the genuine story of Mark O'Brien and Cheryl Cohen Greene (recounted in his essay "On Seeing a Sex Surrogate") in order to present, at least for a time, a more conventional romantic narrative. It is a small flaw in an otherwise exceptional film, but a flaw nonetheless. As the real-life Mark and Cheryl knew, not all stories have to be love stories—even when they have sex at the center.