The Real Dead Poets Society: How America Buries Its Famous Writers
There's no rule for how to properly commemorate a literary great—so some authors' grave sites are more modest than mausoleum.

Wikimedia
Driving down Veirs Mill Road on the way to the Rockville Amtrak station in Rockville, Md., it's easy to miss the small banner to the side of St. Mary's Church, laying claim to the grave of one of America's most lauded authors: F. Scott Fitzgerald.
But ask a local where Fitzgerald is buried, and you might soon venture through a small metal gate into the cemetery, wander through the overgrowth, and find Fitzgerald's final resting place. He's buried next to his wife, Zelda, and their grave is commemorated with the Great Gatsby quote: "So we beat on, boats against the current, borne back ceaselessly into the past."
On the sunny, early fall Sunday I was there, no one else was visiting Scott, though it's clear that others had been before, judging by the pennies left atop his and Zelda's worn stone marker. The pennies could go back to old-world folklore about leaving something to take into the afterlife, perhaps, or they could also could also serve as belated and futile insurance against Fitzgerald's rapid descent in society due to alcoholism and an excessive lifestyle, which left him broke and feeling like a failure when he died in his 40s, despite having published more than 150 short stories and four novels (a fifth, The Love of the Last Tycoon or sometimes just The Last Tycoon, was published posthumously).
Writers' graves can be surprising places to visit. Unlike the luminaries housed at more elegant cemeteries, like Pere Lachaise in Paris (Victor Hugo, Marcel Proust, Oscar Wilde, Gertrude Stein, Richard Wright), many literary stars lie for eternity in simpler, plainer spots around this country, with traditions around how to commemorate them as widely varied as the genres they comprise.
Some have touching or amusing epitaphs—Charles Bukowski's is "Don't try."
The flamboyant persona of Truman Capote, meanwhile, might shudder at the simplicity of his grave marker: His ashes are noted with a plaque on the wall in a cemetery in Westwood Memorial in Los Angeles. (His proximity to the graves of Natalie Wood and Marilyn Monroe might make him smile from that great Tiffany's in the sky).
Oddly, a couple handfuls of Capote's ashes were kept at the house of his friend Joanne Carson (Johnny's wife), until they were stolen one Halloween night and then later returned, mysteriously, in the dead of night, and placed in a coiled-up garden hose out back. (Some of Capote's ashes have also been scattered in New York, making him forever bicoastal).
e.e. cummings is buried in Forrest Hills cemetery in Boston on a hill overlooking a lake, beneath a tiny rock that you can barely find (even with a map, depending on how many leaves have fallen that day), just a short walk from Anne Sexton's larger, more noticeable tombstone.
Flannery O'Connor's Andalusia Farm grave in Milledgeville, Ga., receives tokens ranging from coins to plastic gorillas (a reference to her story "Wise Blood"). And Sylvia Plath's grave at one time (before the lettering was changed to bronze) saw fans returning again and again to scratch out the name of her philandering poet husband Ted Hughes.

Saul Bellow, so well-associated with Chicago, is permanently housed now in the Jewish section of a cemetery in Brattleboro, Vt., where he had a vacation home (his grave was luckily spared when Hurricane Irene struck in 2011). And Fitzgerald's own Paris comrade Ernest Hemingway, long associated with Key West, forever lies in Sun Valley—Ketchum, Idaho—a place he used to escape to, and where he eventually took his life.
Dorothy Parker grew up in New Jersey and is almost synonymous with the literary scene in New York City, and yet her ashes are currently interred at the NAACP headquarters in Baltimore, with the epitaph, "Excuse my dust." According to a piece done by NPR, when she died in 1967, her last will and testament specified that Martin Luther King should have her estate. When King was assassinated the next year, plan B (which she had also specified, considering the constant danger King was in) went into effect, and the NAACP got her remains.
The greatest and most famous mystery grave of all could be that of Edgar Allan Poe, who was found going out of his mind on Baltimore's streets in 1849 and died of either delirium tremens, heart disease, epilepsy, syphilis, cholera or rabies (all have been posited as theories). For more than 20 years, Poe lay in an unmarked grave, until he was moved to Charm City's Westminster Cemetery, on the southeast corner of Fayette and Greene Streets, in 1875.
"What's true is that he was buried in Baltimore very soon after he died, and that there was no marker originally; no proper stone," said Mark Redfield, who made a film called The Death of Poe in 2006 and produces events with the Poe House and Museum. "As Poe's fame grew after his death ... after the Civil War, a group of fans led the charge to build a proper monument to him."
A few years later, they also moved Virginia Clemm, Poe's wife, and Poe's aunt, Maria Clemm (yes, Poe married his cousin), to join him. "Of course, they had to disturb him again to reunite him with his family," said Redfield. "I'm sure he welcomed it."
The original plot where Poe was buried now has a marker of its own: That of a raven. And it is partially for the similarities between Poe's disquieting sense of the macabre and his own tragic demise and burial that draws thousands of visitors to the gravesite every year.
According to Redfield, visitors he comes in contact with are most fascinated with 'The Poe Toaster,' a mysterious figure who leaves three red roses and a half bottle of cognac at his grave every anniversary—a tradition begun in the 1940s when the Poe Society of Baltimore formed.
Related Story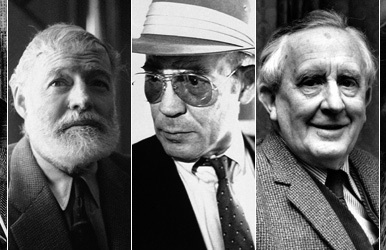 But not all graves that seem less auspicious than their owners are mysterious. Kate Chopin, who wrote "The Awakening," an early feminist novel published in 1899, is buried in Calvary Cemetery in St. Louis with a simple plaque slightly off the ground that only gives her name, her birthday, and death date. And that's likely how she wanted it.

"Here's the thing: We're very simple people," said Susie Chopin, Kate's great-granddaughter, who's in her early 50s. "All the tombstones are very simple and very uniform. It was just the style."
Susie lives about 20 minutes from Calvary—which also happens to house the gravesite of Tennessee Williams—and visits about six times a year. She has never bumped into any non-family visitors while there—though, as with the Fitzgerald site, there are mementos of peoples' affection for Kate.
"We've seen roses. There were little scrolls [that] when you took them apart, [held] a poem that Kate had written about her best friend, Kitty," she said. "These school kids had laminated poems and some of them had drawn pictures, put ribbons around them and left them at her grave. They also left little paper-made cigars"—which hark back to Kate Chopin's days in Louisiana when she liked to smoke.
Of people who visit the site, she said, "It's very sweet because we know that people really love her and remember her," Susie said.
And then, there are times when redemption is possible long after an author died, as was the case with Zora Neale Hurston, author of Their Eyes Were Watching God. When Hurston died in 1960, in Fort Pierce, Fla., she only had a "very slight insurance policy that didn't cover the cost of her funeral," said journalist Valerie Boyd, who wrote Wrapped in Rainbows: The Life of Zora Neale Hurston.
After one of Hurston's friends wrote about the author's death for the Miami Herald, Hurston's neighbors took up a collection for a funeral—raising $661.87—but they didn't manage to collect enough money for a headstone.
"The fact is, it wasn't unusual for black people at that time to be buried in graves that weren't marked," Boyd said. "Financially strapped Southern families often couldn't afford a marker as well as the costs of the funeral itself. People would just remember where their loved ones were buried and visit their graves every year to pay tribute. Often, if the family came into some good fortune, they would add a marker to the grave later."

A 29-year-old Alice Walker visited Fort Pierce in 1973 with the intent of placing a marker on Hurston's grave. Walker was then at the early stages of her own career, many years before publishing The Color Purple and winning the Pulitzer prize. She stumbled through the weeds to get to Zora, and worked to get a headstone put in place. The epitaph Walker chose reads, "A Genius of the South."
Now, Fort Pierce hosts a ZoraFest every year, and there's a plaza entry by Hurston's grave. Local women from Zeta Phi Beta sorority—of which Hurston was a member—tend to the grave regularly.
"I think folks in Fort Pierce have been a bit embarrassed by the impression that some people have of them as the town that couldn't raise enough money to properly bury Zora Neale Hurston," Boyd said, though she adds that she feels that reputation is "undeserved and inaccurate."
As for tokens, Boyd said, "I always visit the grave when I'm in the area and I usually try to take Zora a little bit of money, because she never had enough in her lifetime, some Pall Mall cigarettes, because that's what she smoked, and some Florida oranges, because she loved them so."