The NCAA Needs to Let Someone Else Enforce Its Rules
A lawyer's take on how to fix the National College Athletics Association's broken, capricious system for investigating and punishing schools and student-athletes accused of impropriety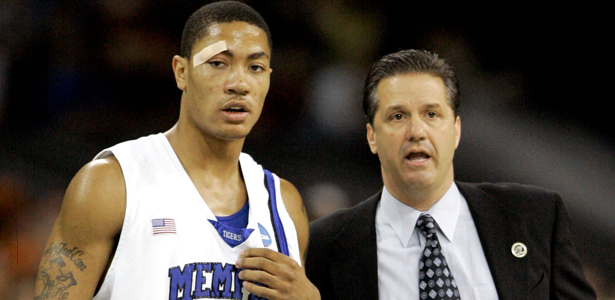 Former University of Memphis guard Derrick Rose and his then-coach John Calipari, both controversial figures in college sports, talk strategy during a basketball game in 2008. (AP)
The National Collegiate Athletics Association (NCAA) does many wonderful things, but consistent enforcement of its byzantine rules is not one of them. It is hard to know what is worse: the cases in which the NCAA investigates and imposes penalties, or the cases in which it does nothing. Its patchwork effort does little to inspire respect or deterrence.
Of course, this inconsistency is just one of many, larger hypocrisies besetting the NCAA these days. On several fronts, the NCAA finds itself in a credibility quicksand, and every action it takes lately seems to sink it deeper in the muck. The inconsistent enforcement of its own rules, however, is one area in which a workable solution exists within the current system's structure.
The solution is abdication. Not abandonment of any enforcement efforts but voluntary transfer of enforcement responsibilities to an outside organization. This gesture would serve as an acknowledgment that an independent body would do a better, more credible job of enforcing the NCAA's rules than the NCAA itself, which suffers from financial and other conflicts of interest in this regard.
THE STATUS QUO
Weak Enforcement Through Inadequate Investigations: The NCAA attempts to control nearly all aspects of its student-athletes' interactions with the outside world. Its rulebook exceeds 400 pages of detailed limitations on contacts with potential student-athletes by member institutions, boosters, and sports agents. It also sets forth constraints on the benefits that may be provided to both current and future student-athletes without jeopardizing their amateur status.
To enforce this surfeit of restrictions, the NCAA employs a staff of approximately 55 people based in Indianapolis. That staff includes about 40 investigators whose expertise appears to favor writing ability and athletic familiarity over actual investigative experience. More than half of the staff were student-athletes, and approximately one in six are former NCAA coaches. (One notable exception was Bill Benjamin, a former NCAA football player and homicide detective, who led a small group of investigators focusing on compliance exclusively in football; unfortunately, Benjamin resigned in June 2012 after less than eight months on the job.)
The NCAA's budgetary support of this investigative staff is unknown because the NCAA refuses to make this information available to the public. Yet, based on the organization's boasts that it returns 96 percent of its more-than-$850 million annual budget to member-institutions and retains 4 percent (approximately $34 million) for "central services," one can ascertain that the enforcement staff competes with all other "central services" for a small piece of that $34 million pie.
Perhaps not surprisingly, without subpoena power and without a staff possessing significant investigative experience, the NCAA's enforcement staff has become hugely dependent on member institutions self-reporting their own violations. And because of the picayune nature of many of the NCAA's rules, most of these self-reports that flood the system concern "secondary" (read: immaterial) violations—about 4,000 per year. Processing these secondary violations reduces the staff's ability to focus on major cases. Across all NCAA sports, the enforcement staff processes an average of only 25 "major" cases each year—and many of those result from self-reports, as well.
Weak Enforcement Through Inherent Conflicts of Interest: Inadequate investigations are compounded by inherent conflicts of interest of the body that imposes penalties for the limited number of violations that are discovered each year. Once processed, a case is referred to a separate body, the Committee on Infractions, for determination of punishment. This committee is composed of three independent members and seven representatives from member-institutions. In other words, the member-institutions basically judge one another. As if this fundamental structure did not create an appearance of impropriety—through the NCAA's role as prosecutor, defendant, jury, judge, and appeals court in the same inquiry—the NCAA exacerbates this problem in at least two ways. First, it gives representatives of fellow member-institutions the power to impose crippling sanctions on rivals and absolve allies. Second, signing multi-billion-dollar media contracts that generate over 90 percent of the NCAA's revenue have created a powerful financial disincentive to imposing penalties that might damage the "brand" of NCAA sports, in general, and the media access to flagship programs, specifically.
Weak Enforcement Through Inconsistent Punishment: Respect for the NCAA's punishments is further diminished by their inconsistency. This not only erodes the moral authority of the NCAA, but it also saps the rulings of their full deterrent effect because they seem untethered to any defined principle. For instance, a comparison of recent challenges to the amateur status of several high-profile college basketball players yields few discernible rules capable of application to future cases:
While in high school, the University of Kansas's Josh Selby and his mother accepted approximately $4,600 in impermissible benefits from a business manager to several NBA players. These benefits took the form of clothes, transportation, meals, and lodging. The Infractions Committee suspended Selby for nine games of his freshman season in 2010-11 and directed him to repay approximately $4,600 to a charity of his choice.

While in high school, and extending into his freshman year of college, the University of Connecticut's Ryan Boatright and his mother accepted approximately $8,000 in impermissible benefits from two individuals who, according to the NCAA, were tied to "nonscholastic basketball and professional sports." These benefits took the form of cash, car payments, travel expenses, and other expenditures. Initially, Boatright's mother did not cooperate with the investigation, which prompted the Committee on Infractions to grant "limited immunity" to the player to detail all of the impermissible payments. After this disclosure, the Boatright was forced to sit out nine games of his freshman season in 2011-12 and to repay only $4,500 of the proffered $8,000 to a charity of his choice.

While in high school in Turkey, the parents of the University of Kentucky's Enes Kanter received more than $33,000 in tuition reimbursements from the player's club team (which also sponsored a professional team). They received these payments because, rather than accept free tuition from the team at its school (which was heavily focused on athletics), the player's parents applied that tuition credit at a private school with a more rigorous educational program. When Kanter sought to enroll in an NCAA institution, his foreign-based parents cooperated fully with the NCAA and offered to repay the educational subsidies. The Committee on Infractions, however, ruled the player permanently ineligible in late 2010 without any opportunity to repay any portion of the educational benefits to charity.
A similar story of inconsistency emerges in the treatment of schools that are later found to have competed with "tainted" players on their rosters. Three high-profile examples drive home this point:
While in college, Marcus Camby of the University of Massachusetts accepted $40,000 in benefits from a sports agent. That year (1996), the athlete's team lost in the national semi-final game. Upon disclosure of the impermissible benefits, Camby stated that his coach, teammates, and member institution were unaware of the impermissible benefits. Moreover, the NCAA itself concluded in writing that the coach (and school) were "innocent victim[s]" of the player's misconduct. Nonetheless, the Committee on Infractions forced the institution to forfeit all victories in which Camby participated that year and return all revenue received from the NCAA in connection with its appearance in the Final Four (over $150,000).

While in high school, The University of Memphis's Derrick Rose allegedly obtained a qualifying SAT score by fraud. The athlete's team lost in the national final game in his freshman year (2008). There was no finding or suggestion that any representative of the university was aware of the alleged fraud. Indeed, the NCAA had cleared Rose to play throughout the season. Nonetheless, the NCAA retroactively revoked that permission, held the the University of Memphis "strictly liable" for the athlete's ineligibility, forced the institution to forfeit all victories in which the Rose participated that year, and return all revenue received from the NCAA in connection with its appearance in the national final game (more than $615,000).

While in high school, Duke University's Corey Maggette received $2,000 in cash from his coach; the money came from a pool of money provided by professional sports agents. Duke lost in the national final game in Maggette's freshman year (1999). One year later, both the player and his coach confessed the impermissible payments. The NCAA commenced its investigation in 2000 but did not issue a decision on the matter for several years. Finally, after public protests about the delay, the NCAA's vice president of enforcement announced in 2004 that it could not conclude that Maggette or the university knew or should have known that he was ineligible. There was no mention of "strict liability." Duke did not suffer any penalty at all, and Maggette was not forced to repay any money to charity.
The capricious enforcement also extends to a failure to investigate certain cases that seem to cry out for an NCAA inquiry. For example, an internal investigation at the University of North Carolina-Chapel Hill recently revealed what a local newspaper called "the biggest case of academic fraud at UNC-CH in decades." Specifically, the probe discovered unauthorized grade changes by forged signatures and classes where no instruction took place in at least 54 classes within the Department of African and Afro-American Studies between 2007 and 2011; football and basketball players comprised approximately 40 percent of the students enrolled in these suspect classes. Shockingly, the NCAA and UNC issued a statement in August 2012 to make clear that any such cheating to boost eligibility of athletes did not violate any NCAA rules. No one's eyebrows should have been raised higher than those of administrators at the University of Connecticut, whose reward for honestly reporting its men's basketball players' poor performance in their college classwork was a ban from post-season play and scholarship reductions pursuant to a different set of NCAA rules. The NCAA's bizarre lesson, therefore, seems to be: We will not punish you for passing a fake college class, but we will punish your poor performance in a real college class (if you are naïve enough to report that failure honestly to us).
Finally, it is too early to know yet how deeply the NCAA will investigate extravagant jewelry purchases by the starting forward on Duke University's championship team in 2010. According to a lawsuit (which was quickly settled), Lance Thomas paid $30,000 up front for nearly $100,000 worth of jewelry during his senior season; the balance was payable within 15 days and allegedly went unpaid. Obviously, questions abound whether Thomas "legitimately" obtained the down payment for the jewelry and whether the jeweler extended him such a large credit based on his status as a Duke (and likely, future professional) basketball player. If the answer to either question was "yes," Duke would be forced—under a "strict liability" theory—to forfeit its national championship.
The NCAA's response to the moral failures by Penn State administrators only deepens the confusion. The horrible events in question were being addressed by the criminal- and civil-justice systems, and public opinion was almost uniformly denouncing the administrators' conduct. Yet the NCAA seemingly needed to add its own "amen" to this chorus of condemnation, so it suspended its usual rules of due process, relied wholly on an investigation conducted by outsiders, created an unintelligible new standard for liability (the exceedingly vague notion of a "sports is king" culture over-riding moral judgment), and extorted—upon threat of the "death penalty" for the school's football team for a period of years—Penn State into "consenting" to an onerous financial penalty, erasure of wins from the record books, and scholarship forfeitures that will further hobble the school's effort to recover from the administrators' misconduct. And for what—do these penalties based on the vaguest of standards serve as any realistic deterrent? Did the NCAA honestly believe that an administrator faced with a similar situation in the future (heaven forbid!) would be deterred by scholarship reductions and erased wins, as opposed to jail, universal public disgrace, and termination of his career? Rather, the whole process reeked of a desire by the NCAA to put itself on the right side of a moral issue to move the conversation, if only temporarily, away from its own moral failings.
Taken together, the inconsistency in the NCAA's enforcement and punishment decisions diminishes respect for the organization's integrity. It also suggests a hypocrisy in the NCAA's commitment to the "amateur ideal" that plays such a major role in the marketing and branding efforts that have yielded its multi-billion-dollar media contracts. In this way, the NCAA and its member-institutions have a direct financial stake in correcting this public perception.
THE PROPOSAL FOR THE FUTURE: Get the NCAA Out of the Enforcement Game
In service of that goal, the NCAA should take the following steps to restore confidence in its commitment to fair treatment under its rules:
Outsource Major Investigations: The NCAA should engage an outside entity (law firm, consulting firm, investigative agency, etc.) to manage the investigation of all major violations. Among other benefits, this outside entity would not labor under the same inherent conflicts of interest as the NCAA's current enforcement staff.

This outside entity should be comprised of professionals with significant investigative experience, such as former detectives and prosecutors—i.e., people with experience in questioning witnesses, processing large volumes of documentary evidence, building a case, connecting dots, etc.

As opposed to its investigators being stationed in a central location, the entity's investigators should be spread throughout the country to take advantage of broader networks of sources and facilitate more efficient responses to investigative leads.

The NCAA itself can continue to process and penalize self-reported secondary violations, as appropriate. The outside entity, by contrast, will remain focused on investigating major violations. The self-reports of secondary violations can nonetheless be considered by the outside entity when investigating a member-institution or recommending punishments for major violations. (It would require a separate article to discuss whether the NCAA's rulebook should be scaled back or recalibrated, but this salutary path could be complimentary to the one proposed here.)

Outsource Punishment Decisions: Ideally, the NCAA would outsource the determination of appropriate punishment to this outside entity, as well.

The outside entity could assemble its own Infractions Committees—unburdened by any current connection to member-institutions—comprised of some (possibly revolving) combination of experienced law enforcement officials, former judges, former athletes/coaches, and/or former university officials.

If the NCAA refused to give up control of the power to penalize, the outside entity could nonetheless recommend punishments to the NCAA's Committee on Infractions for ultimate decision within 60 days. If the committee rejected the outside entity's recommended punishments, the committee would be required to publish a detailed statement of its reasons on the NCAA website to permit the public to evaluate a decision's fairness.

Be Transparent: The outside entity should publish both its findings and recommendations for punishment (with appropriate privacy protections). In addition to the general boost to credibility bestowed by such transparency, this will permit a body of written precedent to develop to which member-institutions can conform their actions and by which the NCAA's consistency and fairness can be assessed by the public.

Encourage Investigations: The NCAA should expressly encourage the outside entity to conduct investigations of major violations in order to demonstrate its commitment to integrity. This encouragement should emphasize the creation of investigations as opposed merely to awaiting member-institutions to self-report violations. In furtherance of this goal, the NCAA should repeal current restrictions on investigative techniques, such as the use of anonymous information and a requirement that NCAA investigators notify a member-institution before conducting interviews pursuant to an investigation.

Commit Financially: As the phrase goes, the NCAA needs to put its money where its mouth is. Currently, the NCAA's enforcement staff is one "central service" among many in the organization's Indianapolis home office that divides 4 percent of the annual revenue. If the NCAA devoted only 3 percent of its annual revenue to the proposed venture, that would inject $22.8 million each year into the efforts to root out major violations. This is a relatively small price to pay for the NCAA's member-institutions that should be viewed as a test of their commitment to integrity and enforcement. Moreover, in stark financial terms, it is an investment that could eventually earn the NCAA more money on the media contracts that generate most of its revenue.
The NCAA draws much of its marketing power from its image as a custodian of the amateur ideal in America. To protect its own image, the NCAA needs to take enforcement of its regulations more seriously and promote a transparent and fair system that bolsters, rather than undercuts, that image. Otherwise, the NCAA may discover the extent to which its image has been devalued when it tries to negotiate future media contracts or when a group of frustrated member-institutions secede from the NCAA to create a new and improved organization to serve the same function.