The Movie Teachers' Unions Hate, but Everyone Else Should Appreciate
For all its faults, Won't Back Down offers a welcome alternative to the standard broken-school film plot.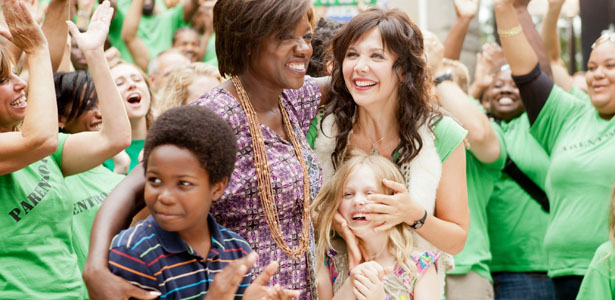 Walden Media
At least once a decade, Hollywood produces a film like Stand and Deliver (1988), Dangerous Minds (1995), or Freedom Writers (2007), spotlighting a teacher whose grit helps students unlock their potential and transcend poverty. The only problem with those kinds of films is that they can reinforce the dangerous myth that poverty is an insurmountable obstacle to learning that can only be overcome by rare hero-teachers. Won't Back Down, Hollywood's latest broken-school flick, subverts that comfortable narrative, which is why it's such an important movie, and why it's drawing so much heat from teachers' unions. (Disclosure: I work for TNTP, a non-profit organization that promotes equal access to effective teachers among poor and minority students. All opinions expressed in this article are my own.*)
Set in working-class Pittsburgh, Won't Back Down stars Maggie Gyllenhaall as Jamie Fitzpatrick, an overworked and undereducated single mom whose daughter is "getting crushed" by a notoriously ineffective teacher at Adams Elementary, the failing public school up the street. After exhausting all options for getting her daughter into a better classroom, Jamie stumbles across the state's new "Fail-Safe" law, based loosely on the real-life "Parent-trigger" policies that have been passing state legislatures nationwide. If Jamie can convince a simple majority of parents and teachers to join a coalition to turn Adams around, they can take over the building and reboot the school on their own terms. She pleads with Nona Alberts (Viola Davis), a burnt-out teacher with a struggling child of her own, to give it a shot, asking with a childlike sense of possibility: "Do you wanna start a school with me?" And so begins their grassroots campaign to transform the failing institution into a dream school.
What comes next feels like a mash-up of a Lifetime Original Movie and a wonky ed reform whitepaper. It only succeeds thanks to penetrating performances by Gyllenhaal and Davis, with occasionally memorable support from Marianne Jean-Baptiste as a soon-to-be retired school board member and Holly Hunter as a scarf-clad, beret wearing union honcho. What makes this otherwise forgettable film so groundbreaking is the deliberate way it reimagines the archetypal broken-school story. Instead of a messianic teacher naively crusading against the manifold threats of poverty and racism, we have a messianic parent naively organizing her neighborhood against a handful of concrete policy barriers that place the interests of adults above what's best for children.
MORE ON FILM
Won't Back Down is so up-front--and so specific--with its politics that it's been building buzz among education experts for almost a year. It was screened before both national political conventions, and it's slated to be shown as part a U.S. Chamber of Commerce-sponsored "Cross-Country Tour to Discuss Education Reform."* Now it's hitting theaters in the wake of a highly publicized teachers' strike in, and in the middle-innings of a national ed reform push that aims to bring more respect and rigor to the teaching profession.
So you can see why, shortly after the film's screening at the Republican National Convention, American Federation of Teachers president Randi Weingarten dashed off an open letter denouncing the film as right-wing, teacher bashing propaganda: "Unfortunately, using the most blatant stereotypes and caricatures I have ever seen--even worse than those in Waiting for Superman--the film affixes blame on the wrong culprit: America's teachers unions." Highlighting all the scenes where teachers are represented poorly, Weingarten's letter ignores all nuance in the story, while heaping scorn on the film's production company, Walden Media, owned by Philip Anschutz, a conservative billionaire who funds organizations that support charter schools and other education enterprises.
Cheers to Weingarten for following the money trail. Yet like many politicians, Weingarten uses rhetoric that trends toward gross oversimplification and fear mongering. "Parent trigger" laws come in a variety of forms--usually far less dramatic than what we see in Won't Back Down--and it's doubtful that many communities would be able to meet such a high bar of parental involvement unless the school in question was by all standards abysmal. Most education reform laws under consideration these days are common-sense changes to teacher recruitment, evaluation, and compensation that have won bi-partisan support and gobs of cash from philanthropic organizations like the Gates Foundation. For Weingarten to criticize the funders of education reform groups is simple misdirection from the fact that teachers' unions themselves are powerful special interests with national nerve centers and targeted lobbying campaigns.
The real beef Weingarten has with Won't Back Down is that its story doesn't jibe with her diagnosis of our ailing schools--and how to fix them. If the AFT is so sensitive to stereotypes, why has it been quiet about other school movies that advance the worst stereotypes about high-poverty neighborhoods and the students who live in them? Perhaps it's because stories of teachers working hard in dangerous ghettos reinforce union talking points about underpaid teachers in terrible working conditions. In those stories, a chosen few teachers might help students overcome their life circumstances, but when the credits roll, we know that poverty is the villain will only return stronger in the sequel. In Won't Back Down, what we don't see is as important as what's on the screen. No gang shootings. No kids going home to empty fridges and drug-addicted family members. No excuses. Some may say that makes this movie a candy-coated Oscar vehicle, but at least this film forces us to look at a new set of problems.
That's not to say that Won't Back Down doesn't suffer from its own share of oversimplifications. Turning around a school takes years of relentless effort. Gyllenhaal and company follow an easy three-step recipe: 1.) Print-up some flyers 2.) Knock on a few doors. 3.) Throw back cold beers with the reinvigorated faculty. Another scene shows an almost laughably utopian charter school that feels like a Nickelodeon music video set at an International Baccalaureate School parents' night. And Weingarten is correct that the storyline wastes no opportunity to criticize teachers unions, with casual references to "crazy teachers" and "checked out zombie" teachers and "scumbag" union reps. Maggie Gyllenhaal is as likeable and one-dimensional as the Karate Kid, and the teachers' union is the Cobra Kai Dojo, complete with matching evil attire during the climactic final scene.
Yet in just two hours, Won't Back Down dramatizes the vast failure of government imagination that is our public school system, providing glimpses of the most critical issues in the education debate. It hints at wonky topics like tenure, layoff and compensation policies. It addresses macro issues like the school-to-prison pipeline that dumps so many at-risk students directly into the criminal justice system. It juxtaposes a posh private school computer lab with the blighted classrooms of Adams Elementary. It introduces us to teachers flying blind without the leadership they deserve, parents desperate to help their children learn to read, and a soul-sucking, Kafkaesque bureaucracy where idealists turn to booze.
Weingarten's letter only cites those scenes that support her position, which makes me wonder if she took strategically timed bathroom breaks during her screening. Won't Back Down offers parents a false choice," she writes, "you're either for students or for teachers..." Never mind that multiple characters in the movie speak to the valuable protections that unions have won for teachers over the years, or that the entire dramatic arc is founded on parents and teachers building a coalition.
Ultimately, it's not the melodramatic portrayal of the "Parent-trigger" law that makes Won't Back Down so threatening to unions. The real concern for Weingarten is that the story validates parents who feel dissatisfied with their children's education by revealing meaningful differences in the quality of teachers. She's either disingenuous or completely out of touch when she claims, "I don't recognize the teachers portrayed in this movie." Anyone who's walked the halls of a struggling school would recognize someone from the faculty at Adams Elementary. The overworked and underappreciated veteran. The disillusioned mid-career educator. The dedicated trooper who hates to rock the boat. The annoyingly idealistic, ukulele-strumming Teach for America bro. The completely disengaged yet somehow tenured teacher. Beyond that, we see real differences in instruction--group seating versus rows, music and dance lessons versus straight lecture, interactive call and response instruction versus teaching from behind the desk. Perhaps most frightening for the AFT, we see fissures in the union ranks between those who feel beholden to the proud traditions of organized labor, and those who believe the union has lost sight of what's best for kids.
Criticizing teachers' unions is not the same as demonizing teachers. It's possible for ordinary teacher-loving folk to question collective bargaining agreements without being a union-busting nincompoop. I spent seven years in the classroom, including three years at a high-poverty school, where I was a proud member of the Texas State Teachers Association. Unions grant power and protection to the most essential people in a field that gets treated like an altruistic calling instead of a prestigious profession. Unions keep you informed during the annual flurry of new initiatives that makes you feel like the superintendent sets policy by throwing darts at an issue of Education Week. As an English teacher, I was especially thankful that I could assign controversial works of literature without fear of a partisan zealot trying to get me fired. But teachers' unions are just one organism in the ecosystem of a school district. To turn around our failing schools, we need entire cities to wake up, ask questions, and take action. This is something I've learned well in my current job as Communications Manager for Policy at TNTP, where I've seen just how important it is to involve as many people and organizations as possible in improving public schools.
Spunky Maggie Gyllenhaal plunges a stake into the heart of the status quo when she declares: "This whole system is broken. It's dead." That's what freaks out Weingarten, the unions, and anyone still in denial about the failure of public schools. Won't Back Down doesn't settle for change around the edges. It sheds light on the perils of mediocrity by showing what's possible when parents and teachers refuse to wait, when the debate goes beyond the classrooms and hallways and into the streets and boardrooms.
Almost 25 years after Stand and Deliver, students in our poorest schools are still more likely to end up in poverty or prison than graduate from college. Yet here we are, still relying on movies to drive the public debate about education. At least Won't Back Down redefines the problem: It's not that some neighborhoods are too rough, it's that too many neighborhoods don't have the schools they deserve.
---
* Correction: The original version of this post failed to disclose the author's position at TNTP. It also stated that the Department of Commerce sponsored the "Cross-Country Tour to Discuss Education Reform." We regret the errors.