The Men and Women Who Run Marathons in War Zones
This weekend's Chicago Marathon marks a homecoming for a soldier who, like a surprising number of soldiers, organized and ran a 26.2 race on a military base.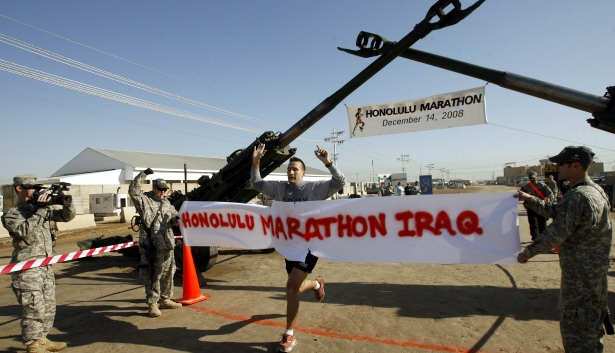 Major Kurt Kinney crosses the finish line to win the Honolulu Marathon satellite race at Camp Taji, near Baghdad, on December 14, 2008. (Reuters)
On Friday, John Zimmermann traveled from his hometown of Apple Valley, Minn. to Chicago in advance of Sunday's Bank of America Chicago Marathon. This will be the 12th straight year Zimmermann has run the Chicago Marathon, one of five World Marathon Majors. All he has to do is show up, suit up, and run.
Last year, it wasn't so simple.
Zimmermann is an Army captain. He's also one of those maniac marathon runners, who started running marathons in 1999 and is planning to run in 50 by the time he retires. This time last year he was completing the final months of a tour in Afghanistan—and came awfully close to ending his streak of consecutive Chicago Marathons, which would have thrown him off pace for his career goal.
MORE ON SPORTS
So Zimmermann improvised. He organized a Chicago Marathon race at the NATO base in Kabul, Afghanistan where he was stationed. With the help of the marathon's organizers, the cooperation of the ISAF Joint Command's headquarters, and dozens of volunteers, Zimmermann was able to keep his marathon streak intact alongside roughly 150 military marathoners, and in the process helped raise more than $12,000 in charity for the St. Jude Research Hospital.
"It was bizarre how it worked out," Zimmermann said.
Planning and executing a marathon thousands of miles away from its origin wasn't easy. The Chicago Marathon has 24 full-time employees and 12,000 volunteers, and marathon planning is year-round. Coordinating the 2013 race is already underway. Zimmermann, though, had only three weeks to organize his race, and he did so largely with a committee of one. He had to receive clearance from several chains of command on base to even hold the race—including scheduling meetings with one- and two-star generals. Two days before the race, a main road for the route was shut down, forcing Zimmermann to create a detour.
He's not the only member of the military who's experienced the challenges and rewards of planning a marathon on a base. Hosting U.S.-sponsored marathons at military installations in the Middle East is actually commonplace. They're called satellite marathons or shadow races, and they're run out of sight and under heavy security throughout Iraq and Afghanistan, typically devoid of taken-for-granted luxuries one might find at a U.S.-run marathon: cheering fans, sponsored goods, picturesque scenery, and pleasant racing conditions. From the little-known Aspen Backcountry Marathon to the large-scale Boston Marathon, service men and women on deployment have been participating in these shadow races for years.
All it takes is some interest to get one started.
The Kaua'i Marathon, held in early September, recently had a shadow half-marathon in Afghanistan after a National Guard captain expressed interest through a post on the marathon's Facebook page; the captain had run in the previous two marathons before he was deployed. Each runner received a medal, jersey, and gift bag, while the top male and female finishers earned a two-night stay at the marathon's host resort and spa.
The Austin Marathon, which takes place each February, has sponsored satellite marathons in Iraq and Afghanistan since 2007 and generally sees military interest pick up each November, a marathon spokesperson said. The Honolulu Marathon has sponsored five satellite races since 2004, including the first ever in Afghanistan, and has provided banners, race bibs, medals, and leis for participants, although a marathon spokesperson recently said that plans for a shadow race this December in Kandahar, Afghanistan, have been scrapped. And the Boston Marathon has sponsored eight satellite marathons, including this past April's at Bagram Air Field in Afghanistan, with participation ranging from 400 to 800 service men and women throughout the years.
Boston Athletics Association Manager of Administration and Special Projects Pam Girouard works with those wanting to host a satellite marathon, and the first such marathon under her watch, in 2005, happened organically after a service member in Iraq reached out to the BAA. Boston Marathon's satellite races are organized differently each year, Girouard said, depending in large part on the communication. Typically, responsibilities from the military side are handed down from one deployed service member to another, from one generation to the next, but some years the planning has started from scratch because files have been misplaced.
"We want to give them a little piece of home," Girouard said. "It's our giveback, and I'm working with them to make sure they keep it as close to the way we do it here."
One of the runners in last year's race on the NATO base was William Boland, 29, who was already training for a marathon to be held at a nearby base before a last-minute mission prevented him from participating. A Mendota Heights, Minn. native and Air Force captain who worked as an embedded adviser in Kabul, Boland's training consisted of either treadmill running inside a tent or around the perimeter of the base, always during the evenings, usually after a 12-hour shift. The training paid off, as Boland won the satellite race and will join Zimmermann in Chicago for this weekend's official marathon. Boland, who's now working as an ROTC instructor at Chicago's Illinois Institute of Technology on the city's south side, said the biggest difference in training for this year's marathon is balancing a social life with a running regimen. That and the fact that he no longer needs to worry about his body decompressing from wearing a full body of armor, something he struggled to adjust to in last year's race.
This year, Boland and Zimmermann will hear the starting gun in person as opposed to the horn that Chicago Marathon Race Director Casey Pinkowski sounded over a phone line a few time zones away last year. They also won't have to worry about finding the nearest bunker in the event of an attack on the base. Nor will they need to begin running at 4:30 in the morning just to beat the desert heat. And instead of running 10 laps past outgoing convoys, a sewage area, and razor-sharp wired fencing at high altitude, Boland and Zimmermann will get to run 26.2 miles straight through some of Chicago's famed landmarks, including scenic Grant Park, Lincoln Park, and along Lake Shore Drive.
"It is kind of crazy," Boland said. "It's something that I'll be able to say I've done that not many people can say they've done—that I've run a marathon in a war zone."