The History of Graphic Design Weighs 10 Pounds and Has Handles
The Phaidon Archive of Graphic Design compiles 500 artifacts into a reference book—er, box.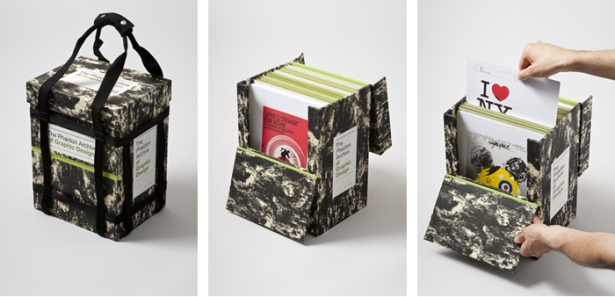 Phaidon
If you're old enough to remember 45rpm records, you'll probably recall the carrying case designed to take them to slumber or dance parties. If you don't remember, then think of a nicely decorated archival storage box at Hold Everything or the Container Store. Now picture the inside of the box containing more than 500 double-sided sheets of quality card stock on which images are printed in full color. The box, which weighs more than 10 pounds, also comes with removable cloth handles for easy transport.
This is what the latest encyclopedia of design history, The Phaidon Archive of Graphic Design, looks like. Inside the box is the entire panoply of the world's graphic design icons reduced down to an essential 500 artifacts—posters, logos, books, type specimens, etc.—each reproduced on a separate 9 x 12 card, accompanied by a short historical text. A radical departure from traditional bookmaking, it pays tribute to the power of design both through its contents and, well, its design.
The Phaidon Graphic Design Archive by Phaidon's editors and designed by Stephan Müller, complements the 2009 Phaidon Design Classics books that covered industrial and product design. Graphic design, however, demanded a more radical interactive solution. "We had a lot of discussions on how to organize the content," explained Emilia Terragni, editorial director at Phaidon. "Someone said it was better chronologically, someone by designer, someone by category, someone by design title, and others even by who commissioned it. We then realized that it all depends on how and for what purpose you use it. And that with the cards format the reader would be able to organize in the way he/she wants to." So now the archive comes with 15 predetermined categories: Advertising, Book, Book cover, Film Graphics, Identity, Information Design, Logo, Magazine and Newspaper, Money, Packaging Graphics, Poster, Record and CD Cover, Symbol and Typeface, all indexed according to creator/designer, studio or client, and date. Within this structure, users are invited to create their own organization using blank divider cards that come with the box.
For the archive concept to work well, it was necessary to have a large image on the front and explanatory text with additional images on the back. "When we started to design the book," Terragni says, "we realized that if [the pages were] bound, we would have ended up with the strange situation of having the back of an entry on the left page, together with the main image of another entry on the right page, while in reality, each entry was a kind of separate object." This format caters to certain creative and educational usages. "I can see people flick through, and pick up things that attract their attention," she says. "I can see people put them on their walls, or their desks to be inspired by, or use them in presentations, lectures, seminars as example of excellent design." Of course, unless the user is especially neat, the process of refiling could become a problem—and god help the user that misplaces the Guttenberg Bible, or worse, the El Lissitzky Pelikan Ink advertisement.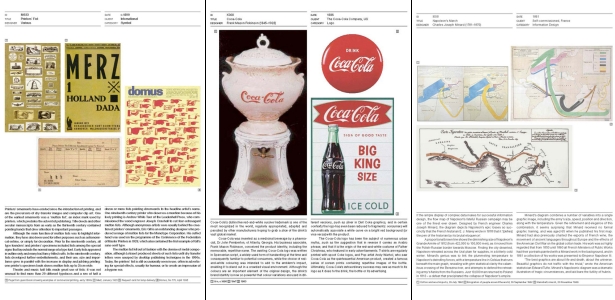 Over a score of design writers, historians, critics, and grad students labored for more than five years on writing and researching artifacts suggested by various consultants (including me) and vetted by the editors, including design historian Kerry William Purcell, the project's "advisor/co-editor." He says he put together a database of around 5,000 entries, which was then added to by other members of the team as the project progressed, making for a final database of around 8,000 entries. "I made a selection of approximately 450 works that I felt should be included, leaving another 50 as undecided and in need of further discussion," he says. "The final selection in the book is surprisingly very close to that original 450." His work on the project effectively ended when the book got to the design stage.
"But compiling the larger database was actually more difficult than narrowing it down to 500," he says. "It is surprising how certain works just seemed to offer themselves up for inclusion in the short list, while the long list induced a sense of historical vertigo in me. It seemed everywhere I turned there was another potential entry." To that end, the archive will continue to grow. Every year, Phaidon will release more supplementary cards, both newly designed work and more from the past.
As for the criteria of what made it into the box? "The selection process was long and difficult, but we asked a lot of people, we researched, and listened to all the comments, and at the end we tried to come up with a variety of designs that have quality, are innovative, represent a turning point in the development of graphic design, and are simply beautiful," Terragni says. A mixture of instinct, informed choices, and recommendations—not historical determinism—drove the process. "When you're dealing with such a big book," Purcell says, "the idea that there is a single thesis is just too restrictive. How can you have a single historical, aesthetic, and theoretical criteria that classifies a piece of information design—an advert from the 1890s and a banknote designed in the 1980s?"
The trickiness of questions like that are why the Archive's creators are quick to point out that they weren't looking to establish an incontrovertible pantheon of design. "It is not a definitive selection," Terragni says. "Other people would have chosen other designs, but it doesn't really matter. This is a celebration of the power of graphic design through 500 examples, and it shows that any piece of information, if well designed, works better."