The Bright Side of the Ryder Cup Defeat
Like other American golf fans, I am currently rending my garments over the collapse of the American team at this weekend's Ryder Cup tournament. But when, tomorrow or the next day, after the anguish and despair have faded, I start to discern the silver lining around this cloud, I think it will look something like this:
There was an overarching, across-the-decades symmetry here that's kind of beautiful. Until this weekend the most famous comeback in Ryder Cup history was in 1999, when the American team entered Sunday's final round facing a nearly insurmountable four-point deficit--exactly as the Europeans did this Sunday. And in both cases there was a kind of mystical dimension to the comeback. In 1999 there was American captain Ben Crenshaw's now-famous oracular pronouncement, at Saturday night's press conference: "I'm a big believer in fate. I have a good feeling about tomorrow. That's all I'm gonna say." And this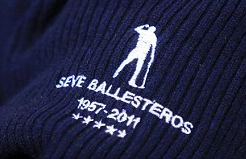 time around there was the fact that the European team was playing for the late and beloved Spanish golfer Seve Ballesteros--whose protégé, fellow Spaniard Jose Maria Olazabal, was team captain. Seve's silhouette was stitched on the Europeans' shirts, and his memory became vital spiritual fuel once a nearly miraculous comeback was needed; "whatwouldsevedo" was the rallying tweet from Irish golfer Graeme McDowell before today's match. Seve's name even appeared in the sky! (Although, at the risk of dimming the supernatural aura of that apparition, I would add that it
seems to have been
the work of a skywriting stunt plane hired by an Irish bookie who was trying to unsettle the American team.) After the Europeans won--aided by a victory from another Spaniard, Sergio Garcia--Olazabal cried us a river.
In case all of this isn't enough symmetry for you: Back in 1999, Olazabal had been on the losing end of the day's climactic match with Justin Leonard, whose stunning 50-foot-putt on the 17th hole is part of golf lore. Speaking of which: Maybe that's what we American golf fans need to cheer us up--a stroll down memory lane that will remind us how it felt when the shoe was on the other foot:
OK, now this is my final effort--even more strained than the previous one--to find something positive here:
The world needs European solidarity! Granted, this comeback victory won't by itself solve the Euro crisis. But one thing standing in the way of a solution is tension between Europe's haves and have nots--notably German reluctance to bail out those (alleged) slacker Mediterranean nations, such as Spain and Greece, and attendant resentment of the Germans in places like Spain and Greece. So it can't hurt that, on this team captained by one Spaniard and motivated by the memory of another, it was a German golfer--Martin Kaymer--who holed the winning putt.
All right, that's all the inspiration I can muster. One uninspiring observation:
The Rory McIlroy-Tiger Woods inversion now seems complete. Tiger wasn't on the winning side of any of the four matches he was involved in. And on Sunday, on the 18th hole, he blew a three-and-a-half-foot putt that would have left the team score tied at 14-14 (though the Ryder Cup would still have stayed with Europe, because Europe was in possession of the cup after winning in 2010.) Rory, meanwhile, handled his Sunday match in spectacularly casual style. He had gotten confused about his tee time and arrived at the course with no time to warm up on the driving range--and only 15 minutes away from forfeiture--and still he prevailed. (However, I must say that Rory's theatrical and apparently sarcastic post-victory bow on the 18th hole, though no doubt deserved by the American fans who had taunted him, came off as uncharacteristically ungracious.)
[Photo: Getty Images]