The Agony of Ending an Agonizing Boxing Fight
The central sporting dilemma of our age played out again this weekend: How much brutality is too much?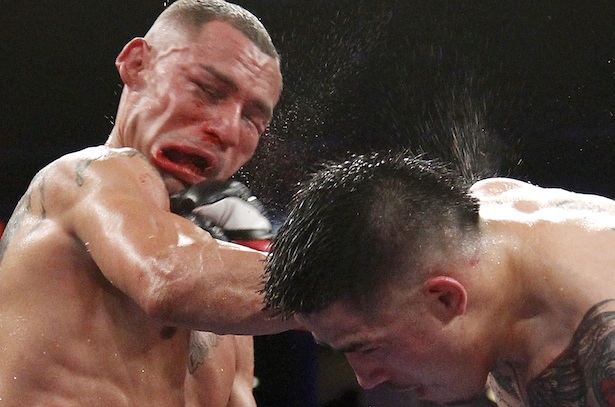 Reuters
On Saturday night, referee Pat Russell stood in the middle of the ring after he had stopped the best boxing match in recent memory. His decision didn't win him much popularity in fight nation. The light welterweights Mike Alvarado and Brandon Rios had been beating each other senseless, and everyone watching seemed to want it to continue, indefinitely if possible. "I will take 'em into deep water, but I won't drown 'em," Russell said.
As in most sports, it's not traditional for a boxing referee to be interviewed after a bout, but Russell wanted to explain himself to the television audience and the sellout crowd at the Home Depot Center in Carson, California. He had stopped the fight in the seventh round after Rios had thrown a straight right and then delivered a series of unanswered combinations to Alvarado's head. Russell had seen enough, stepped in, and Rios was given the TKO win.
While much has been made in recent years of protecting the brains of football and hockey players, boxing referees have the most demanding responsibilities to prevent long-term brain damage. And Russell is an experienced ref. The crowd booed him. A group of people behind me, who were supporting "Mile High" Mike Alvarado, seemed particularly upset at Russell, a grey-haired Vietnam vet. They quietly cursed after Russell said, "I don't think there is a fan out there, and a referee that I know, that wants to see a fighter get permanently hurt."
This has become the dilemma of our sporting age.
Violent sports, most notably the National Football League, are attempting to change their very cultures. This is an almost impossible task when the very violence of the sport defines it. Fans get upset when a referee protects a player from a helmet-to-helmet hit in football. But I have seen attitudes start to change. It is now understood that cheering on a big hit means cheering on permanent brain trauma, but fans, announcers, and even players are living in a state of confusion: the very belief a system built on using (legal) violence to intimidate is under attack. How much violence can we allow? Does an aversion to violence alter a sports tactics? Does it ruin the essence of sports? The very point of boxing, of course, is to knock someone out, so there isn't much middle ground. People will say it is inhumane or should be outlawed. It's easy to say. Boxers usually come to the sport to escape the violence of the streets.
Until the stoppage, Russell had watched Alvarado and Brandon Rios land a lot of power punches (Rios 144 and Alvarado 132). Within the three minutes of each round, each man was absorbing about 24 well-delivered punches. This was, as they say in boxing, a war. Both men are accomplished fighters, but their style is to come forward and brawl. Among the sport's cognoscenti, Saturday night had long been pegged as a possible fight of the year, and it easily lived up to its billing. At ringside, bloody spittle sprayed off of both men almost constantly. The two men were so evenly matched that they inflicted an enormous amount of pain on each other. And they seemed to respect each other for it. So did the people watching. And there was a purity to the violence. Rios admitted that during the fight he had been "a little stunned," and Alvarado said the same thing.
Russell, who stood within inches of both men, called it "brutal." And it was. And as a person who writes about the sport, these are the moments that I wonder about myself, and that I find most compelling. Boxing is the most ineptly run sport in the world, but a championship fight has more drama than any major sport. It's the finality of it. I hadn't wanted last night's fight to end so early. I hoped the fight would unfold more naturally. But I was relieved when Russell stepped in and stopped it. It was an act of courage.