Should Mitt Romney Head for the Detroit Tigers' Clubhouse?
Election campaigns and the World Series have only occasionally become intertwined, but they could be this year.
Election campaigns and the World Series have only occasionally become intertwined, but they could be this year.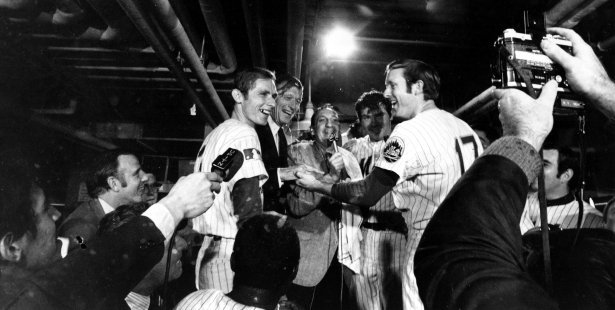 The World Series and the presidential election: our two traditional fall classics. Once upon a time, they managed to keep a respectful distance from each other, as befitted respectful relations between two sovereigns competing for public attention. As Theodore White wrote in his Making of the President 1960, "There is a politician's rule of thumb, particularly hallowed among Democratic politicians, that no election campaign starts until the World Series is over... when the men at the bar stop arguing about the pitchers and batters and start arguing about the candidates."
MORE ON POLITICS AND CULTURE
It's a rule that is now hopelessly obsolete and identifies any pundit who continues to cite it (and there have been a few) as a Rip-Van-Winkle type when it comes to the erstwhile "national pastime." In 1960, the seven-game World Series between the Yankees and the Pirates ended on October 13. This year, the series cannot end before this Sunday, October 28, and may extend until November 1, five days before Election Day.
Nor is the World Series quite the dominant spectacle that it was when White wrote, or that it was in 1956 when both President Eisenhower and his Democratic challenger Adlai Stevenson attended World Series games at Ebbets Field. Eisenhower showed up to the opener, and Stevenson was at Game 2, where he was booed—a bad sign for a Democrat in Brooklyn. I'm not aware of any presidential candidate who has attended a World Series game since then. The matchups are perhaps too close to Election Day to allow such a diversion, and much of the public's interest in sports has moved on to football and even basketball at this time of year. But maybe 2012 is when the series could actually play a role in determining who ends up in the White House for the next four years.
Whether the San Francisco Giants win or lose the World Series to the Detroit Tigers won't make any difference when it comes to California's vote in the presidential election: It's among the safest of safe states for President Obama. Michigan is a different story, though. Mitt Romney may have signed up with Red Sox Nation during his many decades in Massachusetts business and public life, but he grew up as a Tigers follower in a Detroit suburb. If the Tigers win, can he brand—or rebrand—himself as a Tigers fan, turn up in the clubhouse, get sprayed with victory champagne, and boost his chances to carry Michigan?
Remember, that kind of positioning may have been what put New York Mayor John Lindsay over the top in his come-from-behind re-election bid in 1969 when he celebrated with the Miracle Mets after their improbable World Series triumph that fall. Romney's already given props to the Tigers on Twitter (to some outcry). And who knows? This might be what Romney's "son of Detroit" business was about at the final debate.