Notre Dame Football Comes to Life Again ... and Again ... and Again ...
The Fighting Irish only live up to the Fighting Irish legacy every decade or so. Why?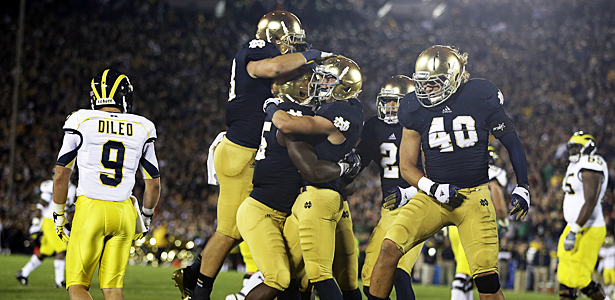 AP Images
My father used to tell me—and I think he got this from the great sports columnist Red Smith—that there were three institutions in America that aren't supposed to lose: Joe Louis, the New York Yankees, and Notre Dame football.
Joe Louis got old. George Steinbrenner raised the wreck of the Yankees franchise in the 1970s. But Notre Dame football? It's been living on legend for a long time—too long. Knute Rockne invented the modern game, or at least the game that became the modern game. It was perfected by Frank Leahy, under whom the Fighting Irish dominated from the 1940s through the early1950s. But after that, the rest of college football—the bigger schools in balmier climes that could offer blue chip recruits more privileges and perks—caught up to and finally surpassed the Irish on the football field. And the last 60-odd years have been a series of ups and downs for college football's most fabled program.
Since 1993, Notre Dame has scarcely figured in the hierarchy of college football. Over that time span, the team has won just two postseason bowl games, lost 11, and missed out on the dance five times. It's true that in 2002, under new head coach Tyrone Willingham, they started out 8-0 and, once again, woke up the echoes. But the illusion passed quickly as they lost three of their last five games, including the Gator Bowl to North Carolina State. The next two seasons, 5-7 and 6-6, were a descent back into mediocrity, and then Willingham was gone.
A few years ago I observed on NPR that the powers that rule Notre Dame should face up to the fact that they are a relatively small university—around 11,000, compared to rival Michigan State, which draws from an excess of 45,000—and downscale their football team from Division 1-A to Division 1-AA. Death threats came thicker and faster than clichés from an ESPN color man, but I still think it was a reasonable suggestion for a program that hadn't won a bowl game in 14 seasons (from 1994 through 2007). Notre Dame fans across the country were tired of coaches who, when a big game came around, bleated about winning one for the Gipper. They wanted someone who could win one for a change.
Happily, Notre Dame ignored my suggestion, and things are certainly different this year. The Irish are unbeaten in five games, and, amazingly, are the only team in the BCS race that hasn't been behind in a game. They are ranked No. 7 in the country according to the Associated Press. The return to relevance, though, is an old Notre Dame trope. Ten years ago I wrote for Salon that "I am now old enough to have lived through three eras of Notre Dame football comebacks." I can now say that I'm living through a fourth.
Other traditional football powers have had bad patches, but Notre Dame's have been worse. Why do they keep falling from the top tier and, after several years of frustration, need to hire a new hot-shot coach to pump up the program? Why do they follow so many long periods of success with long stretches of mediocrity, making a comeback only every decade or so?
Here's my theory, the same as it was 10 years ago. Notre Dame is under one handicap that most of its opponents are not: a belief that excellence in football and academics are compatible.
Over the years, some Notre Damers actually thought that they could win football games without emphasizing football. (In fact, until 1969, the Irish actually pursued the national title every year without letting their team play in postseason bowls, arguing that such games distracted students from their studies.) There is no other explanation as to why the college that is still synonymous in the minds of most Americans with the word "football" would hire holy fools like Joe Kuharich and Gerry Faust. Kuharich, who coached from 1959 through 1962, was said to spend more time golfing with wealthy alumni than recruiting. Faust, a high school coach who had no experience at the college level, lasted from 1981 to 1985, winning just 30 of 57 games.
Kuharich was followed by Ara Parseghian, and Faust by Lou Holtz, neither of whom was ever accused of losing a poker game because of a warm impulse. Parseghian and Holtz, between them, won three national championships.
Their current coach, Brian Kelly, appears to be far better than everyone since Holtz. Kelly not only understands college football, he understands its politics . He told the Chicago Tribune, commenting on the hype building around the home game with Stanford this Saturday, "You want to be in that group of football programs that has [ESPN's] 'College Game Day' on your campus. You want to be that program that appeals to the audience that we're out recruiting ... You don't want to be on the outside looking in."
Now that Notre Dame is back on the inside looking out the truth is, whether other schools admit it or not, they would all want to play Notre Dame in a bowl game. An unbeaten Irish team, or even one with just one loss, is a much more attractive postseason opponent than just about anyone else. No other school can command the ratings of a Notre Dame when they win. And with their national pull, their fans will travel anywhere—Chicago, New York, California, or even Dublin, where, according to IrishCentral.com, American fans attending the Notre Dame-Navy "Emerald Classic" that opened the season brought in more than $150 million to Irish businesses.
Other Eastern and Midwestern schools complain every year about having to travel to Pasadena for the Rose Bowl or to New Orleans for the Sugar Bowl because it gives their Western and Southern opponents a home field edge. When Notre Dame travels, they can count on fan support anywhere they play. As Lou Holtz once told me, "We feel that we never play a road game. We always feel like we're playing for the home crowd." It's an exaggeration, but the point survives it.
College football is just plain more fun when Notre Dame wins. Whether the odds be great or small, as my father's saying implies, America wants the Fighting Irish to fight.