In Praise of the Lost, Intimate Art of Reading Aloud
Parents have long read to kids, but there's power as well in adults reading to adults.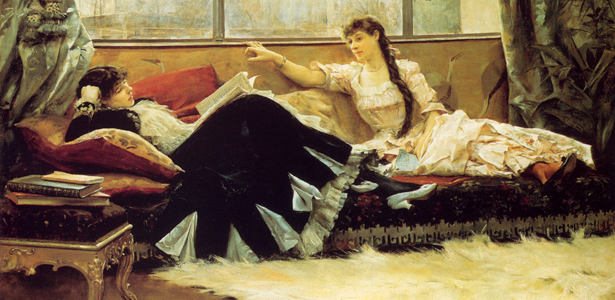 Julius LeBlanc Stewart / Bearded Roman
Lauren Leto's new book is a love letter and a hodgepodge. The love letter is directed at reading, and the hodgepodge encompasses, well, lots: Judging A Book By Its Lover features cheat sheets on how to sound like you've read Tolstoy and how to write like Didion, tweet-length reviews of celebrity memoirs, musings on how The Berenstain Bears or Madeline will screw a child up for life, an argument that the term "bookworm" should be replaced by "bookcats," and a guide to the words you'll find in book reviews (Morose! Laconic! Indelible! Bingo!).
And then there are Leto's affectionate essays on the art of reading and its role in shaping our identities and our world. She tells us how to hook up with someone you meet in the bookstore, and about how a love of reading feeds a love of words, debate, and conversation—all very important things in a romantic relationship, she says. But there's one kind of reading that I was sorry to see go unmentioned in Judging A Book By Its Lover: reading aloud.
MORE ON BOOKS
When I was a kid, I was read to a lot. My parents used to read to my sister and I while we were in the bath. The rules were simple. We were grown-up enough to wash ourselves, but if we stopped washing, they would stop reading. This led to a very stop-start sort of storytelling: My sister and I would get too engrossed in the book and forget what we were meant to be doing. To this day, when my mother abruptly stops talking in mid-sentence because I'm checking my phone, or my dad falls silent because I'm biting my nails, I remember those disjointed and wildly inefficient baths.
The last time I was read aloud to as a child was at age nine, when my teacher recited the beginning of The Hobbit to a classroom full of fidgety fifth graders. My best friend loved it and went home to read the book for herself, but the seemingly endless description of the Shire bored me. After that, there was no more reading aloud. As my friend demonstrated, we were advanced enough to read for ourselves, and we were being assigned books that were far too long for teachers to read to us.
It wasn't until years later that I rediscovered the joy of being read to, this time in bed instead of in the bath. I was dating a towering nerd of a man, the kind of guy who got as excited as I did about a road trip to the Creation Museum in Kentucky or as appalled by the travesty that is Shakespeare conspiracy theories.
A few months into our relationship, I discovered that to my horror, he had never read Pride and Prejudice. He had read On the Origin of Species and Anna Karenina and most of Shakespeare's plays, even the obscure ones like King John, but never Pride and Prejudice? It was one of my favorite books! Lizzie Bennet is my favorite fictional proto-feminist heroine! How could he truly understand me until he had met her? How was he going to get the joke of Pride and Prejudice and Zombies?
I wanted him to read this book, partly because it's a wonderful novel that everyone should read, and partly because I really loved it and wanted to share it with him. So we decided that we would read it together, aloud.
It wasn't always in bed. Sometimes it was over tea or in a park. Austen's chapters are short, and we would read one apiece before passing the book back over. As I had predicted, he loved her arch observations and dry commentary, and interjected, "Oh god, this guy is the worst!" whenever Mr. Collins delivered one of his long, obsequious monologues. After we were done with Pride and Prejudice, we moved on to one of his favorites that I had never read, Neil Gaiman's Good Omens. As he had predicted, I loved Gaiman's witty dialogue and his delightfully complicated plot.
Beyond the books themselves, though, there was the joy of hearing them read by the man I loved. I giggled at the voices that he came up with for Lady Catherine de Bourgh and the motley crew of kids in the quarry. We stayed up late into the night, and he listened as I occasionally stumbled over long or obscure words. It was so intimate. I lay in bed, eyes closed, falling deeper in love, as he brought new depth and shade with his voice to characters I had known well for years.
Whenever I told people about this habit of ours, it was more admitting than telling. Being read to aloud isn't really something you do past childhood, right? But we both enjoyed it so much that we didn't particularly care that we were supposed to have outgrown it. Now, browsing bookstores and book reviews became even more fun: I was always on the lookout for the next title we could share.
Leto is right that for people who love to read, love and reading are often intertwined. And it is true that you can tell a lot about a person by what's on their bookshelf. But you can fall in love, or in my case, fall further, with a person by listening to them read from what's on that shelf. Some things—love, a great book, your hilarious voice for Mr. Collins—are too good to keep to yourself.