In Japan, Anyone Can Be a Holographic Pop Star
Hatsune Miku isn't real. But the community of DIY artists, musicians, and filmmakers that have sprung up around her is—and could represent the future of pop fandom.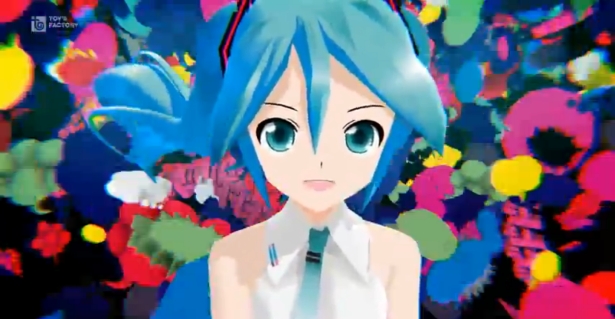 Hundreds of people gathered at a wrestling arena on the outskirts of Tokyo in late August to celebrate the birthday of someone who isn't real. Hatsune Miku, an aqua-haired singer who has become one of Japan's most popular entertainers despite being a cartoon character, turned five, and those attending this all-night event went big. Vans plastered with her image sat outside, and throngs of fans—many dressed up as Miku—left birthday messages for her. In the main room, DJs spun music ranging from soapy ballads to aggressive dubstep, all featuring her voice, to a packed floor.
It's likely that some of those bobbing along also created the tunes being played. The gathering was a celebration both for Miku and for Vocaloid, a singing-synthesizer program that has fostered the rise of a vibrant, nation-spanning community of do-it-yourself musicians, artists, filmmakers, and writers who create their own pop-culture products through the avatar of cartoon girl. By combining currents of fan fiction, YouTube-style tribute-video making, pop-star iconography, and social networking for a money-making enterprise, Japan for the past half-decade has offered up one vision of what the next evolution in online creator culture could become worldwide.
The Yamaha Corporation developed Vocaloid ("vocals plus android") in the early 2000s, and the first commercial program arrived in 2004. It allowed users to input lyrics and then fiddle with the melody to generate a voice that sung what they wanted how they wanted it. In 2007, Japanese company Crypton Future Media introduced the first release in their "character vocal series" line, Hatsune Miku. It was just an updated version of the Vocaloid software, but the digital voice now belonged to an anime character. Sales exploded, and the company initially had trouble keeping up with the demand for the singing-synthesizer program.
Plenty of Japanese businesses have parlayed cute characters to success—Hello Kitty and Pikachu spring to mind—but Hatsune Miku's cultural ascension has been different. Crypton provided scarcely any information about the character, leaving it to users to interpret Miku how they wanted. Japanese video-sharing site Nico Nico Douga became a central hub for Vocaloid creations, as users uploaded original songs often accompanied by original images or videos, each putting a personal spin on the character. At the Miku birthday bash, the official program features fan drawings of Miku as a cute child, buxom adult, and skull-clutching goth among other representations.
The practice of fans taking an official character or franchise and bending them into what they wanted has been common in Japan for decades, through comic books, fan fiction, and art. In his essay "Comic Market as space for self-expression in otaku culture," Hiroaki Tamagawa says comic fans have been creating their own derivative comics based off existing franchises—called doujin in Japanese—since before World War II. In 1975, the Comiket convention started, offering a place for amateurs to sell their self-published works twice a year, once in August and once in December. Today it's the biggest gathering of its kind, and Tamagawa says "derivative doujin...appropriating professional work" has become the dominant product at Comiket. Vocaloid has strong ties to the event, and the earliest musicians to use Miku in their music sold CDs at Comiket.
Crypton's best move, though, was creating a product bringing together a larger community of doujin creators. The Vocaloid software allows individuals to record original music, but the Hatsune Miku character also attracts artists who want to swipe her image for original drawings or comics. Spin-off computer programs have also appeared, allowing fans to create music videos using Vocaloid characters. Crypton actively supports this re-appropriation process with its Creative Commons-like "Piapro Character License," which allows "users to take Miku's image and transform it to their needs," as Alex Leavitt, who researches Vocaloid, said in a 2011 South By Southwest presentation. He called Miku an example of "open-source culture": Her image can be modified however you want.
Even with the special character license, Crypton has found a way to profit from Vocaloid beyond software sales. Miku and subsequent Vocaloid characters appear on all sorts of merchandise and in ads for the likes of Toyota, a karaoke chain, and, most recently, convenience store Family Mart, which celebrated five years of Miku by swamping their stores with her visage for one month.
The Piapro License might give users free reign to modify Crypton's Vocaloids, but Leavitt says that for commercial uses "creators work with Crypton to collaborate on a project that benefits each other financially." The policy has worked out well on the music side: Vocaloid compilation CDs have reached the No. 1 spot on Japan's Oricon music charts while new releases from Vocaloid-utilizing artists like Supercell and Livetune (both among the earliest to use the software in music) get prime record-store billing alongside, say, Mumford And Sons' latest disc. Earlier this year, Livetune's hyperspeed, Miku-fronted song "Tell Your World" appeared in an ad for Google Chrome. The exposure shot the song to the top of the Japanese iTunes charts.
The minute-long ad (above) also does a great job highlighting the appeal of Hatsune Miku and Vocaloid culture by showing people putting their own take on Miku musically or visually (and using by Google properties, of course). This aspect of Vocaloid is just as important to its rise as anything else.
MORE ON J-POP
"More than the music itself, I really like how it's spread," says Vocaloid music-maker mus.hiba. "Once a song becomes famous, people start uploading videos of themselves singing it. Some of those videos become more popular than the original."
The Tokyo-based producer, who doesn't want his real name published, exists in the heart of the Vocaloid community, among artists whose works don't appear in music shops or convenience stores. These creators post original works online and collaborate with other Vocaloid fans entirely through the Internet; mus.hiba says he's met other artists over Twitter, and he's taken artwork from the Piapro social site. This side of Vocaloid matches up closer with the world of doujin: Amateurs sharing and working together to make original art based on an existing character.
They also have get-togethers, like the Miku birthday. That event is officially called "The Voc@loid M@ster" and the four-times-a-year meeting is the biggest Vocaloid convention in Japan. The gathering shows off the wide range of musical styles in the scene. In one room, artists sell self-funded CDs with genres ranging from hyperactive pop to Vocaloid-fronted death metal. On the dance floor in August, in front of fan-made videos featuring Vocaloid characters (most from Nico Nico Douga), DJs followed chugging rock songs with Vocaloid techno. One guy transformed the Hatsune Miku Family Mart ad jingle for a chirpy pop number. The crowd went wild.
Interest in Vocaloid has spilled over into the West. A small but active Western fan community exists online, where fans post new Vocaloid music art from abroad and their own original creations. Miku even performed live in Los Angeles in 2011 to a sold-out audience. Most people know Hatsune Miku, though, as the holographic pop star predating Coachella Tupac, which Margaret Wappler covered in her piece on Miku for the Los Angeles Times magazine earlier this year. At least 86 million others across the world have heard Miku as well, possibly without realizing it. That Vocaloid software provided the "voice" for Nyan Cat: Miku at her most annoying.
In her native Japan, Miku and Vocaloid are anything but meme. In November, Hatsune Miku will perform live with famed Japanese electronic composer Isao Tomita and the Japan Philharmonic Orchestra. Like other cornerstones of Japanese pop culture, fans have connected so much to the Vocaloid avatars they've transformed them into a huge market.
"That's probably the reason why the scene has become popular," mus. hiba says. "No matter what the genre is, people still appreciate the song because they feel attached to the characters."