This year's crop of sitcom Halloween getups range from punny to inventive to sneakily subversive.
Fox
Related Story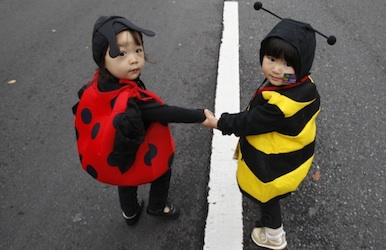 Among the many things that are usually better on TV than in real life is the archetypical Halloween costume party. With hefty production budgets, a professional make up and wardrobe staff, and some of the most creative minds in the world thinking up clever ideas, the medium produces some pretty phenomenal, witty, referential, and sometimes even scary Halloween costumes—typically far beyond what you'll find at your friend's apartment bash.
For each of the past two year's we surveyed television's most inspired Halloween costumes. This year, we've added to the original list with stand-outs from this season's Halloween specials, plus some of the best outfits we missed the first time around. Take a look at what we've rounded up—and then, of course, be sure to let us know in the comments what we've still missed.
We want to hear what you think about this article. Submit a letter to the editor or write to letters@theatlantic.com.
Kevin Fallon
is a reporter for the
Daily Beast
. He's a former entertainment editor at TheWeek.com and former writer and producer for
The Atlantic
's entertainment channel.