Fey/Poehler vs. MacFarlane: The Golden Globes One-Up the Oscars
The 30 Rock and Parks and Recreation stars will bring a warmer, hipper brand of comedy to awards-show stage compared to the no-longer-cutting-edge snark of the Family Guy creator.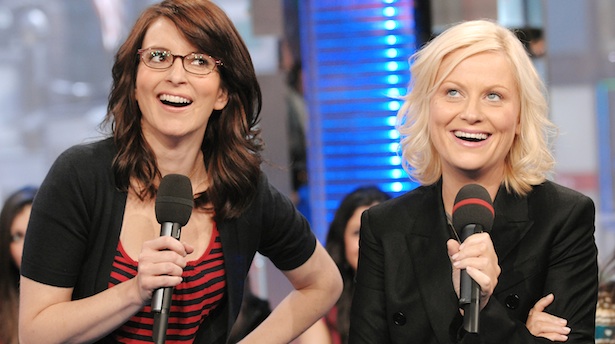 AP
Did the Golden Globes just beat the Oscars at its own game? Thanks to of the shrewd hiring of Tina Fey and Amy Poehler as hosts of its 2013 ceremony, it might have. High-fiving a million angels!
The Motion Picture Academy's ceaseless struggle to produce an Oscars telecast that appeals to younger viewers while still maintaining some traditional pomp and circumstance is, by now, a point of ridicule. First there was the parading of a Tiger Beat troupe made up of High School Musical stars and  Miley Cyrus onto the broadcast. Then, the fateful hiring of Anne Hathaway and James Franco as hosts. Last year featured the tremendous crash-and-burn of the Brett Ratner/Eddie Murphy "edgy" producing/hosting team. Yet the Academy recently announced it was making another attempt at reaching the 18-24 demo, booking Seth MacFarlane, the man behind Family Guy, Ted, and nearly nothing that a majority of the aging Academy members have ever heard of, to preside over this year's telecast.
It was a risky choice, and one that might have ended up seeming wise in the long run. That is, until the Hollywood Foreign Press ruined everything by landing what may be the most perfect combination of awards-show hosts that there has ever been: Fey and Poehler. The Golden Globes and the Academy Awards, in recent years at least, seem to want what the other has. The Globes crave the Oscars' legitimacy and respect; the Oscars, the Globes' currency and coolness. The respective ceremonies' new hosts represent those competing desires. But with Fey and Poehler, the Globes may just succeed in getting what it wants, while MacFarlane seems destined to go down as yet another failed Oscar experiment.
The two bills represent competing strains of comedy. MacFarlane's humor is very referential. Family Guy, Ted: Their jokes are snarky, crude, and often mean. As popular as that brand of comedy is in some sets—Family Guy is still a hit and Ted did gangbusters at the box office—it's also not new, closely tied to a comedy movement that was at max freshness about a decade ago. The crassness, the use of the word "retard" as a joke, the punchlines about bong hits, boobs, and porn—it's in line with the rise of the Frat Pack and those Will Ferrell/Vince Vaughn/Adam Sandler movies that are having a harder and harder time finding audiences. While it's unlikely that MacFarlane plans to stage a three-hour episode of Family Guy at the Oscars, surfacing this type of humor at the event seems as appropriate as sending Daniel Tosh to do his most shocking 10 minutes at a nursing home.
See, "modern" doesn't have to mean "raunchy." Fey and Poehler still represent a type of humor that is very of-the-moment, and even a little cutting-edge. More importantly, it's comedy that's far more suited for this type of event. They're playful and empathetic, but their jokes still carry a sharp bite. Look to any Saturday Night Live skit, or Mean Girls, and especially Parks and Recreation and 30 Rock—two shows that Poehler and Fey, respectively, write for as well as perform on—for proof of that. The self-deprecating humor Fey displayed in her memoir Bossypants and while playing Liz Lemon on 30 Rock is now the Internet's most popular meme, with Tumblrs like "What Should We Call Me" and webseries like "Shit Girls Say" proving that we're still finding new and clever ways to laugh at ourselves—which is actually often more fun than laughing at other people.
Awards-show co-hosts should make an audience feel as if they are attending a dinner party thrown by best friends. Fey and Poehler already are friends, and have proven time and again their natural chemistry. Their dinner party is going to be a riot, and the Hollywood Foreign Press Association deserves credit for recognizing that. Ever been to a party thrown by hosts who didn't know, or, worse, didn't like each other? It's exceedingly uncomfortable—a bit like watching James Franco sleepwalk across the Kodak stage while Anne Hathaway mutates into a whirling dervish of theater-girl energy to compensate.
That same notion applies to the tone of the ceremony. Emcees like Neil Patrick Harris, Jimmy Fallon, Hugh Jackman, and Ellen DeGeneres are so well received because they play their gigs as if they're hosting a fun party. The mean-spirited "roast" approach favored by the likes of Chris Rock or Ricky Gervais causes party guests to squirm and even dread the event entirely—am I the next to be skewered? Yes, everyone loves some good-natured ribbing. Fey's six-season long digging at NBC's failures proves that she can strike the necessary "it's all in fun" balance. She and Poehler, as they did on SNL for years, will be able to tease without being mean. But anyone who's watched the scathing-though-funny insults fly in an episode of Family Guy or seen MacFarlane serve as master of ceremonies at a Comedy Central roast can predict that he may have a trickier time toeing that line.
An awards-show audience should be thrilled when the the evening's host is announced and first takes the stage. Fey and Poehler are almost incomparably beloved by Hollywood and viewers; within minutes of news breaking about them yesterday, the widespread reaction was indeed excitement. An awards-show audience should not be thinking, "Oh, so that's what he looks like," when the host walks out, as a large percentage will be when MacFarlane makes his entrance. Fey and Poehler embody everything that the Academy presumably wants in its hosts. They're known, cherished, hip, and even more current than MacFarlane is. They have established chemistry. But the Golden Globes nabbed them. There may be good business reasons for that: The Globes air on NBC, which also airs 30 Rock and Parks and Rec, and Fey and Poehler are more known for their TV work, which the Globes also award, than their film resumes. But at the same time, MacFarlane has exactly one film under his belt, and in it he appears as a pot-smoking teddy bear with a voracious sexual appetite.
Game, set, match: Globes.