Electric Daisy Kingpin: The Man Who Turned Music Festivals Into Carnivals
Pasquale Rotella's Insomniac Events helped popularize electronic dance music and transform the live-music industry with the help of Ferris wheels, light shows, and, oh yeah, DJs.
This past Saturday, 45,000 costume-wearing 18-and-up young adults descended on San Bernandino, Calif. for a festival featuring fully staffed haunted houses, 3D mazes, and performance artists crawling festival grounds dressed as sexy (?) bloodied rabbits and glowing angler fish—the largest Halloween celebration in Southern California.
Oh, also, music: Calvin Harris, who produced a chart-topping radio hit for Rihanna, and Martin Solveig, whose song "Hello" was used to entice you into buying some Trident gum, played along with a host of other electronic dance music (EDM) artists. But they weren't really the focus. At the bottom of each and every Escape From Wonderland banner (featuring a demonic Alice, bloody white apron, glowing pair of cat eyes, and a gnarled tree) "YOU" was listed as the "most important headliner of all."
"I don't want to say [these shows go] 'against'—that's the wrong word—but it is very different from what a traditional concert is," says Pasquale Rotella, the founder and chief executive of Insomniac Events, the company behind the Escape for Wonderland festival. "I think there are great bands, and we want the best bands and DJs and what have you, but it's not the only reason to go to a large gathering. There are beautiful people to meet, there is amazing art, there's production that is advancing constantly that makes these events so much more. Music isn't the only thing that is cool."
Music isn't the only thing that's cool: It's a both successful and curious philosophy for Rotella, whose company has grown to be one of the most influential promoters of music festivals in the world. Insomniac's Electric Daisy Carnival (EDC) is the largest musical event in North America, growing from a 5,000-person Los Angeles rave in 1998 to a 320,000-person temporary city for its 2012 incarnation at the Las Vegas Motor Speedway (Insomniac has said that this year's extravaganza generated a record $207 million to the state of Nevada and created more than 2,000 jobs). His company's rise has accelerated along with—and contributed to—the boom in popularity for electronic dance in America over the past few years. But Insomniac's dozens of dance events across the world, like Escape From Wonderland, are also succeeding in spreading the Rotella gospel of music-comes-second across the industry.
"The DJ line-up is a percentage of making it 100 percent," Rotella says of his events. "But it's not like what a concert is. A concert is like 90 percent the act; that's one of the main reasons people are there. We're about the whole experience."
***
Festivals are profitable business, one of the indisputable shining spots in the otherwise troubled music industry over the past decade. While the '90s gave birth to a number of major American music festivals, it's in the 2000s that their popularity skyrocketed to New York Times headline-making status. This past year, Coachella expanded its three-day gathering to two consecutive weekends and still managed to sell out within three hours. Lollapalooza celebrated its 21st anniversary in 2012—along with a record 100,000 ticket holders per day in Chicago's breezy lakefront Grant Park. That's way up from a 33,000 per day tally in 2005.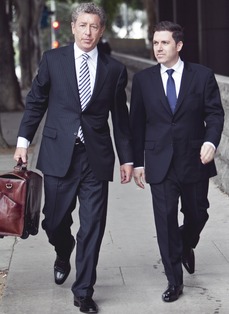 The rise of the American music festival has seemingly synchronized up with the unprecedented level of public interest in dance music. Year after year, Coachella's Sahara tent, which houses electronic/dance acts, welcomes an ever-increasing max-capacity crowd spilling out its back. Last year, beatmaker Kaskade (the DJ named by
Forbes
as the highest-paid in the world) was slotted to play the same time as Radiohead—and still drew a huge audience. Lollapalooza expanded its dance stage, Perry's Place, in 2011 to a 15,000-capacity tent. That year, Skrillex enticed more than 15,000 to his set as A Perfect Circle and Bright Eyes performed not too far away. This year, Lollapalooza amplified Perry's Place to be an even larger open-air "area"—where Perry Farrell himself said an EDM fan can "dance amongst the trees."
It was Rotella's work over the past two decades that in large part laid the groundwork for this kind of explosion in both mega-festivals and in electronic dance. In 1993, a 19-year-old Rotella kicked off Insomniac Events with a Downtown Los Angeles warehouse party. The number of events he threw piled up from there. From the start, the emphasis was on expanding from what constituted the traditional idea of a concert or rave.
"[Rotella] had the money to be able to invest in this and build proper stages," says Ryan Raddon, a.k.a. Kaskade, who just recently sold out the Staples Center—where U2 and Lady Gaga play when in town—in Los Angeles. "'Cause I think before he came along, a lot of the guys were doing these shows and promoting parties, but people weren't putting the thought and the time into the production aspect of it. So, it's like you'd go there and you'd set up on a card table. It's like, man, I think we can do a little better than this."
That's not to say music wasn't on the agenda. "I think Insomniac's really smart because they understand the role of the music and how it relates to the people going to the show," Raddon says. "They've had a lot of stuff talking about 'the experience,' but early on, Pasquale was very involved and he knew the importance of booking the right musical acts to make sure that experience was what it should be."
Those shows helped foster to a semi-underground rave community whose size waxed and waned over the years but that Insomniac remained unwaveringly aligned with. "When dance music was at a low ebb in the mid-2000s, Pasquale was still flying the flag," says Paul Tollett, president and founder of Goldenvoice, the company behind Coachella. "He's been the most consistent force in the country."
Tollett's a prime example of how Rotella's work has impacted the industry at large. The Goldenvoice chief said that a show he financed with Pasquale in 1997 became "one of the inspirations for Coachella," which had its first run in 1999. That festival, held yearly in the California desert, prizes rock and hip-hop alongside dance, but also features gargantuan art installations, roaming performers, and other interactive amenities. The emphasis for Goldenvoice on "experience" has paid off: Advance general admission and VIP passes for both weekends of Coachella 2013 were long gone not even a full month following Coachella 2012, with not even a hint at a line-up announced. Attendees are wrapped up in the veritable aura of those Empire Polo fields: green grass, fringed everything, sunshine, optimal settings for Instagram shots, and the kind of spectacular non-musical amenities pioneered in part by Insomniac.
"When Pasquale was doing major production on stages, hospitality and perimeters at his shows six or seven years ago, 95 percent of the promoters in the USA were just setting up a stage with some speakers and a few lights," says John Dadzie, also known as the an up-an-coming dubstep and drum-and-bass artist/producer 12th Planet. "Now everyone is in a rush to either match or beat the production at an Insomniac party. But unless you're Burning Man, you have a major uphill battle ahead of you."
***
For all the behind-the-scenes work that goes into his events—Which Ferris wheel to book? Which costume designer for the performance troupe? Which artists to build 50-foot-tall flaming installations?—Rotella has become something of a celebrity himself. Like any good, empire-overseeing star, he's in constant touch with fans over Twitter, even responding to individual comments issued from long lines outside venues. He's dating former Playboy model and reality-TV star Holly Madison (who's almost about to give birth to their baby girl), and a Hollywood biopic about his life is in the works. (Rotella say she's flattered by the choice of actor to play him: "Way better looking than me.")
As with any rise-to-fame process, there have been dark moments. A 15-year-old girl died of an ecstasy overdose after sneaking into the 2010 Electric Daisy Carnival at the Los Angeles Memorial Coliseum. And Rotella's been charged in a corruption case on accusations of paying $1.9 million in bribes to a former Coliseum manager in an effort to lower the cost of future events at the venue. Rotella has pleaded not guilty, and could face up to 13 years in prison. ("When you haven't done anything, it gives you confidence," Rotella says of the charges.)
But those concerns feel far away at events like Escape From Wonderland. The idea, after all, is total immersion.
"I consider the fans the headliners and I think that they bring the vibe," Rotella says. "I want people dressing up. I want it to feel like Mardi Gras, like New Year's Eve."
If that sounds like it's downplaying the music, consider that Insomniac's events can actually take some credit for the way electronic dance has taken over the pop charts. Rotella has helped mint uncounted numbers of evangelists for this newly huge genre. "A lot of people didn't open [up] to dance music until they got the whole experience," Rotella says. "It really opens their eyes and ears to the music."
It also has affected the artists by creating spaces to handle sounds and ideas that, before, would have been too big for a club.
"In terms of advancing [electronic dance music], I think that the Insomniac brand has pushed the music completely," Dadzie says. "As a producer, I tend to write music for me, first and foremost, but secondly for the people. I find myself thinking, 'Damn, I wonder what this would sound like in front of 20,000 people at EDC 2015.'"
Can events like EDC and Escape From Wonderland keep multiplying themselves? Rotella says he sometimes wonders whether dance is at its peak popularity in the U.S. But he's comforted by the idea that as long as the shows stay spectacular, and as long as there's new fans to mint, the audience can keep growing.
"I recently went to a rock festival and ran into a crowd that was in a dance tent and I thought, 'These people are going off right now, and this is probably the first time they've ever experienced this,'" Rotella says. "Last year, the same festival didn't have that crowd there in the same market. This is Year One for these people."