Eat, Pray, Love Like a Badass: Cheryl Strayed, the Oprah Author 2.0
Strayed's go-it-your-own ethos and irreverent style make her a recession-era correction to Elizabeth Gilbert-style indulgence.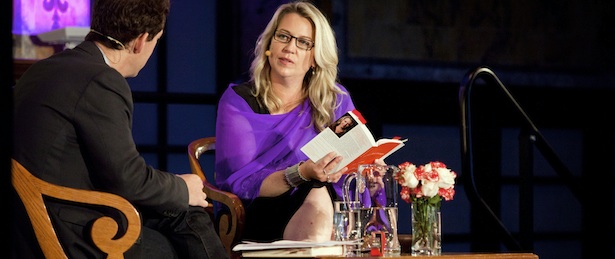 Sarah Stacke
Cheryl Strayed shifted uncomfortably in her chair onstage at the New York Public Library last week when host Paul Holdengraber mentioned the name "Elizabeth Gilbert." Knitting her brow, she cocked her head to one side as if to inquire, "Where is this conversation going?" Holdengraber read a piece from the Eat, Pray, Love author that echoed advice Strayed gives readers under her nom de plume Sugar in herbeloved advice column on The Rumpus.
MORE ON BOOKS
You can understand Strayed's unease. She was at the library, notably, not to discuss Wild, the memoir Oprah anointed as the inaugural selection of her Book Club 2.0. Instead, she talked about her smaller, paperback book Tiny Beautiful Things, a collection plumbed from her "Dear Sugar" column that earned her a cult of followers. "Write like a motherfucker" is one of her catchphrases, and she espouses "motherfuck-itude" as a way of life, which boils down to quitting your whining, getting over yourself, and getting to work. Strayed's pragmatism stands in stark contrast to Elizabeth Gilbert's "search for everything" mantra from her 2006 memoir that made her the epitome of a "live your best life" Oprah-branded author. Gilbert is the doyenne of self-indulgence (which earned her just as much criticism as gush), but Strayed's no-nonsense approach makes her the modern-day spokeswoman for self-reliance.
Still, the two authors do have plenty in common. Both young women bearing the scars of broken marriages embarked on journeys to find healing: Gilbert to Italy, India, and Bali; Strayed on a 1,100 mile solo hike across the inhospitable Pacific Crest Trail in the wake of her mother's death and a period of dabbling in heroin. Two of the highest-earning Hollywood actresses glommed onto the books—Julia Roberts portrayed Gilbert in the 2010 film adaptation, and Reese Witherspoon purchased the rights to Wild. And both writers told powerful stories of loss and forgiveness that resonate deeply with readers, and both were already well-regarded authors of literary fiction before Oprah anointed them. Though Oprah never officially branded the cover of Eat, Pray, Love with her seal, she brought Gilbert on as a guest to her show, commissioned frequent contributions to O magazine, and tapped her as a panelist for her "Live Your Best Life" weekend. With Oprah's endorsement, Eat, Pray, Love spent 187 weeks on the Bestsellers' List. Wild went to Number No. 1 on the list (and has hovered in the top 20 since) in the days following Oprah's new book club announcement, which ended the club's two-year hiatus.
"I think a lot of people think these decisions happen by committee or apparatus, but Oprah just called me on my cell phone," Strayed told me over the phone from Burlington, where she was giving a talk at the University of Vermont. "My cell phone rang and I didn't recognize the number, and she said, 'Hi, this is Oprah.' And I paused and said, 'It is.' You know who it is when Oprah calls you." Several days later, Strayed flew to Oprah's Santa Barbara estate where they shot interviews and made plans to release the special eBook edition of Wild, which includes special features, like Oprah's favorite passages. Strayed said she experienced no Jonathan Franzen-esque skepticism: "I didn't have any hesitation when she asked me. Back when I was in graduate school at Syracuse people would say, 'Oh, the Oprah Book Club,' and roll their eyes. I think it's easy to disregard the literary taste of women, like somehow female readers are not as serious or intellectual, which is really sexist and incorrect."
But Strayed, with her unsentimental, unflinching attitude toward the muck of life, seems like an odd choice to be paired with Oprah's New Age-lite brand of yoga pants, vision boards, and Dr. Oz-endorsed juice cleanses. Strayed's "radical empathy" contradicts Dr. Phil's blustering judgmental condemnations. In her 2006 blueprint essay for Wild, "The Love of My Life," Strayed gives a hard glimpse into a bout of promiscuity after her mother's death that eventually ended her marriage: "I didn't bargain, become depressed, or accept. I fucked. I sucked. Not my husband, but people I hardly knew, and in that I found a glimmer of relief." This is a sharp contrast to the first line of Gilbert's memoir, "I wish Giovanni would kiss me," conjuring giddy, girlish romance in a foreign land. Strayed's cult followers must have feared sharing their den mother with the middlebrow masses of Oprah readers. Doesn't such a meteoric ascent and the knowledge of a huge new audience somehow alter a writer's process?
"Writing is such a highly, highly private act for me," she explained. "So once I start to get into that mode it doesn't really matter what's happening in the outside world. I sink in." Preferring to go on writing binges, Strayed, who is the mother of two small children, often ensconces herself in a hotel room to burrow into her work for a few days or weeks. "I think when that panic will come into play is when I finish that next book and it's ready to be published," she said. "Then I'll think about all these people who love my work in Wild or Tiny Beautiful Things, and living up to their expectations and hopes. But here's just nothing you can do about that external aspect of your writing life. It's really beyond your control."
If Strayed's continued lobbing of "motherfucker" onstage at one of the most hallowed halls of literature is any indication, then her diehard fans have nothing to fear. Oprah is revamping her Book Club 2.0 to take the discussion online via Twitter feeds and message boards (though most of the discussion looks like two-way conversations between enthusiastic readers and official OWN moderators), and Strayed embodies the Oprah Author 2.0. The new format of the club reflects the turn to eBooks and gadgets on which to read them, and choosing Strayed, who grew up "a poor country girl in Minnesota" as the first author reflects economic and emotional tenor of the country. Back in 2006, before the recession and credit-default swamps, taking a yearlong sabbatical to tour the world seemed like a reasonable fantasy to indulge, and many literally did, as several tourism companies offered Gilbert's itinerary for roughly the price of a Kia. With more disposable income floating around, readers could embark on self-discovery in Gilbert's image through cooking classes, meditation retreats, and plane tickets.
Today, the prescription of "indulge your appetites, find enlightenment" not only seems unrealistic but even a little silly. Strayed's path—hauling her needed possessions on her back down a free trail in Wild, or her gospel of "nobody is going to give you a thing" in Tiny Beautiful Things—is one in which any reader, regardless of income bracket, can find purchase. Eat, Pray, Love's undertone is that you deserve to be happy; Wild's is that you have to earn it. To the many people who are struggling with underemployment and debt, Strayed's advice through her Sugar persona on how to move through the day is a solace: "The unifying theme is resilience and faith. The unifying theme is being a warrior and a motherfucker. It's not fragility. It's strength. It's nerve." I asked Strayed if she was ever concerned that the Oprah sticker would diminish her street cred as a literary badass. "I think part of being a badass is that you're not going to rely on other people's opinions of you, and you just forge ahead with your life and your work," she said. "I try not to take too seriously the opinions and perceptions of others." To seasoned fans, that sentiment sounds like the same old Sugar. To Cheryl Strayed newcomers, it may come as welcome advice.