Could Issa Rae Save the Black Sitcom?
With her online following and her knowledge of the history of color-coded TV comedy, the "awkward" web star could reverse the genre's decline.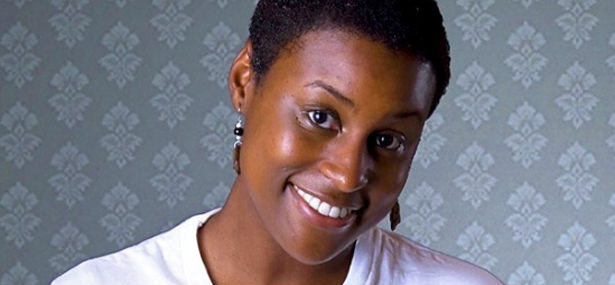 Issa Rae
This year marks the 25th anniversary of the premiere of the late-'80s primetime hit A Different World, which ran on NBC for six seasons and examined student life at Hillman, a fictitious historically black college. It's perhaps the most culturally significant black sitcom in television history. But its anniversary arrives at a troubling time. Never before has the landscape for black sitcoms—or quality, minority-focused programming in general—been in such dire straits.
There's hope, though. Last week, Deadline reported that Issa Rae, creator and star of the popular web series The Mis-Adventures of Awkward Black Girl (ABG), had reached a development deal with ABC to produce a half-hour comedy titled I Hate LA Dudes. Rae's idiosyncrasies, which first came into public eye in early 2011 when she posted her web series on YouTube, have won her a cult audience. Her impending show offers a chance to reboot the black sitcom genre on TV for a new generation—in part by embodying the generations that have come before.
The history of black sitcoms really begins with the 1968 Diahann Carroll-led Julia. The Amos 'n Andy Show and Beulah predate Carroll's show (both aired between 1950 and 1953) but hers was the first to truly depict a fully realized black character (a woman, no less) who wasn't mere stereotypical caricature. Thus began the industry's foray into color-coded programming, showcasing not only class struggle (Good Times) but the heights to which African Americans could ascend in the 1970s and '80s (The Jeffersons, The Cosby Show).
But it wasn't until 1987 with A Different World—a show that attempted to examine students from every strata of society: moneyed Southern aristocrats (Whitley Gilbert), blue-collar overachievers (Dwayne Wayne, Kimberly Reese), and free-loving hippies (Freddie Brooks), to name just a few—that the near-infinite possibilities of black sitcom really became clear. Viewed in the context of its time, the show's most enduring themes (domestic violence, HIV/AIDS in the black community, classism, and the 1992 Los Angeles riots) take on an even greater weight. And coupled with programs like Amen, 227, Family Matters, Hangin' With Mr. Cooper, Martin, South Central, and The Fresh Prince of Bel-Air, the genre came to highlight the deep and rich plurality of black life.
As the '90s faded, new sitcoms were born as old ones disappeared into obscurity (Homeboys in Outer Space remains an anomaly). Black women were soon given the spotlight in Girlfriends, and the black family was again put under a microscope in Everybody Hates Chris and My Wife and Kids. But today, outside of BET and TBS, the landscape for cultural and class diversity on network television is bare. (Respectively, shows like The Game and Let's Stay Together do a good job of examining the interiority of black celebrity and the changing nature of relationships, although the complexity is oftentimes masqueraded as shtick.)
Given television's current climate, the creation of The Mis-Adventures of Awkward Black Girl and Rae's rise don't seem so unlikely. The show, which has garnered acclaim in The New York Times and on CNN, centers on J, an easily embarrassed, rap-loving relationship-phobe. As its title suggests, the series chronicles her misadventures at work, home, and in dating. Most interesting about Rae's show is its no-filter approach to race and the peculiarity of life altogether. In one of my favorite episodes from this season, J, as she prepares for what she hopes will be her first sexual encounter with White Jay (her boyfriend), asks, "What would '90s Nia Long do?"
The reference is both topical to its present situation and mindful of the history from which J draws it. Actress Nia Long, who enjoyed success with a two-year recurring role on The Fresh Prince of Bel-Air and guest spots on other popular sitcoms (though, years from now, cultural historians might cite her breakout in the films Love Jones and Soul Food), is an important piece of the Awkward Black Girl amalgam. Rae's character J is a product of the '90s black sitcom boom. Her awkwardness is rooted in Sinclair's quirkiness (Living Single), Moesha's introspection (Moesha), and Tia and Tamera's endearing mishaps (Sister, Sister). In many ways J is the sum of black heterogeneity that defined '90s television.
As the image of blackness narrowed on TV, it found a new space online. Over the last two years, the success of The Mis-Adventures of Awkward Black Girl has given rise to other black web series, including The Couple, The Number, Milk + Honey, Between Women, The Unwritten Rules, and RoomieLoverFriends. Critic Jon Caramanica, in the New York Times, noted Rae's blueprint as "a path ... waiting to be followed." And it seems others have taken note. The question now becomes: Just how far is Rae willing to push the envelope with her new sitcom? Traditionally, television has been a more constricting medium than the web, but Rae, nothing if not a student of history, seems equipped to confront it head on. "I'm transitioning to television and film," Rae recently told Forbes.com. "But ultimately, I want to have a stronger presence on the web and be able to curate the content that I want to see. To bring attention to other filmmakers and writers." With any luck, she'll break new ground—again.