Why Were There 2 Competing Boxing Matches in Las Vegas This Weekend?
Money.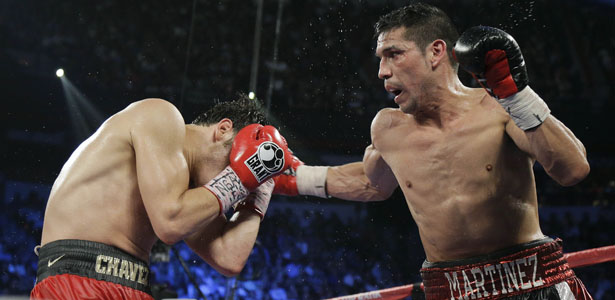 AP Images
About two months ago, boxing writers started getting frantic phone calls and emails from competing promoters Top Rank and Golden Boy. September 15, part of Mexican Independence weekend, was fast approaching and both promoters wanted to stage a big fight with their biggest stars. Along with their broadcast partners HBO and Showtime, the two promoters control boxing. They also despise each other. They had decided to stage two of the biggest fights of the year on the same night at the same time, about a mile from each other in Las Vegas. It seemed the decision would split the sport's dwindling fan base and force the boxing media—an endangered subculture—to decide which event to write about, and essentially promote. Top Rank's Bob Arum, whose fight would be on HBO, said Golden Boy was "being obstinate" about picking the same date and remarked that his competitors needed better "adult supervision."
Staging the two fights and the same time made no sense, of course, but since we're talking about boxing it made all the sense in the world.
I found myself in Las Vegas on Friday with a decision: go to the world middleweight championship between Julio Cesar Chavez Jr. and Sergio Martinez on the UNLV campus, or observe the super welterweight clash between Josesito Lopez and Canelo Alvarez at the MGM. I had spent a couple hours with Alvarez—who is called Canelo (Spanish for cinnamon) because of his red hair—one day in Los Angeles several weeks ago. He was a warm person. Alvarez, 22, was more interested in talking about how much he loved his five-year-old daughter (she was back in Mexico), learning English, and the books he enjoys reading than discussing boxing. He was half-way through The Four Agreements: A Practical Guide to Personal Freedom, a "Toltec wisdom book" by don Miguel Ruiz. Alvarez is handsome and serially dates beauty queens. He is an emerging star, already popular in Mexico, so popular that his trainer had to move his camp to Los Angeles to get away from the adoring mobs. They hid him away in Brentwood, and had him train in a private gym in Santa Monica.
MORE ON BOXING
There wasn't much doubt in my mind that Canelo would destroy Lopez—a 12-1 underdog—and I also knew Chavez-Martinez had a more compelling storyline. Martinez, 37, who rose from poverty and obscurity to become the fourth best pound-for-pound fighter in the world would go against his opposite: the twenty-six-year-old Chavez, scion of Mexico's greatest fighter, Julio Cesar Chavez, Sr., who had been eased into the sport because of his name recognition. They call Chavez Jr. "son of a legend." He is the George W. Bush of boxing.
So on Friday, a little more than 24 hours before their fight, I found myself at the Wynn Hotel Encore Theatre to watch the Chavez-Martinez weigh-in. At a weigh-in, fighters strip down to their underwear and get on a scale to make sure they are at the proper fighting weight. Weigh-ins at big fights have become another way to hype a bout. The promoters encourage fans to attend, and companies do brand marketing: Tecate or Corona models milling around, getting photographed with middle aged men. Both fighters were required to be no more than 160 pounds. There were reports that Chavez had had trouble with his weight. When he walked on stage he looked like someone who had been in a sauna for far too long. Chavez weighed in at 158 lbs; Martinez looked comfortable at 159 lbs. As each fighter hopped off the scale, their supporters started singing songs from Mexico and Argentina. Martinez did the Argentine equivalent of "raising the roof" and the crowd went crazy. Then they stood next to each other in a "face-off." This is meant to create tension before a fight. They talked trash while Chavez's middle-aged manager and Martinez's elderly advisor tried to get into a fistfight with each other. The crowd laughed at the sight of old men fighting.
The Top Rank brass was on stage observing the scene and looking very satisfied. Their event was a sellout and the early pay-per-view numbers (it would cost nearly $60 to have the privilege of watching the fight) were looking strong. I noticed that most of the major boxing media was with me at the Chavez-Martinez weigh-in, too, which must have created a panic among the folks at the MGM. Soon enough the boxing media was buzzing over a tweet that came from Golden Boy. The MGM, the tweet said, was sold out. This seemed impossible to a lot of people in boxing who didn't realize the sport had so many fans. Golden Boy, went the speculation, seemed to want to create confusion and show that their event was just as significant as the Top Rank boxing card. A quick check of TicketMaster.com showed tickets were still available for the Golden Boy event. Conspiracy theories started flying that Golden Boy bought up thousands of tickets to save their reputation.
Some of the more naïve onlookers were talking about how the night's competing events were a black cloud over boxing that would permanently damage it. In truth, it was quite the opposite.
***
One day this summer I traveled to Oxnard, California to watch Sergio Martinez train. Martinez is the third most popular athlete in Argentina next to soccer star Lionel Messi and basketball player Manu Ginóbili. Martinez was scheduled to work on defense. That meant getting into the ring and running backwards and sidestepping, stopping quickly, and changing directions hundreds of times. It was mesmerizing to watch Maravilla (Marvelous) do this for close to two hours. Martinez has an unorthodox boxing style: He sidesteps throughout his fights, hands down at his side, baiting his opponent to reach toward him, and then he suddenly moves, sneaking in his signature left hook. Having watched many of Chavez' fights, I knew Martinez would be too quick for him.
"I have always been like a rabbit, ever since I was young," he told me. "When I started boxing, I would put my guard up high, but I realized the real strength is in my legs." Martinez came from an impoverished background. He was a soccer player and a cyclist and took up boxing when he was 20. He told me he would publish an autobiography in October that "is going to inspire people." He couldn't find one thing nice to say about Chavez, predicting that he would knock him out before the 11th round, and that boxing was "living a lie" by thinking Chavez had world-class skills.
I never did get a chance to watch Chavez train. Chavez is a difficult man to find. He has a reputation as an eccentric. He sleeps and trains at odd hours. He doesn't always show up for practice. Like a stage mom, his more famous and accomplished father is always in his ear giving him advice. Chavez's voice of reason is his trainer Freddie Roach, a Hall of Famer.
I happened to run into Roach on Friday. I hadn't seen him for a few months and he invited me to have a chat. He told me that Chavez would have to move Martinez backwards, if he was to beat him. He warned that it is easy to get mesmerized by Martinez's movement, and he hoped Chavez would follow his advice. I asked him about Chavez's dedication to the sport. Roach gave a wry smile and bit into a turkey sandwich. In a recent HBO documentary, Roach looked straight into the camera and talked about his frustrations with Chavez's training habits. But now he told me that he had been talking about Chavez' poor habits to give Martinez a false bit of confidence.
As it turned out, Roach's comment had absolutely no impact on Martinez.
In the first 11 rounds of Saturday's big fight, nothing went right for Chavez. He was completely outclassed. Martinez hit him at will. Between rounds Martinez would be up and ready to fight. Chavez would sit on the stool and sneak in a few more seconds of respite from the punishment. To the delight of the crowd, Martinez would wave his hands—"Get up and fight!" It looked as if Martinez sought to humiliate the younger fighter. Yes, Martinez was correct; boxing had been living a lie by crowning a fighter because of his father's name. In Round 5 Chavez's eyes were swelling badly. The crowd started booing him. In the next round blood started coming from his nose. (One of his cornermen would tell me after the fight that Chavez's septum had been broken.) In Round 7, I counted 18 unanswered punches. In Round 9 Martinez did a flurry of footwork, pivoting one way then the other, then he popped Chavez with his signature left hook. At the end of Round 10, Martinez exulted the crowd and lampooned Chavez' lack of aggression. The crowd started singing. Martinez ended up throwing 908 punches to Chavez's 390. But Martinez couldn't seem to stop himself. I wrote in my notebook: Sergio taking crazy risks to prove a point to the world. Trying to humiliate Jr. Dangerous!!!
Going into the final round, Martinez had won every round on two of the official scorecards and 10 of the 11 rounds on one of them. All the Argentine needed to do was use his speed to circle around the ring, avoid punches, and win the fight. But he continued, insanely, to attack. He spit blood onto the canvas. He kept punching. Then Chavez forced Martinez into a corner. He knocked back Martinez's head with a straight right and then with a quick left hook. Martinez was stunned, his legs escaping him, as he tried to clutch onto Chavez. He crumpled into the corner and was barely able to get up. The crowd was shocked and going nuts. After all of those punches, it was Chavez who threw the signature punch of the fight. It happened right in front of Chavez' cornerman: They thought Martinez had been knocked out. But somehow he found his legs. Martinez actually got up and started being aggressive again. Chavez went after him. But the closing gong sounded. Chavez said, "I was 20 seconds from knocking him out."
Martinez would win a unanimous decision. Martinez had dominated him for 11 Rounds, but the 12th round had turned the fight into something to talk about. That Round 12 will help to make both men very rich. No one in their right mind would think that Chavez has a realistic chance to ever beat Martinez. But boxing is a sport about storylines, and now the promoters have one.
Both arenas were packed on Saturday. At the MGM, Canelo knocked out Lopez in the fifth round and hopes to someday soon fight Floyd Mayweather Jr., which would be a lucrative fight for both men. Chavez and Martinez will do fine, too. If Martinez hadn't been knocked down in Round 12, no one would be interested in fighting him. But now there is intrigue. Top Rank's Bob Arum said the two fighters could sell out Cowboys Stadium. "One hundred thousand people!" he laughed. I could almost see the dollar signs in his eyes.