Why Robert Griffin III Could Be the Next Peyton Manning
Excellence on the field and suaveness off it could make the Redskin's quarterback the NFL's new superstar.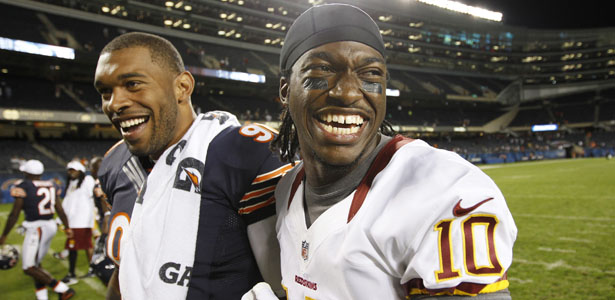 Reuters
I've long suspected that Roger Goodell is secretly terrified of the day that Peyton Manning retires from professional football. Even though it seems as if nothing can put a dent in the game's immense popularity, Manning is one of the most famous American athletes, and when he hangs up his cleats for good the NFL will lose its most recognizable celebrity. Whether or not you ever watched an Indianapolis Colts game during the past decade, and whether or not you plan on watching a Denver Broncos game this season, you can probably identify Manning from his ubiquitous television commercials or brilliant appearances on Saturday Night Live. Football is a game that is often described with military terminology—players are warriors, games are combat—yet Manning has cultivated an image that is non-threatening and down to earth, accessible to sports fan and non-sports fans alike. Tom Brady, Manning's great rival, is probably the second most recognizable football player today, but his public persona is cool, detached, and distant. Brady is the alpha male with GQ cover-model good looks; Manning is the goofy everyman who makes people laugh by sporting a wig and fake mustache. Fans may aspire to be Brady, but they can better relate to Manning—there isn't an office worker in America who hasn't worn some version of the Manning face after a tough day—and this is why he has been so effective at selling himself and football over the past decade.
So when Manning does retire, which may not be for a few more seasons, the NFL will have significant shoes to fill, and up to this point no young player—not Aaron Rodgers, not Ben Roethlisberger, not Calvin Johnson—has shown he has feet big enough for the task. Enter Robert Griffin III, also known as RG3, the rookie quarterback for the Washington Redskins who has been the most fascinating personality of this nascent NFL season and looks like an individual with the media savvy and star power to become professional football's next big player.
Griffin is not new to the national sports scene. He first made a splash during his junior season at Baylor, when he won the Heisman Trophy and impressed scouts with a combination of athletic ability and consistent downfield passing skills. As good as he was in college, Griffin was still considered the second best pro prospect after Andrew Luck, a quarterback some saw as the next John Elway. When both players declared for the 2012 NFL draft, everyone knew that Luck would be the first quarterback selected and Griffin would be the second, and it was assumed that a pecking order had been established with Luck as the surefire star, the heir to the throne of Manning and Brady, and Griffin as the highly talented number two prospect.
MORE ON FOOTBALL
But sometime over the summer, that dynamic began to shift. Griffin, not Luck, became the most recognizable young star. He landed a number of endorsement deals and started showing up in commercials for products as different as sub sandwiches and sneakers. He exudes a natural charisma in these commercials and looks like he's having a good time. According to an ESPN.com story by Darren Rovell, Griffin has the distinct honor of being the NFL rookie to make the most money before ever setting foot on the field.
Of course, Griffin's ability to be a good corporate spokesperson remained dependent on whether or not he could perform once the season actually started. A player can have more charisma than Ronald Reagan, but he if he or she can't deliver the goods people will stop paying attention. Griffin began to quash any doubts regarding whether he could compete in the NFL when he won NFC Offensive Player of the Week honors after his debut game, and in two turns fitting for a budding celebrity like Griffin, ended up on the cover of Sports Illustrated and inspired an Internet meme that briefly became bigger than Tebowing.
One impressive game does not make a player an NFL star, and even though Griffin followed his debut performance with a solid outing in week two against the St. Louis Rams, it's still too early to make a definitive judgment on whether he can be an All-Pro NFL quarterback for years to come. But one thing that seems like a sure bet at this point is that if Griffin can maintain a relatively high level of play, he has the chops to be a celebrity on par with athletes such as LeBron James and Derek Jeter. This is because off the field Griffin continues to exude that natural star power that is hard to quantify and yet easy to identify. His public persona is somewhere between the polar opposites of Manning and Brady; he's down to earth without being self-deprecating, effortlessly cool without seeming elite and untouchable. Even his name (pronounced Robert Griffin the third) sounds more and more regal every time you hear it. He's intelligent and telegenic and has several other qualities that should help him continue to build his star credentials:
A large part of his athletic ability is quantifiable. Quarterbacking remains a mystery because it is a position where somewhat abstract skills—the ability to read defensive coverage, finding a rhythm with receivers, etc.—are critical to success. In a sports world that increasingly relies on metrics to document every aspect of performance, some fans distrust players whose contributions can't be definitively measured. This is less of a problem with Griffin because his speed, which is one of his strongest weapons, is quantifiable. At the NFL combine he ran the 40 yard dash in 4.41 seconds, a stat that will be repeated ad nauseam by the television commentators that call Redskins games and will satisfy stat geeks who need concrete numbers to validate ability.
He has a distinct style by choice. By my calculation, Griffin is the only starting quarterback in the NFL to sport dreadlocks, and this hairstyle makes him easily recognizable. He also wears a sleeve on his non-throwing arm, an atypical style choice for quarterbacks. These features give him a distinct aesthetic brand that separates him from other quarterbacks. And he seems actively interested in advertising his own sense of style. In an interview with CBSSports.com, Griffin was asked why he wears the sleeve, and during his answer repeated the Deion Sanders's quote, "If you look good, you feel good, you play good."
He's not afraid to create a little bit of controversy. Some sportswriters have been critical of Griffin for saying that the St. Louis Rams defense took some cheap shots at him during last Sunday's game. It's unusual for a rookie quarterback to directly accuse opponents of dirty play just two games into his career. The general consensus is that Griffin should wait until he's accomplished more before making such claims. This may be correct, but the fact that Griffin already feels confident enough to say what's on his mind, regardless of whether it may be a bit controversial, bodes well for his future. A big part of becoming a star in professional sports is having the confidence to act like a star even before you've earned it. Griffin is demonstrating that he has the moxie to demand the type of preferential officiating superstar players get. That may seem a bit premature but is a good sign for Redskins fans.
He seems to understand the importance of endorsement deals in building and maintaining his reputation. The most bizarre story about Griffin during the first two weeks of the season is that during warm-ups for both of his games, Griffin covered the Nike swoosh on his long sleeve tee-shirt. Nike provides official NFL apparel; Griffin is sponsored by Adidas, one of Nike's competitors. It's somewhat understandable that Griffin would go to such great lengths to obscure the logo of the shoe company that's not paying him, but his actions also seem a bit extreme since there are plenty of other NFL players with conflicting endorsement deals who don't bother going through that charade. However, I can only imagine that Adidas executives are thrilled that Griffin is willing to show such loyalty to their brand, and this should only help him continue to land endorsement deals that will increase his celebrity.
All these qualities add up to a star in the making. In many ways Griffin reminds me of a young Kobe Bryant. When Bryant first appeared on the national sports scene, years before the feuds with teammates and the Colorado scandal tainted his image, he was a good-looking athlete with charisma to spare and a natural ease in front of a camera. He was confident and skilled, and there was never a question that this freakishly talented young basketball player would be a star for years to come. Griffin is surrounded by that same type of aura. He's only played one-eighth of an NFL season but seasoned sportswriters are already sensing his massive star potential.
Some sports fans will say that an athlete's marketability and celebrity status are irrelevant, that all that matters is on-field performance. This is not true. The accomplishments of players who use media to gain celebrity appear more significant than those of players who remain obscure. For evidence of this phenomenon consider Drew Brees, a quarterback who has won the same number of Super Bowls as Peyton Manning and has passed for more yards than Tom Brady. In spite of these accomplishments, he's not considered to be in the same class as Manning or Brady and this is partly due to the fact that he is not as famous.
Andrew Luck may still end up as the most skilled quarterback from the 2012 draft, but he has a lot of ground to make-up in the celebrity department if he wants to stand on par with RG3.