What's So Funny About Guys Raising Kids?
A look at two shows that address modern fatherhood—with varying degrees of success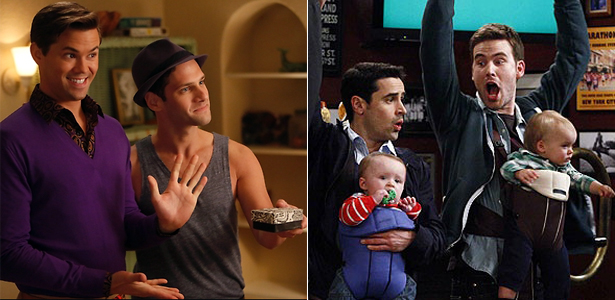 NBC
Last fall, as part of its attempts to dig its way out of the ratings cellar, NBC debuted a charming comedy called Up All Night about a television executive and her husband, who decides to stay home to raise their baby daughter. The show was a modest success, and will return with some changes for a second season later this month. But it appears to have given NBC ideas. This fall, in keeping with its efforts to woo audiences with hunky firefighters, apocalypses, and Matthew Perry, the network's offering up two much broader shows about men raising children and thinking about how to build their families.
The most superficially important difference between The New Normal, which begins airing on Tuesday, and Guys With Kids, which premieres Wednesday, is that the men in the first show are a gay couple, and in the latter, they are three heterosexual buddies. Guys With Kids drably draws its humor from a retrograde vision of family in which it constitutes a wacky switch to have men instead of women caring for children. The New Normal gets more mileage by tackling a truly modern dilemma: what it's like for men who assumed that their sexual orientation would keep them from becoming fathers at all to build a family with the full participation of the surrogate who will carry their child.
Guys With Kids is a sitcom based on the idea that it's inherently amusing to watch the male members of a species care for their young. At the Television Critics Association press tour in January, creator Jimmy Fallon said that the origin of the show was a conversation with his producing partner. "We were just talking about all the guys that we were seeing around New York City and Time Square, like with the Baby Bjorns and the babies on the backs of their bikes, and I was saying, like, these are like young, good-looking guys," Fallon said. "They're just embracing the role of dad, and we both said at the same time 'DILFs.'" That's a pretty accurate indication of the show's level of humor and sophistication.
MORE ON TELEVISION
If you can put aside the idea that it's a revelation to anyone that sometimes men take care of their children (especially given that NBC already has a sitcom with the same concept, the much betterUp All Night), the setup for Guys With Kids isn't inherently terrible. Gary (Anthony Anderson) and Nick (Zach Cregger) are young fathers who live in the same building in New York City. Their friend Chris (Jesse Bradford), who was divorced from his wife, Sheila, shortly after the birth of their son Ernie, moves into the building so he can have some help when he has custody of the baby.
Chris and Sheila's relationship might be engaging if she wasn't a shrew who refuses to listen to Chris on parenting decisions. "She just says, 'He grew inside me,' and boom, argument's over," Chris complains. "Ernie can't watch Goodfellas with me." The other fellows aren't much more nuanced. Gary is exhausted by taking care of his children and his lack of a life outside his family. And just because he's shouldering the burdens that he assumed his wife would take on doesn't mean he's not a walking embodiment of a cliched, detatched father. He's the kind of guy who loses his baby in a bar and later tries to grab a quickie with his wife in their bathroom, moaning to the child who wants to get in, "This is all we have!" That leaves Nick as the standout of the bunch by sole virtue of not being a terrible stereotype. And because the moment when he tells Chris, who has asked Nick to babysit Ernie, "I know how to take care of babies. Get off my land!" is the highwater mark for amusement in the pilot. It would be one thing to show these men struggling with the challenges of raising children and what it means for their senses of themselves to be stay-at-home dads. It's another to ask us to invest in men who seem dumb, who act childish rather than creative.
The network does a little better with The New Normal, an attempt to capitalize on Ryan Murphy'sGlee and American Horror Story hot streak. As the show's title suggests, its portrait of a gay couple, Bryan (Andrew Rannells) and David (Justin Bartha) deciding to have a child is a forceful, and often blunt, attempt to update our default image of the American family.
The New Normal's main throwback is Bryan, who through the pilot is an elegant stereotype, the kind of person Glee's Kurt Hummel will be when he grows up and makes enough money to hire Real Housewives veteran Nene Leakes as his assistant. Bryan is the half of the couple who kickstarts his and Daniel's baby journey after a chance encounter with an angelic child in a department store. He returns home toting a tiny sweater and a mission. "When I saw that miniature person—whose skin was flawless, by the way—I finally got it," he tells David. "I want us to have baby clothes, and a baby to wear them." Later, he tells the director of their surrogacy service, "I would like a skinny blonde child who doesn't cry. Is that extra?" Murphy loves his queens, and sometimes his devotion to them gets in the way of his gay characters being real people.
That's particularly too bad in this case, because it's interesting to watch two men whose plans for their lives never involved children do a lifetime's worth of dreaming all in a rush. Bryan convinces David that he wants to have a child because "You are the kindest man I've ever had the pleasure to love. You would be an amazing father." Daniel, an ob/gyn, breaks down in the room with Goldie, their surrogate, before she's scheduled to be inseminated. "I'm always the guy everyone counts on. When do I get to fall apart?" he asks her. "You know I've delivered over 1,000 babies in my life and I don't know if I've ever held one that was over four minutes old. What if I'm not ready to be a dad?"
What makes someone ready to be a father, and how gay men who hadn't expected to raise children think about their families are an interesting questions. Bryan may conform to some stereotypes of gay men, but at least the stereotype is operating in new circumstances. It will be interesting to keep up with The New Normal to see how Bryan's meticulous approach to life, and his affection for ballsy women affects how he treats Goldie, Goldie's smartass daughter, and his own eventual daughter or son. Watching the bro-dads of Guys With Kids treat the basics of parenting, familiar to many the women in the audience, as if they're somehow novel, or as if they should get points for doing what women are expected to pull off all the time, is decidedly less compelling.
Bryan starts as a stereotype. But Chris, Gary, and Nick sometimes manage to sound even more like bitchy queens than he does, even as they're haunted by the ghosts of past fathers who think they know best.