What Mindy Kaling Can Learn From 'New Girl': Characters, Not Quirk
The former Office star's new sitcom has lots in common with Zooey Deschanel's—for better and for worse.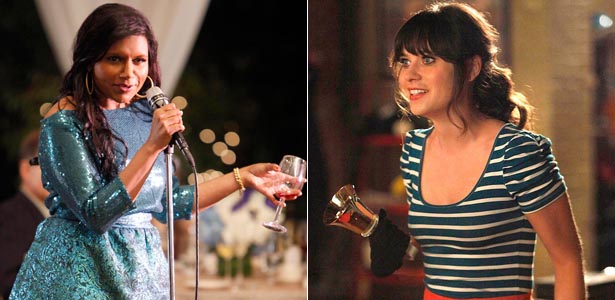 Fox
The Twitter conversations between Mindy Kaling and Zooey Deschanel are just precious. Would you expect anything else? "Already trying to figure out how to bully the DJ at the Fox Upfronts party to play a string of @rihanna songs to dance with @zooeydeschanel," Kaling tweeted in May, to which Deschanel responded, "You distract the deejay while I put the record on. Then we can trap him in a dance circle so he can't change the music." The conversation continued. Mindy: "Uhhh I basically exist to trap people in dance circles." Zooey: "@shannonwoodward can help us with our aggressive dance circling."
"Aggressive dance circling"—it's a concept that's bemusing, adorable, girly, and a little sarcastic. Basically, it's quintessentially both Kaling and Deschanel, based on the personas the two have carefully honed through their very public outlets to their world: Kaling's book, New Yorker essays, interviews; Deschanel's website HelloGiggles.com, cotton commercials, music; both of their Twitter accounts. It also sounds like a plot point that would feature on either one of the women's Fox sitcoms, The Mindy Project and New Girl, which will air back-to-back on Fox starting next week.
Just as Kaling shares an enthusiasm for dance entrapment with Deschanel, the first episode of her new show, which she stars in, is very similar to the pilot of New Girl that premiered last year. That's both a great thing and a terrible thing, and hints at how the two women are developing a new kind of pop culture TV personality.
MORE ON TELEVISION
In The Mindy Project, Kaling plays an OB/GYN on a hapless search for love and herself—Bridget Jones by way of, well, Mindy Kaling. It begins, just as New Girl did, with Kaling's character, named Mindy, narrating a humiliating flashback. At her ex's wedding, she downs too many vodka sodas, gives an impromptu toast, says inappropriate things ("Are we sure she's not a war criminal?"), flees, bikes into a pool, and gets arrested. It's soon revealed that Kaling is regaling this overshare to the arresting officer, who stares blankly back. It recalls the opening scene to New Girl, in which Deschanel's Jess recants her embarrassing breakup—naked dancing with a house plant and all—during a new roommate interview, baffling the three men she's speaking to. Both scenes serve the same function: Introduce this messy, prone-to-pratfalls character, and provide the stimulus for her to reboot her life and rethink her goals.
The similarities between the pilots continue. Romantic comedies figure heavily into both. Mindy's attempts to channel "Sandy Bullock" is nearly as uproarious as Jess watching Dirty Dancing "like six or seven times...a day." Each respective character's insistence on unabashedly being themselves drives the men around them crazy. Chris Messina's hotheaded doctor, Danny, can barely contain himself when Mindy models a ridiculously spangly first-date outfit for the office, asking her she's meeting Elton John at a New Year's party. In the New Girl pilot, a heartbroken Jess is like a wild animal the men essentially poke at from arm's length away with a stick because they're clueless about how to act around her. Both characters' life-in-shambles shticks become maddening for the men forced into close quarters with them.
When New Girl premiered, I was charmed by Deschanel's Lucille Ball-like commitment to her offbeat character and the quick, polished writing and one-liners. Many critics, however, found Jess's excessive quirkiness unwatchable and the characters too broadly drawn. The pilot for The Mindy Project is sharply written, boasts a pleasing amount of un-PC one-liners, and features a daffy yet accessible performance from Kaling. But it's easy to see how it could be as polarizing as New Girl was. There's so much focus on Mindy's messiness, with the notion that one or two cracks made at her own expense would make it all endearing. As The Atlantic Wire's Richard Lawson says, "Maybe Kaling means to satirize that convention with Mindy's flailing, but it comes across too straightforward and stale to register that way." The other characters are caricatures, when they have a semblance of a personality at all. Lawson finds True Blood vet Anna Camp especially wasted as the "soundboard best friend...Someone as good as Camp is shouldn't be stuck in a human prop role."
But the biggest obstacle The Mindy Project will have to overcome is the same one that New Girl eventually did. Because Kaling—as with Deschanel—has created a very public, easy-to-recognize persona and her character is such an extension of that public personality she's created, the show will be prejudged by audiences and critics on the respective party's tolerance for her—for lack of a better word—"bit."
Kaling's charming book of essays, Is Everyone Hanging Out Without Me? (And Other Concerns), and her must-follow Twitter account offer prime examples of the writer-actress's ceaseless sarcasm mixed with self-deprecation. (The title of her book alone telegraphs that brand of humor.) Her character in The Mindy Project echoes that same sensibility—and at some point viewers may simply get tired of the fast talking and When Harry Met Sally allusions. Deschanel's aggressive wackiness—her signature melding of wacky and twee—sparked backlash on its own. (This is the woman who once wrote tweeted, "I wish everyone looked like a kitten," after all.) She imbued Jess on New Girl with so much of those personality traits that Fox coined the cringe-worthy term "adorkable" to describe her, which sent those critics over the age.
The intersection of celebrity personas and the characters they play is hardly anything new. For decades, standup comedians have been translating their act from comedy clubs to the sitcom format: Jerry Seinfeld, Roseanne Barr, Ray Romano, the list goes on and on. But with today's public figures, especially young stars who write and act on TV, it's not jokes, punchlines, and 30-minute sets that the audience gets a taste of before they land their big sitcom. Twitter, essays, Facebook, TMZ, Us Weekly: All of these outlets open windows into these stars' daily lives. What shows do they like? What music do they listen to? What did they eat for breakfast? How do they feel about kittens? We know more about these celebrities than ever before. By the time their sitcoms debut, the audience can feel as if it's been following the characters for years, particularly when the characters and their sense of humor align so much with the actors who play them.
It's impossible to predict the trajectory of The Mindy Project's entire first season by just its pilot, which is quite solid and has a strong, appealing voice—even if signs of creative trouble are already glaring. But New Girl's first season serves as a model for how a series can address its critics, maintain its voice, and blossom into a great TV show. New Girl toned down Jess's awkwardness slightly, while at the same time making it clear they were not going to apologize about it (in particular, with a brilliant monologue-off with a jaded alpha girl played by Lizzy Caplan). The ensemble became more developed and interesting (Schmidt, especially), in turn making Jess more appealing. Assuming The Mindy Project resists the temptation to turn Mindy into Bridget Jones in scrubs and fleshes out some of the more promising supporting players—Messina's especially—Kaling may, like the recently Emmy-nominated Deschanel, no longer find her public persona a liability, but an asset.
And if all else fails, Kaling and Deschanel could always trap the critics in an aggressive dance circle. Because that sounds like it would be really fun.