Tony La Russa: Great Manager, Terrible Memoirist
The man who led the St. Louis Cardinals to a World Series championship last season knows baseball—but not how to write about it.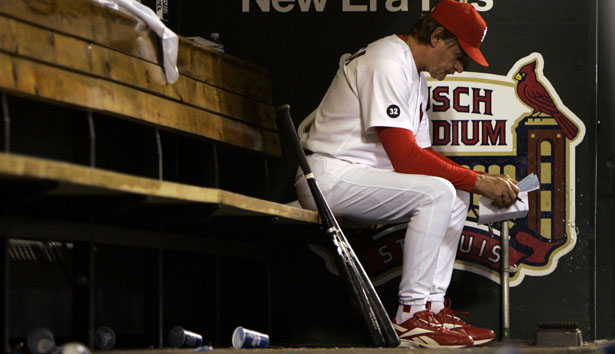 AP Images
As longtime season-ticket holders for the St. Louis Cardinals, my father and I spent unseemly portions of the past 15 years bickering from our seats along the first-base line about Tony La Russa's unorthodox managerial style. As a La Russa skeptic, I continually second-guessed the manager's incessant lineup tinkering. My father, ever the optimist, assured me that his in-game moves were all grounded in meticulous preparation and statistical analysis. Nearly every game we circled back to the same conversations:
Me: How come La Russa is the only manager to bat the pitcher eighth?
My father: He must've calculated that the eighth-place batter is more likely to come up in sacrifice situations.
Me: Why is La Russa bringing in his third relief pitcher this inning?
My father: The matchups must favor it.
After La Russa guided the Cardinals to an improbable World Series championship last year, I grudgingly surrendered to my father's point of view. Despite La Russa's maddening tendency to over-manage, his intensity and creative decision-making had set the tone for that team's never-say-die attitude. Down ten-and-a-half games in late August, the Cardinals tallied a 23-9 record down the stretch, clinching the National League wild card on the last day of the season. After vanquishing the heavily favored Philadelphia Phillies and Milwaukee Brewers, the Cardinals found themselves down to their last strike twice in Game 6 of the World Series before rallying back both times to tie the score, eventually triumphing on a walk-off homerun by third baseman David Freese. Right through the World Series-clinching out, La Russa remained perched in his usual spot at the far end of the dugout, alone and clench-jawed, his mind almost visibly whirring through a series of moves and countermoves, anything to give his team the advantage.
It was La Russa's glowering countenance that spurred the Pulitzer Prize-winning author Buzz Bissinger to shadow the Cardinals for the 2003 season, which resulted in his bestselling book, Three Nights in August. According to Bissinger, the opportunity to understand baseball "through the mind of La Russa—to excavate deep into the game and try to capture the odd and lonely corner of the dugout that he and all managers occupy by virtue of the natural isolation of their craft—was simply too good to pass up." It was too good to pass up for the syndicated conservative columnist George F. Will as well, who characterized La Russa as a managerial mastermind in his 1990 book, Men at Work.
MORE ON BASEBALL
It's easy to understand why serious writers are drawn to La Russa. Since being plucked from obscurity to lead the Chicago White Sox in 1979 after a sub-mediocre playing career (lifetime batting average: .199), La Russa went on to manage for 33 consecutive seasons, an unprecedented feat in an era in which " baseball manager" and "job security" are mutually exclusive terms. The accolades speak for themselves: four Manager of the Year Awards, three World Series championships, and the third highest win total in MLB history. But his most lasting contributions grew out of his relentless futzing with the bullpen and bench. Under La Russa, the team's closer became chiefly a ninth-inning stopper, an innovation now practiced universally around the league. He also scrutinized hitter-pitcher matchups, pulling relief pitchers after one batter or benching starters in favor of utility players who had had found success in the past against an opposing pitcher. It was as if La Russa believed that there was always something more he could be doing to help his team eke out the extra victories needed to propel them into the playoffs.
After retiring last November, mere weeks after winning the championship, La Russa returned to his home in the San Francisco Bay area, where he resumed work at his animal rescue foundation and started writing a memoir with the St. Louis-based sportswriter Rick Hummell. I anticipated La Russa's book more than the 2012 Cardinals season, eagerly awaiting an unfiltered glimpse into baseball's foremost tactical mind. Besides, without La Russa's in-game meddling, my father and I found little to argue about this baseball season while broiling in the Midwestern summer humidity.
So how is it that the most persistent question that ran through my mind when I finally read One Last Strike: Fifty Years in Baseball, Ten and a Half Games Back, and One Final Championship Season was: If Tony La Russa is such a genius, then why is his memoir so shallow?
Like most sports memoirs, La Russa's brims with the clichés that have come to define athlete-speak. La Russa preaches "the edge of not giving in, making excuses, or giving up"; posits that "the key to beating any outstanding starter is to have every hitter go to war from start to finish"; and asserts that mental toughness "is something [players] can acquire. If they decide to make something important, then they can make it happen." As David Foster Wallace notes in his essay "How Tracy Austin Broke My Heart," robotic banality is a staple in athlete autobiographies, but it's especially disappointing coming from La Russa, who might be expected to transcend the conventions of the genre.
If anything, what La Russa's memoir underscores is how integral clichés are to the practice of being a major-league manager. La Russa knows that axioms such as "keep on believing" and "no regrets" help keep 20- and 30-something multimillionaires motivated over the course of baseball's long season. In a telling anecdote, La Russa recounts how, in his first speech after taking over as manager of the Cardinals in 1996, he droned on for 45 minutes, testing the patience of the players and coaching staff alike. He partly blames that detail-laden speech for the team's sluggish start that season.
While stirring platitudes can inspire professional athletes during pre-game pep talks, they come across on the page as trite and obfuscating. It's jarring, for example, when La Russa sums up the Cardinals' championship season with language seemingly pulled from a third-rate self-help guide: "Just because you're down to your last strike, you're not out yet. You can always do more. You'll always have more at-bats to take. That's true in baseball, in rescuing animals, and in life generally."
More problematic than La Russa's reliance on clichés is his inability to humanize the ballplayers he manages. Despite La Russa's insistence that the most important duty of a baseball manager is to "understand and relate to the diverse personalities of the players," the individual Cardinals remain almost indistinguishable throughout the memoir—an interchangeable collection of gritty gamers and hard-nosed competitors differentiated primarily by the positions they play. Here's a sampling of player descriptions:
On starting pitcher Adam Wainwright: "Adam is a great guy, a devout family man, and a real competitor."
On backup catcher Gerald Laird: "Gerald Laird, a catcher, was another guy with a terrific sense of humor and a real passion for and knowledge of the game."
On infielder Skip Schumaker: "Skip Schumaker, our second baseman, was as tough as nails and always worked his tail off."
On infielder Ryan Theriot: "Ryan Theriot was another gamer, a gritty player with a championship pedigree."
On outfielder Jon Jay: "Jay is a major leaguer. Of Cuban extraction, he was born in Miami, and he loves to play the game. He runs well and gets to a lot of balls hit his way."
Such descriptions are superficial partly because La Russa refuses to breach the sanctified space of the Cardinals' clubhouse. Few revealing anecdotes about the players are related, and conflicts are either intimated or dismissed altogether. When veteran players from the underachieving 2010 squad suggested that there had been problems with team unity that year, La Russa neglects to expand on what those problems entailed and who was involved. Even La Russa's well-documented clashes with Colby Rasmus, a talented yet disgruntled centerfielder who was shipped to the Toronto Blue Jays midway through the 2011 season, are merely hinted at through ambiguous phrases such as the importance of "accepting personal responsibility." The only Cardinal whom La Russa openly criticizes is Ozzie Smith, the Hall-of-Fame shortstop who grew estranged from the organization after La Russa benched him in 1996. Their relationship was already too frayed for La Russa to worry about discretion.
On a certain level, however, La Russa's inability or unwillingness to flesh out his players is symptomatic of his professional mindset. As a manager, La Russa thinks in terms of strategy, not narrative. He has little time for clubhouse gossip, rally squirrels, or even personal histories that don't directly impact players' performances. His concerns are primarily tactical: which players hit left-handed pitching, which respond well to criticism, which can be trusted in close games. He's interested not in conveying who a player is, but in determining what he might do in a given situation.
Since nearly half of the book consists of a blow-by-blow recap of last year's playoffs, La Russa has ample space to explain the rationale behind his many lineup decisions. In perhaps the closest approximation to his strategic thought-process, La Russa painstakingly explains the logic behind nearly every double-switch, hit-and-run, and late-inning situational matchup that he instigated during the playoffs. After a while, though, these excessive details start to feel overwhelming. I yearned for a more expansive perspective that would move beyond La Russa's lonely dugout perch, for actual player conversations and behind-the-scenes glimpses of the team's internal dynamics. La Russa's mind, it turns out, is a rather cramped place to dwell.
At the very least, La Russa's memoir offers my father and me something new to argue about in the Cardinals' post-La Russa era. I look forward to the team's opening home stand next season, when we take our usual seats in Busch Stadium and engage in one final back-and-forth on our preferred topic. I imagine it going something like this:
Me: Why was La Russa's memoir so tedious?
My father: He must've figured that it was the truest expression of how he approached the game, for better or worse.