The Unforgivable Boringness of This Year's Emmy Awards
Twenty-six awards were handed out Sunday night. Nineteen went to people who had won previously.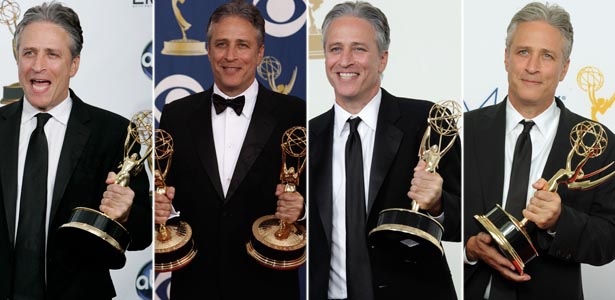 Jon Stewart with his Emmys in 2008, 2009, 2011, and 2012. (AP Images)
"Years from now when the Earth is a burning husk and the aliens visit, they'll find a box of these and know just how predictable these fucking things can be."
Hoisting up his award for Best Variety Series—the sixth time he's won that trophy for The Daily Show—Jon Stewart made the shrewd (and hilarious) observation Sunday night at the Emmy Awards. On a night when so many of the winners had won Emmys before, Stewart couldn't be more correct.
As entertainment, this year's Emmy Awards telecast was quite good. Jimmy Kimmel was funny and breezy with his jokes, while the taped bits were all also strong. But as an awards show, this year's Emmy Awards was unforgivably boring.
The Daily Show won again. Jon Cryer won again. Modern Family won everything, again. The Amazing Race won again. Did you miss this year's telecast? If you watched last year's, there's no need to feel bad. You've already seen Sunday night's ceremony.
The Emmy nominators have long been notorious rubber-stampers. The same actors and same TV shows are nominated year after year instead of fresh, exciting series and performances. Did Betty White cough on some TV series in the past 365 days? Emmy nomination! But now it's not just the Emmy nominations that are yawn-inducingly predictable. The winners themselves are, too.
MORE ON TELEVISION
Twenty-six awards were handed out Sunday night. Nineteen were given to people who had won previously. Modern Family's Julie Bowen and Eric Stonestreet won awards that should have gone to their show's co-stars—or, more deservingly, to Kristen Wiig and Max Greenfield. Aaron Paul was smart to devote a section of his speech to his Breaking Bad comrade Giancarlo Esposito, because Esposito should have been holding that trophy. Find one TV fan who genuinely thinks Modern Family didn't have a messy, uneven season, one not deserving of an Emmy Award.
That The Amazing Race and The Daily Show continue to triumph over smarter shows like The Voice and The Colbert Report is inexplicable. The series have won 10 and nine awards, respectively.
Several awards were given to actors in brand new roles or categories. But they were given to actors who are Emmy favorites, each having won trophies before. Julia Louis-Dreyfus's win for Veep marks the third series she's won for, after Seinfeld and The New Adventures of Old Christine. Amy Poehler, who once again stole the show with her bit during Louis Dreyfus's win, was much better of a sport than she should have been, as she should have been this year's winner. I'm so used to seeing Claire Danes win trophies that I was thrown a bit when she didn't thank Temple Grandin during her acceptance speech for her Homeland performance.
Dame Maggie Smith took home her second trophy for playing the Dowager Countess in Downton Abbey, winning Best Supporting Actress in a Drama Series this time, as Abbey has graduated from the miniseries races—but for a role that is entirely comedic.
Christina Hendricks must be damning the dame right about now. And, ladies and gentlemen, we now live in a world where Jon Cryer has two Emmys for Two and a Half Men. He Who Played Duckie bumped up to the lead category for the first time this year after Charlie Sheen's departure from the CBS sitcom, and took home the gold.
Ricky Gervais cracked during his presentation that the audience probably wishes they were at the Golden Globe Awards, because they can at least drink there. They probably do wish they were at the Globes, but more likely because there they at least have a shot at winning.
The Hollywood Foreign Press is easy to make fun of for oddball nominations and shameless stargazing, but the organization actually has a long history of rewarding brave, cutting edge, and buzzy series and actors, unlike the Emmys, which crown the same shows and actors year after year.
This is hardly a new phenomenon for the Emmys. Should those aliens Stewart mentioned also stop by the old homes of Kelsey Grammer, Helen Hunt, Candice Bergen, Doris Roberts, or the producers of The West Wing, they'll find box of trophies just like Stewart's to corroborate their theory that the Emmys were so ridiculously predictable. And when they stop by Steve Carell's, Amy Poehler's, Martin Sheen's, and Hugh Laurie's house and find not one gold statue, maybe those aliens will wonder why the organization never fixed the problem.