The Ultimate NBA Fantasy Draft (and Michael Jordan Wasn't the First Pick)
What if you could assemble a roster from the best players across eras?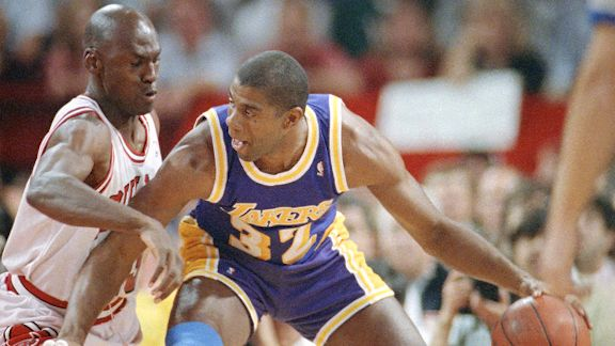 Associated Press
Before I describe the ultimate NBA fantasy draft, it's important to set the scene: an afternoon in Portland, Oregon, where three friends joined me for my bachelor party; sitting at Metrovino's bar; each of using forks to scrape roasted marrow from sizable shank bones; and then, having spread it on grilled bread with parsley, onion, and fresh horseradish, using the concave bone as a funnel through which to pour a shot of premium alcohol (in my case, Dos Maderas aged rum).
In my limited experience, "the bone luge*" lends an epic quality to an otherwise ordinary afternoon. Had Mike, Cody, Ron and I confined our drinking to traditional glassware, we might've contented ourselves with a pedestrian debate about the best players now active in professional basketball. But we were guiding fine spirits laced with savory goodness into our gullets, via bone. Only a fantasy draft for all time could match the tenor of the occasion. So we took turns choosing centers, forwards, and guards. Players from any era were fair game. Everyone chosen would shoot, rebound, and defend as if at their career peak. The exercise seemed destined to end in a weekend-long dispute about the best team. And that made it all the more appealing.
ROUND ONE
In real NBA drafts, general managers are deciding among players with uncertain career prospects. Knowing what we know now, there's no way the order of players chosen in 1984 would be...
1) Hakeem Olajuwon
2) Sam Bowie
3) Michael Jordan
4) Sam Perkins
5) Charles Barkley
But that's how it happened at the time.
Our draft would have no Sam Bowie or Darko Miličić. As casual NBA fans, as opposed to basketball junkies, our memories for history's greats would be tested, as would our ability to choose a team with plausible chemistry. Still, whoever got first pick would be able to choose a sure thing—in fact, the best player in basketball history would be available, by definition, for the picking.
By general consensus, that's Michael Jordan. To dissent from that proposition is treated as blasphemy. But Mike, who chose first by virtue of his seat at the end of the bar, did not pick His Airness. Instead, he chose the guy I would've picked first, too: Earvin "Magic" Johnson, a man with one fewer championship ring. Perhaps Mike and I are biased by the fact that we both grew up in Southern California as the Showtime Lakers were winning five NBA championships. At one time, I liked to find reasons to argue that my hometown's hero was better than Michael Jordan.
I've long since made peace with the fact that I was wrong. If Magic himself admitted it, how could I hold out? If you could build an NBA team right now around a young Magic Johnson or a young Michael Jordan, you'd have to take the latter. He did more with less around him. Would you rather play with Kareem Abdul-Jabbar and James Worthy or Scottie Pippen and Horace Grant?
But here's the thing. We were putting together a team of superstars. And that changes everything. On planet earth, MJ is the best ever. But if the NBA has a league in heaven where all the greats play for eternity, Magic Johnson might well emerge as its MVP. He just makes everyone better. Unselfish and unsurpassed as a passer, he stands 6-foot-9 as a point guard, posing post-up nightmares for the other team; and unlike many other unselfish facilitator-play-makers, he has that Kobe-M.J.-West killer instinct. In his most epic game, he was a rookie, playing in the 1980 NBA Finals, when Kareem Abdul Jabbar, the center and team leader, missed game 6 with an injury. The Lakers were on the road, playing the Philadelphia 76ers. Stepping up for his short-staffed team, Johnson wound up playing all five positions during the game, guarding Julius Erving for stretches. His line: 42 points, 15 rebounds, seven assists, and three steals.
Damn.
Cody picked next—and he didn't take Michael Jordan either. Figuring guards were plentiful and less important than scarce centers, he chose Bill Russell to anchor his team. The 6 foot 10 defensive monster won 11 NBA championships in 13 seasons with the Celtics, defended and blocked shots prodigiously, and once grabbed 51 rebounds in a game. Like Magic Johnson, he was said to make everyone around him better too. How would he stack up against the best centers from other eras? It's an unanswerable question, which didn't stop it from being good debate fodder.
I picked third.
And I took LeBron James.
Sure, Michael Jordan tempted me. But would he play nice on a team of superstars? I had doubts. (What if someone else got Phil Jackson as their coach?) Whereas Lebron had two upsides: It's possible that we haven't yet seen his peak; and even if we have, he's phenomenal at his best in ways no one ever has been. His only apparent weakness is taking over games at the end, which he's never done as reliably as Jordan. On a team with four Hall of Famers, unreliable killer-instinct matters less, and the benefit of his passing skills are magnified. Or so I thought when I picked King James. But I couldn't help but wonder if I'd make a mistake when Ron, choosing last and getting successive picks as a result, chose Michael Jordan...
ROUND TWO
...and Shaquille O'Neal. Those two together in their primes? Terrifying. Talk about a scoring duo deadly in their efficiency. In one of Shaq's best seasons, he shot 60 percent from the floor (okay, 59.9 percent) while scoring 29.3 points per game. During the 1990-1991 season, Jordan did something as spectacular for a guard: scored 31.5 points per game while shooting 53.9 percent.
With my second pick, I wanted to secure a center, and chose Kareem Abdul-Jabbar, confident that in any era, the sky-hook would prove extremely difficult to guard. At 7 foot 2, he'd also be a formidable defender—in fact, upon retirement, Abdul-Jabbar held the all-time record for shots blocked, only to be surpassed by the guy Cody picked next. Adding Hakeem Olajuwon to his front line beside Bill Russell meant a 4 and 5 combo that could defend and score on anyone. It was fun just thinking about those two playing together (what if they met Duncan and Robinson?).
Mike took Kobe Bryant with his pick, and since he'd be playing at his peak, I couldn't help but imagine all the back door cuts to the basket, with Magic Johnson putting the ball in the perfect spot just off the rim. Feeding Michael Cooper that way worked spectacularly, and with Kobe's acrobatics? Talk about Showtime.
ROUND THREE
With his next pick, Mike took Dirk Nowitzki, provoking immediate dissents from the gallery. But let's not sell the guy short. What he brings on a team of superstars is 7 feet of height paired with jump shooting and nimbleness vanishingly uncommon for a guy that big. Says Gregg Doyel, "With 22,792 points and 8,315 rebounds, he is on pace to become just the 10th NBA player in the 25,000-10,000 club. The other nine are the best of the best—Kareem, Wilt, Karl and Moses Malone, Erving, Olajuwon, Elvin Hayes, Dan Issel and  Shaquille O'Neal—but Nowitzki would give that club something it lacks. Nobody else in the 25,000-10,000 club is also a top-50 shooter from the foul line or the 3-point arc. Nowitzki is both. He's 14th all-time at 87.7 percent from the line, and 39th all time with 1,197 career 3-pointers." At his peak? Dude can't be stopped.
Up next, Cody needed a point guard, and chose Oscar Robertson. Only one thing needs to be said about the man: he once averaged a triple-double for an entire season. Still, I celebrated my good fortune: I was sure someone was going to snap up the player I wanted for my next pick, and when it turned out that they hadn't, I gleefully took Larry Bird, having hated him for my entire childhood precisely because he so often killed the Lakers. As Magic Johnson's great rival, we think of the Lakers point guard as the exceptional passer and Bird as the exceptional shooter, which is true. But if you go back and look at highlights of Larry Legend the passing is phenomenal:
Perhaps compensating for having chosen Lebron James, I also wanted to up my scrappy factor. And I was feeling good about my team. But the thing about this sort of draft is that the guy after you always picks a Hall of Famer who makes you think, Oh, maybe I should've picked him.
That's what I thought when Ron chose Tim Duncan, another master of efficiency, to play alongside Shaq and Jordan. Asked if he regretted picking Dirk Nowitzki when Tim Duncan was still out there, Mike stuck by his man, which was the standup thing for a general manager to do.
ROUND FOUR
With that formidable lineup of Jordan, Shaq, and Duncan, Ron used his fourth pick on Julius Erving, who added unparalleled flair to his roster, and knew how to respond when he got scored on:
To LeBron, Kareem, and Bird, I added Wilt Chamberlain, who averaged 50.4 points and 25.7 rebounds during the 1961-1962 season. I delighted in the idea of playing him at power forward, and wanted to look up how he fared in head-to-head match-ups versus Bill Russell, but felt that use of smart phones was cheating. (Here's one attempt to compare the great rivals).
In addition to Russell, Cody had Olajuwon and Oscar Robertson locked up, and used his next pick on Charles Barkley. With those four on the floor, would another team ever be able to grab a rebound? During the 1989/1990 season, Barkley shot 60 percent from the field while scoring 25.2 points per game.
And Mike, perhaps eager to add some rebounding of his own, took a gamble on Dennis Rodman. Would he distract Nowitzki, Magic, and Kobe, sitting on the sideline riding an exercise bike? Or prove vital, shoring up that team's defense and making sure Barkley didn't intimidate anyone?
Another intractable debate.
ROUND FIFTH
Stone-cold sober on draft day, NBA general managers have made some highly questionable choices over the years—Michael Olowokandi, for example—and between the bone luge, a couple of cocktails, and figuring out the bill, our last round proved a bit sloppier than it should've been.
Mike took Dwight Howard. With his affinity for scrappiness and clutch play, Cody picked Reggie Miller, arguing that he needed a great shooter to fill out his roster. I needed someone to handle the ball, and drafted Jerry West, still thinking about LeBron James, and how, now, he'd only get the ball at the end of the game if Mr. Clutch himself judged him ready that night. How would West fare against today's faster, more athletic players? Hard to say. Ron needed a point guard too, chose Allen Iverson, and immediately regretted it, lamenting that he should've taken Isaiah Thomas. (Or is John Stockton the better bet? And wow, no one picked Karl Malone. Everyone started to remember players they'd inexplicably forgotten to consider.)
And that was it. The rosters were set. All that remained was an irresolvable debate. So I put it to you, dear readers:
TEAM CONOR: Kareem Abdul-Jabbar, Wilt Chamberlain, Larry Bird, Lebron Hames, Jerry West

TEAM MIKE: Dwight Howard, Dennis Rodman, Dirk Nowitzki, Magic Johnson, Kobe Bryant

TEAM CODY: Bill Russell, Hakeem Olajuwon, Charles Barkeley, Oscar Robertson, Reggie Miller

TEAM RON: Shaquille O'Neal, Tim Duncan, Julius Irving, Michael Jordan, Allen Iverson

Who wins? Who loses? Rank 'em in comments, one through four. Second guess us. Like I said, we're all casual fans, not NBA junkies. I'm sure we made mistakes. And for the ultimate challenge, what roster of remaining players could compete with or even beat these teams in a super league?
I'll bet Joe Posnanski could assemble a credible challenger. May the debate rage on.