The Two Paths for Country-Music Stars With Drinking Problems: Repent or Die
Randy Travis's troubles show that addiction is messier than Nashville mythology often makes it out to be.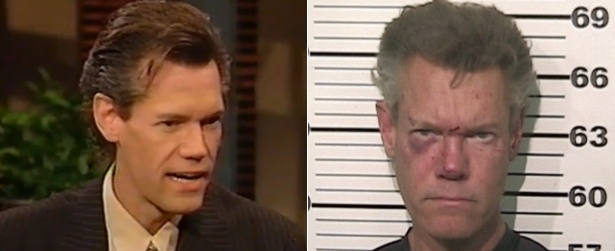 CBN/AP Images
Randy Travis has had a rough year. Six months after an arrest for public intoxication, he was again booked for a DUI in early August after being found naked on the side of the road. Then his old truck was discovered, wrecked, in the middle of a field. Days ago, he ended up in the hospital after an apparent fist fight outside a church.
In the pop culture, this type of behavior inevitably leads to jokes—and indeed, observers have leveled YOLO cracks and comparisons to Charlie Sheen. But country-music culture has historically offered only two options for those who drink to excess (at least where drinking to excess is defined as a problem—there are dozens of songs where overindulging is a goal, or a reasonable solution to the lovelorn): Either wait to be redeemed, or wait to die. Travis, though, isn't fitting so neatly into either narrative.
In the redemptive branch of country, the dark night of the soul is worked through, prayers and loved ones occur, people intervene, and at the end of the story, the person—song subject or real-life singer alike—is absolved and healed. The best example of this comes from the greatest self-mythologizer in country history. As popular legend tells it, Johnny Cash became so despondent that he decided to kill himself, entered Tennessee's Nickajack cave, was halted when he heard the voice of God, and exited the cave forever sober. And then there are the cases of people like Tye Herndon, who underwent a few public scandals resulting in a two rehab stints and emerged in 2010 with a Grammy-winning contemporary Christian album.
Recovery from addiction without a public come-to-Jesus moment is rarer. There is outlaw country legend Steve Earle playing a Narcotics Anonymous sponsor on Baltimore cop show The Wire. And there's the Deana-Carter-penned, Kenny Chesney tune (sung with Grace Potter) "You and Tequila," that has its chorus repeating a tweaked AA motto—"one is too many, one more is never enough"—with nearly erotic obsession.
The alternative vision of country-singer alcoholism is of the star who becomes unable to drink, and, tormented by desperation, destroys himself. Think of Hank Williams dying one day before New Year's Eve, in the back seat of his Cadillac, after a medical intervention. Tales of Keith Whitley's drinking in the 1980s and the inability of wife Lorrie Morgan to save him are legendary. Morgan would tie him to the bed, and he would wriggle out. She would hide the booze, and he would drink nail-polish remover.
In real life, of course, there are those who fit into neither category—singers who embark on a stop/start cycle of recovery and binging. But they end up ignored or thought of as a spectacle: excommunicated from the country conversation one way or another. One can think of Mindy McCready, whose drug use and suicide attempts were reported in the gossip presses, but whose attempts at a comeback failed (perhaps due to the lack of label support).
MORE ON MUSIC
Travis, though, complicates things. He began his career as a neo-traditionalist—a term that at first was used to describe a musical return in the late 1980s and early 1990s from a Nashville scene that was sorting out the end of Countrypolition glamour and a flailing outlaw scene. The sound recalled the 1950s, with softer guitars, more prominent vocals, and a lack of electronic manipulation and synthesizers. But there was also a kind of emotional core to the music; "neo-traditional" was as much of a political or social category as it was a musical one. So, when Travis's early hit "Forever and Ever Amen" talked with great delicacy about the importance of marriage as a social good, the musical style and the lyrical message were tied into a devotional key.
Travis's career, then, has continued to be a question of maintaining this religious credibility. He shows up from time to time on The 700 Club, and his 2002 comeback hit "Three Wooden Crosses" was a story song with a Christian bent, in which a bus accident kills a number of iconic characters. As Travis sings, with absolute earnestness, "An' that preacher whispered: 'Can't you see the Promised Land?'/As he laid his blood-stained bible in that hooker's hand," it becomes clear that this is a man who sincerely believes in redemption.
Travis himself has already been redeemed—in the once-saved always saved world of the Holiness churches, and also in his work, he talks movingly, intensely, and personally about the nature of his faith. (Indeed, the headline on a nearly decade-old 700 Club interview reads "Randy Travis: Road to Redemption"). His art gives the impression of triumphing through the dark night of the soul, but this appearance of having being saved does not mean that he stopped drinking—or perhaps can ever stop drinking. In country music's redemption-or-death dichotomy, Travis then presents an existential problem: What happens when the redeemed fall? His tragedy is both personal and professional—he'd been making some of the best work of his career only a year or so ago—but it also may have a lasting impact, carving out a sad middle ground between two untenable narratives that have defined country's most troubled stars.