The Stories Behind the 5 Most Difficult-to-Film Scenes in 'Samsara'
How two filmmakers turned sulfur mines, slaughterhouses, and trash heaps into breathtaking cinema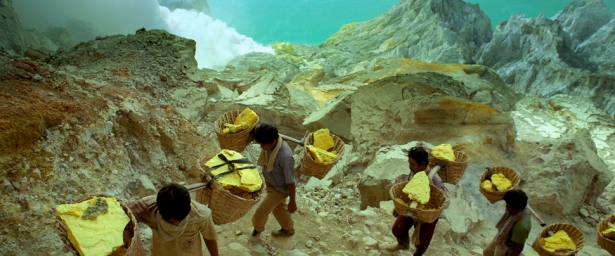 Oscilloscope
In the era of Instagram photo filters and quick-and-easy snapshots, filmmakers Ron Fricke and Mark Magidson still do things the slow, hard way. Their lavish, ambitious films without words require unwieldy analogue equipment and Phileas Fogg-scale travel—not to mention a crew willing to journey 1,000 miles for eight good seconds of footage. Their best-known work to date, Baraka (1992), did not feature dialogue or recurring characters, relying instead on powerful images and propulsive music to tell a global story. Roger Ebert, who included Baraka on his "Great Films" list, wrote that it could be offered to aliens as an adequate explanation of the human race.
Samsara, which screens in select theatres this fall, is the latest Herculean effort from Fricke and Magidson, their first movie in 20 years. Shot in dozens of locations across 25 countries, their sequel to Baraka took five years to make. Every frame was captured with 65mm cameras, a gorgeous (and expensive) widescreen format that offers unparalleled detail but requires bulky equipment, voluminous hard drives, and an arduous film-to-digital conversion process. The crew also hauled a custom-built, 30-year old timelapse photography system—the same one used in Godfrey Reggio's landmark documentary Koyaanisqatsi (1982). (That film brought extended timelapse sequences to moviegoers for the first time, and Fricke was cinematographer.)
The resultant movie is "a nonverbal guided meditation on birth, death, and rebirth," Fricke told me in an interview by phone. The title comes from a Sanskrit word for an Eastern religious concept: the flaming wheel of life, a restless cycle of creation and destruction that typifies unenlightened earthly existence. As the film depicts different forms of birth and death in natural wonders, manufacturing processes, and religious rituals, we glimpse some of the world's most impossible sights: The temples of Burma by hot-air balloon; the slopes of a Hawaiian volcano oozing with bright, molten lava; the locked-away bowels of a Filipino penitentiary. The movie plunges into the modern scenarios, too, with many scenes of industrial creation (the inside of a Chinese "factory city") and destruction (a junked car wrecker in Sun Valley, California).
Story continues below.
The filmmakers traveled for six to eight week at a time, and their quixotic, globetrotting errands required grueling commitment. "It's hard to maintain that energy and intensity for five years to make something that you can watch in an hour and a half," Magidson said. But the result is frequently breathtaking: In the words of one awe-struck YouTube commenter, the film"is like reading a thousand National Geographics at once."
I spoke with the Madigson and Fricke about the challenges of filming in five of their most difficult locations.
Food Processing Facilities, China and Denmark
Samsara is noteworthy for showing scenes of industrial food production that typically remain hidden from American audiences. At the Mariesminde Poultry Farm in Denmark, we watch a bizarre vehicle sucking up live chickens with a vacuuming snout; seconds later we watch an automated kill line slitting poultry throats in Changchun City, China. In another Chinese facility, thousands of cleaver-wielding workers clad in Hi-C pink biosecurity suits dice assembly-line cabbages.
I asked the filmmakers if it was difficult to obtain access to these locations, so rarely seen by American viewers. "In the U.S., we got a lot of no's when we asked to show the kitchen were your food is made," Fricke said.
Chinese producers, though, didn't demonstrate the caginess and secrecy that typifies large-scale American agriculture. Instead, they were happy to let the light in.
"They were interested in showing the efficiency and cleanliness of their factory," Magidson said. "In fact, the poultry facility actually required us to put their corporate logo in some of the shots."
With their crew of five filmmakers, the Samsara team spent eight-hour days—clad head-to-toe in plastic safety suits—to film in the hectic, hot, factory confines.
"After eight hours, we were ready to go," Magidson said. "I can't imagine working there day after day."
Johann Dairy, Fresno, California
Imagine several dozen dairy cows, thick plastic tubes streaming from their udders, spinning in the air on a huge rotating disc.
What sounds like science fiction is an everyday reality at Johann Dairy, where an enormous centrifugal system enables farmers to milk many cows at once. Fricke said the animals appeared to love the carousel—"they had to use a watergun to get them off it," he said—but the scene has disconcerting and otherworldly quality.
Magidson said it was like trying to film "a bunch of cows on a record player." And the dizzying effects of spinning were a liability on this particular revolver. "We had to stay out of the cow poop," Fricke said.
Kawah Ijen Sulfur Mine, Java, Indonesia
Samsara's most challenging—and perhaps most affecting—sequence was filmed on the Indonesian island of Java at a remote sulfur mine. Miners climb up to a lip of a steaming volcano and pull the noxious yellow mineral directly from the earth; they carry it down in buckets that hang from crossbeams hoisted on their backs. The cameras lavish attention on the shirtless miners' faces as they strain against the weight and heat—their wooden ballasts press sore welts into their shoulders.
"The gas and smoke you can see in the film was pure sulphuric acid," Magidson told me. "When the wind would shift it would blow in your lungs and your eyes—it was so caustic. I was feeling it in my lungs for months afterward."
"Instantly, you were blinded and gagging," Fricke said. "We were choking and stumbling around blind—we barely got out of there. You just can't imagine the miners working there all day."
I asked if the mine's owners resisted the camera crew; the footage is so stark and brutal that it's hard to imagine any profiteer granting permission. But the filmmakers said that the location was so remote, the situation so bleak and imposing, that security was never deemed necessary. They just hiked in.
MORE ON FILM
Payatas Trash Dump, Manila, Philippines
A government liaison escorted the crew to a sprawling garbage dump in Quezon City, a huge, poverty-stricken borough of northwestern Manila. The government-run facility required that the filmmakers be accompanied at all times. In this scene, desperate droves of people—small children, the elderly, and everyone in between—sift through detritus for anything of value.
"They're looking for all kinds of stuff," Fricke said. "Stuff they can recycle or sell, food they can eat."
The crew maneuvered cameras across a jagged sea of fetid trash using tripods and tracking systems for panning shots. Needless to say, it wasn't easy. "We had to go out there and get into it," Fricke told me. "It's the only way to get the shot."
EUPA, Southeastern China
Chinese-made consumer goods are ubiquitous in American homes, but the manufacturing process that brings us kitchenware and consumer electronics remains mysterious to most Westerners. That's why Samsara's footage from EUPA—a "factory city" that employs 17,000 workers—is so unnerving. We watch two familiar items, hand irons and George Foreman grills, being pieced together on breakneck assembly lines; the filmmakers' choice to shoot EUPA in timelapse enhances the viewer's sense of the manic, frenetic pace of global-scale production.
"I've always wanted to shoot a sequence where you have a mass of workers walking through a gate into a factory," Fricke told me, speaking of the footage that begins the EUPA section. For me, the scene was unnerving—individual faces blur into a featureless whole, a collective worker yoked to a huge machine. But the plant operators had no compunction about revealing the vertigo-scale facility, and the many-thousand anonymous laborers, who build our familiar household appliances.
"They wanted to show it off," Fricke said.