The Secret to Women-Driven Sitcoms: Relationships, Not Raunch
Two new Fox series—Ben and Kate and The Mindy Project—focus on the complicated aspects of being female today.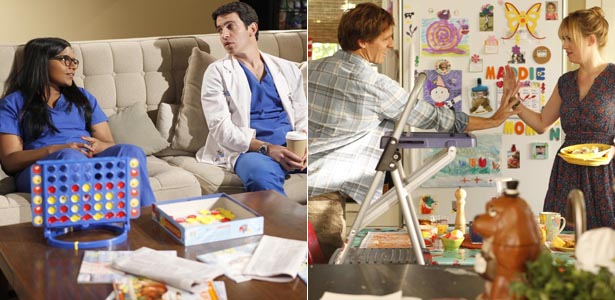 Fox
After the huge critical and commercial success of last year's Bridesmaids, it's no surprise that television networks tried to copy the movie's formula. Perhaps because it was easiest to replicate, the first factor the network seized about was the film's raunchiness. On CBS, the ladies of 2 Broke Girls talked about their lady bits almost as frequently as the show made racial jokes, which is to say, all the time. NBC bought two dirty-girl shows, Are You There, Chelsea?, based on talk show host Chelsea Handler's memoirs, and Whitney, from comedienne Whitney Cummings, who also created 2 Broke Girls. On Chelsea, the titular character was a hard-living bartender who moved to within walking distance of her job rather than moderate her drinking so she could continue to drive safely. On Whitney, Cummings spent early episodes vamping around her apartment in a nurse's outfit and strutting around her lobby in a tiny skirt and heels.
The primary personality component these women had was an air of sexual vulgarity, an only mildly successful strategy. Are You There, Chelsea? was cancelled after its first season, and Whitney barely made it back for a second: NBC exiled it to Friday nights, pairing it with Community, which has similarly dismal prospects of survival. Only 2 Broke Girls was a real hit. None of these shows—not even 2 Broke Girls—really captured what made Bridesmaids a hit. The movie was successful not simply because it celebrated a freer form of female sexuality, but also because it portrayed the loneliness, anxiety, and complicated friendships that come with being a woman today.
This season, two new shows do explore the deeper themes that Bridesmaids raised: The Mindy Project, from The Office graduate Mindy Kaling, and Ben and Kate, created by Dana Fox, a consultant on Fox's sophomore sitcom New Girl. (The three shows will be airing as a block on Tuesday nights.)
MORE ON THE BRIDESMAIDS EFFECT
Kate (Dakota Johnson), the main character in Ben and Kate—which appears to be the fall's best, most confident new comedy—is uncertain about sex, or "the sex," as she refers to it a conversation with her best friend BJ (a hilarious Lucy Punch). A single mother who's raised her grade school-aged daughter Maddie (Maggie Elizabeth Jones) without apparent financial support from Maddie's father or emotional or practical help from her parents. Kate gets a boost—with caveats—when her brother Ben (Nat Faxon, who won an Academy Award for his screenplay for The Descendants) moves home to try to win back his old girlfriend and ends up revitalized by hanging out with his niece. "There's so much I want to say!" Ben tells Maddie, who quickly becomes his confidante. "Why are you so young right now!"
Unlike the heroines of the first year of TV's lady-comedy boom, which was dominated by female characters with sharp tongues, Kate is a fundamentally nice person whose sweetness protects herself and her fragile little family. Kate lives a modest life, with Maddie at the center of her world. She's like Bridesmaids' Annie Walker (Kristen Wiig), whose friendship with Lillian (Maya Rudolph) was the main thing she had left after the recession claimed her bakery and her relationship with her fiance. When we first meet Kate, she's begun dating a new man and is preparing to sleep with him for the first time, an event that's delayed by Ben crashing their date in a ski mask he donned so he wouldn't be recognized stealing cable. Kate is anxious about the prospect of a new relationship, worried about the fact that she hasn't had sex with anyone since Maddie's birth, and concerned about Ben who, for all of his goofiness, is so vulnerable at the prospect of his ex getting married to that he's willing to enlist his niece to help him crash the wedding.
For all of Ben's wacky scheming and Kate's uncertainty, threats to their family snap them into action. Kate gives Ben the words he needs to make his pitch to his ex-girlfriend to take him back. And Ben reacts when he finds out that Kate's beau isn't what he seems. "Stay away from my sister, before you find out what six years of krav maga looks like," Ben tells the man. "Well, more like a year and a half. Plus four years on and off." Ben and Kate may not have all the tools to forge the kind of successful adulthoods that are so often the subject of network television shows. But like Annie, we're meeting these wonderful siblings at the point at which they're realizing it takes more than luchador masks—or as Ben tells Kate at once point, "I need your car. And a pinata. And six dresses sizes eight through 12."—to build a life. Watching them tackle growing up together is going to be an awful lot of fun.
Mindy Lahiri, the heroine of The Mindy Project, is further along in the journey to adulthood than Ben and Kate: She's a successful obstetrician (a profession that was inspired by Mindy Kaling's late mother). But her professional accomplishments are balanced out by the occasional muck she makes of her personal life. A pop-culture obsessive whose approach to college was "Total freedom. No supervision. I could watch romantic comedies whenever I wanted," Mindy begins the show in meltdown mode. The boyfriend she met-cute with in an elevator (Bill Hader) has dumped her and quickly married a younger Serbian woman who isn't on a career track. "By the way, are we totally sure that she is not a war criminal?" Mindy asks as she toasts the less-than-delighted couple at their wedding. "Come on, am I the only one who saw Angelina Jolie's movie?"
Mindy's acerbic selfishness is both an asset to and a problem for The Mindy Project, which isn't always clear on whether its main character is someone we can root for in a straightforward manner or a low-level anti-heroine. It's very funny to watch her drunkenly peddle through the suburbs on a purloined bike, hollering "Racist!" at a car that gets a little bit too close. It's less charming to watch her miss a patient's delivery and then complain when the doctor who stood in for her (Chris Messina) ends up getting the woman's business on a more permanent basis. Similarly, it's entertaining to watch a young boy, translating for his veiled and pregnant mother, call Mindy a drunk. It's less so to watch her complain about being sent poor patients rather than wealthy ones. There's a lot of comedy to wring out of Mindy's spoiled, insensitive behavior, but The Mindy Project doesn't do enough in its first episode to establish the space between how Mindy sees herself and how the show, and by extension the audience, perceives her. Mindy's going to need a trajectory that requires more reckoning than simply attempting not to sleep with a hot colleague if we're supposed to find her straightforwardly sympathetic—just like Bridesmaids' Annie, who had to reckon with her possessiveness of Lillian in order to save her friend's wedding and discover a baseline from which to rebuild her life. The Mindy Project has time to figure itself out, and I'm optimistic that it can.
Bridesmaids worked because there were real consequences to the movie, not because of the pooping-in-the-street scene, or the jokes about John Hamm's penis. Annie lost her job, had to move back in with her mother, and fell into a deep depression before she was able to rebuild her life. She risked her oldest friendship and her pride. There's hope that Ben and Kate and The Mindy Project will have similarly high stakes. Ben and Kate already has Maddie as a weight ballasting the show. However much her mother and uncle screw up, they love her desperately and are eager to raise her right. The Mindy Project is pretty funny just being, as Mindy's best friend Gwen puts it, "a documentary about a criminally insane spinster." The question is whether The Mindy Project intends to pursue a more meaningful project.