The Revenge of the Irony-Free Family Sitcom
Four shows—Ben and Kate, Up All Night, The Middle, and Raising Hope—are proving that sincerity doesn't always lead to schmaltz.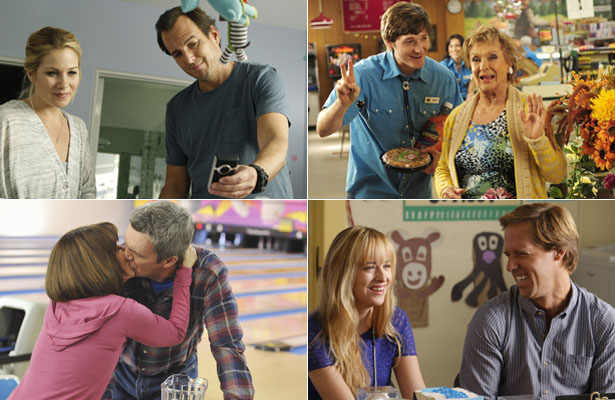 NBC, FOX, ABC
Television comedy has gotten really mean in recent years. 30 Rock, The Office, Community, Happy Endings, 2 Broke Girls, It's Always Sunny, Whitney, Apartment 23, Workaholics, Family Guy, Veep, Girls, Two and a Half Men, Mike and Molly, Curb Your Enthusiasm, Weeds...the list goes on and on of shows that, though (mostly) very funny and well-written, rely on bitterness, cynicism, insults, biting one-liners, sarcasm, irony, embarrassment, and exploitation for laughs. There's the cringe comedy of The Office and the cruel comedy of Two and a Half Men. Krysten Ritter's Chloe on Don't Trust the B**** in Apt. 23 is a putdown-wielding sociopath, while Tina Fey's Liz Lemon on 30 Rock is a master practitioner of humor by humiliation. Yes, comedy has gotten deliciously good. But too often, it also leaves a bad taste in the mouth.
That's why one recent trend in comedy is so refreshing. "Family sitcom" used to be the most terrifying of labels, referring to series like According to Jim or Yes, Dear that were lazy, clichéd, and, for the most part, unfunny. But with the rise of series both about and for families like Raising Hope, The Middle, Up All Night, and, now, Ben and Kate (which premiered Tuesday night on Fox), that's no longer the case. There's no need anymore for a schlubby husband and a hot wife trading barbs, or a dénouement involving moralizing monologues and twinkly music for a show to be a "family sitcom." This new breed is smart, cleverly written, charming, full of heart, and not just watchable, but worth watching.
MORE ON TELEVISION
On Ben and Kate, Nate Faxon (an Oscar-winner for his The Descendants script) and Dakota Johnson (the beautiful progeny of Don Johnson and Melanie Griffith) are siblings whose only weapons against a rough childhood were each other. Now grown, Ben is one of those hapless brothers who tornados in and out of Kate's life, leaving plenty of debris in his wake. Kate is a devoted sibling storm chaser who loves Ben unconditionally, so much so that she wishes, despite his continually unspooling string of bad ideas, he'd stick around permanently.
Ben is zany as any Community goofball, and Kate is as susceptible to exasperated tantrums as Liz Lemon is on 30 Rock, but there's a sweetness to their relationship that's missing on those other shows. Ben does decide to stay with Kate to help raise her precocious daughter Maddie, setting up the kind of precarious family dynamic--unreliable brother, older-than-her-years sister, impressionable little girl--that inevitably leads to a slew of sitcom-y hijinks. (Kate and Maddie try to help Ben stop his ex-girlfriend's wedding; Ben threatens to unleash his "year and a half, plus for years on and off" of krav maga training on Kate's philandering boyfriend; Maddie pops up now and again to make hearts melt.) But the balance of sentiment with that humor raises Ben and Kate to the level where, as Alyssa Rosenberg says in her Atlantic review, it "appears to be the fall's best, most confident new comedy."
Seizing that same interplay between frustrating family dynamics and endearing family relationships is precisely what makes The Middle, which has its season premiere Wednesday night on ABC, such an underrated gem. Borrowing the best of Roseanne and Malcolm in the Middle but grounding them in a very relatable reality, the series follows Patricia Heaton's harried Frankie Heck as she struggles to ringlead the family circus that surrounds her: a disconnected husband, a slacker son, a hopeless daughter, an unusual youngest child, and a flurry of economic concerns. The pitfalls of being an average family with below-average means in a below-average economy are easy to empathize with, particularly because The Middle never makes fun of the Hecks' coupon clipping, broken appliances, or failures. It portrays them as totally typical, and even uses those missteps as a catalyst for family bonding—a notion that audiences can laugh with, not at.
Blue-collar family life is portrayed with much more slapstick on the Fox comedy Raising Hope. The deranged Chance family revels and takes pride in their pseudo-trashiness but also betrays an underlying insecurity about not being fancy or respectable enough for their surprise baby, Hope. On the NBC parenting sitcom Up All Night, Christina Applegate and Will Arnett bumble through raising an infant. Unlike the protagonists of those groan-worthy '90s shows, they come off as real adults, who curse and have sex and are genuinely concerned about how clueless they are about child-rearing. But unlike bawdy Apatow-like comedies in which these so-called adults raise children, Up All Night manages to get that point across without excessive raunch, whilse still remaining quite funny.
Words like "slight," "schmaltzy," "cutesy," and "overly earnest" are often used to describe these series, and they're typically applied as criticisms. But earnestness and sentimentality and even kindness are attributes that should be embraced in comedy, particularly since they're so challenging to pull off. As shows like Happy Endings and Cougar Town prove, the faster sharp-tongued zingers can be fired, the faster the laughs come. 2 Broke Girls shows that just saying the word "vagina," apparently, causes some part of the population to laugh. But sweetness, heart, and charm must come in far more calibrated doses in order to be successful in comedy, making the triumphs of this quartet of sitcoms all the more impressive.