The Epic Ballads That the World's Listening to, From Chile to Thailand
An Adele-free playlist of slow songs for fall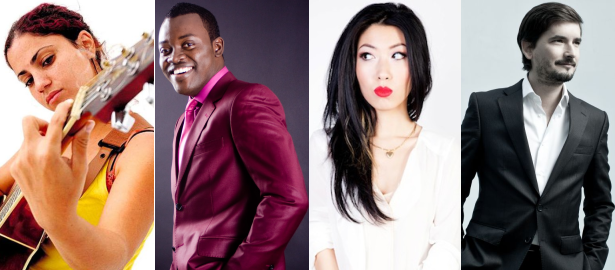 Fall is a serious season. It's when movie studios roll out their fanciest, most self-important movies, when publishers hard-sell their weighty novels from weighty novelists, and when the commercials for new TV dramas fall over one another assuring the viewer of the meaningfulness and addictiveness of their shows. It's also the perfect season for the musical equivalent of Oscar bait: big, emotional ballads that sweep the listener up in their particular world. Whitney Houston's "I Will Always Love You" and Céline Dion's "My Heart Will Go On" were creatures of the Oscar season, as were, more recently, OneRepublic's "Apologize," Bruno Mars's "Just the Way You Are," and Adele's "Someone Like You."
This year, no consensus English-language song has so far emerged as the year's big ballad. Gotye's trickily rhythmic "Somebody That I Used to Know" and Katy Perry's self-helpy "Wide Awake" may be potential nominees, while Miguel's "Adorn" has emerged as dark horse from the artsy R&B world. Then again, the season's only just begun, and if American listeners can't find an appropriately sweeping heartstring-tugger at home, there's always the rest of the world. Ballad production is cranking up globally for the many different markets served by pop internationally, and even though half the world is entering spring, not fall, songs of love and its complications are an infinitely renewable resource.
Here are 12 low-tempo songs from around the world that can strike a chord regardless of language. If you're the susceptible sort, you may wish to grab a box of Kleenex before you get very far into the videos.
1. Wanting Qu (曲婉婷), "You Exist in My Song (我的歌声里)"
China/Canada
Wanting, whose name is a multilingual pun, was born in China and moved to Canada as a teenager; after getting a degree in business to satisfy her parents, she dedicated herself to music, and has been rewarded by seeing "You Exist in My Song" become hugely popular in China—which is, of course, a good way towards being one of the most popular songs in the world. Her Western-style vocal inflections make the song all the more adaptable to any market, and it's become something of an under-the-radar YouTube hit among piano-playing teenagers everywhere.
2. Sekouba Bambino, "Simontena"
Guinea
Sekouba is one of Guinea's most famous and respected singers—he fronted the legendary Bembeya Jazz Orchestra in the 1980s—and his music has long found inspiration across the Atlantic, from Cuban rumba and salsa to Colombian cumbia and vallenato. "Simontena" is an elegant, late-period slow jam with rhythms that recall cumbia and reggaetón, but the floating synth clouds and call-and-response Sekouba establishes are simply and irresistibly West African R&B.
3. Ricardo Arjona & Gaby Moreno, "Fuiste Tú"
Guatemala
Arjona is also a veteran of his craft; he had his first pan-American success in 1993, and has never been far from the Latin charts since. Jazz-pop singer Gaby Moreno has also been successful, if for a shorter period of time: She co-wrote the bouncy theme song to Parks and Recreation. Both of them were born in Guatemala, though there's nothing particularly Guatemalan about their rock-ballad duet, a hit throughout Latin America this year: That guitar and piano is more or less the official international bourgeois sound. But the video pays tribute to their home nation, with ravishing portraits of tourist destinations like colonial Antigua, the Mayan ruins of Tikal, and scenic Lake Atitlán.
4. Jessye Belleval, "Toute une vie?"
Guadeloupe/France
Zouk, the airy, steel-stringed guitar music developed in the French Caribbean, has become one of the signature Francophone styles throughout the world, elastic enough to incorporate macho posturing, rhythmic dancing, and romantic swooning—and, as here, a song about the heartbreak of not being in love anymore. The video has Jessye running away at the altar, but the title—"all one's life?" or "the entirety of a life?"—tells a complete story in itself.
5. The National Fanfare of Kadebostany, "Walking With a Ghost"
Switzerland/Belarus/Romania/Kazakhstan/Russia/Poland
This six-piece band from the fictional nation of Kadebostany is from all over the Eastern European and Western Asian map, and with their ornate backstory and English-language lyrics are evidently aiming more towards the hip international indie audience (they have a Tumblr) than for any particular local success, but they've already charted in Greece and some of its neighboring countries. Their music—a mixture of Balkan horns, gothic atmosphere, and stern rhythms—is just the sort of darkly ironic embrace of doom that might hold some appeal for the insolvent half of the European Union today.
6. Emel Mathlouthi "Ma Lkit"
Tunisia
A specific brand of Oscar contender is the movie that tackles important political or historical events. Extend the analogy to music, and 31-year-old Tunisian Emel Mathlouthi is a Schindler's List-level awards shoo-in. Her 2011 protest songs "Poor Tunsia" and "My Word Is Free" were anthems of the Arab Spring, and this electronic update of "Ma Lkit" ("Not Found") rages against the instability left in the Spring's wake. Peace, answers, escape, and the words to express herself are all not found.
7. Kritt Pannana (กฤต พรรณน), "I Love the Rain (ฟ้าฝนคนเหงา)"
Thailand
It might be surprising to hear smoky blues guitar riffs on a Thai song, but rock music is far more popular in Southeast Asia than it has been in the United States for nearly a decade. Kritt Pannana studied guitar and played in the US for eight years before returning to Thailand, and he's found success in his homeland the same way Justin Bieber did: through YouTube. "I Love the Rain" is a sweetly old-fashioned guitar song that somehow seems right at home next to the Korean- and Japanese-influenced dance-pop on Thai radio playlists.
8. Jon Germain, "Tell Me"
Ghana
Jon Germain has been a well-known radio and television personality in Ghana for a decade, but he only began his forays into smooth R&B in 2009. "Tell Me" is his newest single and a moderate hit in Africa, but it would sound entirely plausible coming from US radios, with production as coolly lush as anything Drake or Chris Brown has sung over in the last year. The last time the US record industry invested in an African pop star, he was Akon. Germain deserves at least the same success.
9. Javed Ali, "Deewana Kar Raha Hai"
India
Bollywood is its own pop universe, the rest of the world's music reflected back in unfamiliar patterns and in contexts that Western audiences might not understand. Raav 3, the film that provided the occasion for this song, is a psychological thriller with horror elements—an unimaginable source for a huge pop ballad, by Hollywood reckoning—which makes the obsessive desire in the lyrics, a standard theme in a great deal of global pop, resonate in a slightly creepier way than they otherwise might. Fans found the melody similar to the Arabic pop song "Ana Law Azeto" by Mohammad Hamaki: Bollywood's reflectivity at work again.
10. Tego Calderón, "Robin Hood"
Puerto Rico/USA
Hip-hop has its ballad forms too. Tego Calderón, whose music fuses hip-hop with various island beats like reggaetón, plena, and dancehall, is a great exponent of the muted swagger that comes with low-tempo beats and hushed vocals, as though trying to hide from the authorities. "Robin Hood" is a typically cynical tale of illegal activity, but his exhausted mumble intentionally gives away the downside of always being one step ahead of the law.
11. Rodrigo Costa Félix, "Amigo Aprendiz"
Portugal
The vocal and instrumental tradition of the fatalistic, painfully nostalgic fado stretches back to Portugal's days as seafaring power, but it culminated in the mid-20th century with the immensely gifted—and nearly as beloved—Amália Rodrigues. Post-Amália, traditional fado singers sometimes run the risk of being an indulged set of historical reenactors, but the young Félix sidesteps that by focusing on the minute nuances of his song, helped by extremely sympathetic instrumentalists.
12. Sergio Járlaz, "Caruso"
Chile
In 2011, Sergio Járlaz was the first winner of the Chilean edition of The X Factor. His nickname on the show was "Pavarottito," or "little Pavarotti," after his light-operatic singing style. This, his first single, is a cover of Italian composer Lucio Dalla's famous 1986 tribute to Enrico Caruso—which has already been covered by every pop-classical singer in the music industry. It's still beautiful, and a fitting gesture to the bel canto origins of the modern, sweeping pop ballad.