Remembering Ashbel Green, a Master of the Art of Editing
Green's patience and intuition made him a valued editor at Knopf for more than four decades.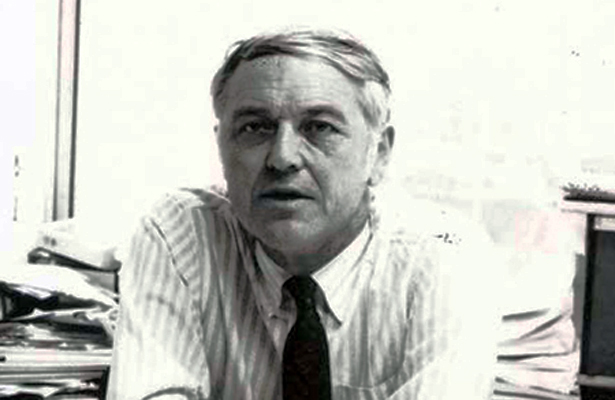 Knopf
Ashbel Green, who was an editor at Alfred A. Knopf for more than forty years, and who continued working with his favored authors in his retirement, died last week at the age of 84. His passing merited major obituaries in the New York Times and the Associated Press. Quoting the often acerbic New York Observer, the AP described Ash (as he was always known) as an "exemplar of elegance, decency and seriousness." This was true in every respect, but I would add that he was, above all, a master of the craft of editing: the art of rendering the work of others with technical skills and patient persuasion that were meant, ultimately, to be invisible.
It was especially gratifying to see Ash recognized so prominently. He was not especially a celebrity even in the publishing industry, and rarely joined in the scramble for books of momentary notoriety. Instead, Ash developed a list of authors whose work will endure. In announcing his death, Knopf provided a partial list of Ash's authors (and I have added a few others): Gabriel Garcia Marquez, Jacobo Timerman, Milovan Djilas, George H. W. Bush, Andrei Sakharov, Elena Bonner, Vaclav Havel, Ken Burns, John Keegan, Joseph Ellis, Max Hastings, Walter Cronkite, David Brinkley, George Mitchell, Ernest Gaines, Philip Caputo, Geoffrey Ward, Alan Riding, Timothy Egan, Janine di Giovanni, Thomas Sanchez, George V. Higgins, Michael Dobbs, Winston Groom, Ross Macdonald, "and many, many others."
Ash and I were colleagues at Random House Inc. for twelve years, from 1984 to 1996, and shared an abiding interest in books about the world, narrative history, politics, and memoirs, particularly by the courageous human rights activists in the totalitarian regimes of that period. I worked at the Random House imprint that was inevitably (although not explicitly) competitive for acquisitions and accolades with Knopf. But when I arrived at Random House, an outsider moving to publishing from a newspaper job, Ash went out of his way to guide me through the complexities of choosing which books to publish and how to shape them for their prospective readers. On one of my first days at the company, Ash brought me a list of books in our respective fields of interest with their sales numbers. His intent was to show me that expectations of mass audiences for serious nonfiction could lead to frustration. Every book deserves the widest possible audience, but Ash understood that the impact of many works should not be measured in the number of copies they sold.
Over time, we sought each other out for counsel and a good lunch, but probably our closest collaboration was the memoirs of Andrei Sakharov. As a former Moscow correspondent, I knew Sakharov and his formidable wife and political partner, Elena Bonner. Sakharov was a seminal figure in the history of the Soviet Union. As a scientist he was credited with critical work on the Soviet nuclear program and was duly honored by the Kremlin. But when he turned his focus to pressing for democratic reform, earning a Nobel Prize for Peace, he and Bonner were relentlessly harassed by the KGB and sent into internal exile in Gorky. Robert L. Bernstein, then the chairman of Random House and the founder of what has become Human Rights Watch, was committed to publishing as many books by leading dissidents as possible. The Sakharov memoirs were considered the premier work in this genre. But spiriting the manuscripts out of the Soviet Union and having them translated with essential exposition for Western readers was a major undertaking. Ash asked for my help when, during the Perestroika period of the 1980s, Sakharov was allowed to travel to the United States and we could work with him in person.
I remember a protracted discussion over an account of how Sakharov and other scientists worked "furiously" to finish a project on schedule. Sakharov firmly rejected this depiction, and we finally settled on the scientists working "with abandon" as an acceptable term. Ash's subtle endurance was exceptional. My role as adjutant was to attempt to move matters along briskly. As only a great editor can, Ash knew when to bear down and when to ease back. The Sakharov memoirs were finally completed. While never a bestseller, they did achieve the goal that Ash had set for them--a book that will be read a century from now to understand how this remarkable man confronted the Kremlin at the peak of its Soviet power and was instrumental in bringing that empire to an end.
As publishing undergoes its digital transformation with a frenetic drive to meet the demands of technology in the commercial marketplace, it seems an especially good time to venerate the timeless contribution of an editor like Ashbel Green. His legacy is in the hundreds of works that reflected his support and perseverance, designed to accommodate the needs of each author. Whatever future there may be for books, Ash's career will be a continuing model for the values and talents that make an editor's role so essential.