Pow! O-Man and Milt Rhomboid Battle in Comic Veteran's Satirical Strip
Robert Grossman has invented campy cartoon counterparts for presidents ever since Nixon, but these days, it's tougher for him to find a showcase for his Obama saga.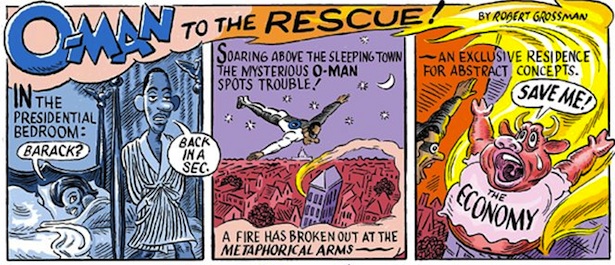 Robert Grossman
In 2008, during the run-up to the presidential election, veteran comic strip artist Robert Grossman, known for his wickedly funny airbrush caricatures of the famous and venal, introduced O-Man, an earnest superhero who resembled the then presidential candidate who currently sits in the oval office:
On the one hand there's Senator Barack Obama—just an ordinary Hawaiian Kenyan-Kansan who once lived in Indonesia and was President of the Law Review. And then there is the mysterious O-Man whose abilility to fly enables him to resue kittens from trees.
From his perch in O-Manland, our hero soars over the nation, primed to swoop down and engage in "random acts of heroism." All the while fending off his predatory rivals—Milt Rhomboid, former president of Drain Capital, Paul "Nursery" Rhyme (whose trademark couplet is "I got mine. So Take a Hike"), his battle with Rich Gingnewt (whose "scaly cold-bloodedness [is] simply irresistible") now over.
O-Man, however, does not have what every superhero and anti-hero needs most: media sinecure. O-Manland resides on its own website, but the publishing outlets for a contiguous satiric comic strips have dwindled. So Grossman accepts any viable print venue that he can get, notably the ocassional piece in The Nation and The New York Observer. Yet this was not always the state of his art.
In Clay Felker's New York Magazine of the '70s, Grossman was given "free rein to do whatever I liked in a little space that appeared under New York Magazine's weekly politics column titled The City Politic," he recalled in an interview. "It was Watergate time and there was much talk about bugs and bugging. I drew some insects named Haldebug and Ehrlichbug serving their master, the terrifying Richard M. Nightcrawler," he said. "Over time, the space developed into a slightly larger comic strip called 'Zoonooz,' featuring a president prone to bumping his head called Gerald Duck, and a Disneyesque movie star called Ronald Rodent." When Rupert Murdoch assumed control of New York Magazine, "Zoonooz" moved for several months to Rolling Stone before fading away with most of its characters stranded on a planet orbiting Arcturus.

Grossman rejects the notion that his work is partisan. "I don't think cartoons are ever 'for' anything," he said. "The idea is to ridicule everything, although you are free to guess for whom I am likely to vote when the time comes."
After "Zoonooz," and thanks to Victor Navasky and Katrina vanden Heuvel, The Nation hired Grossman to record the antics of the amazing flying squirrel Cap'n Bushy, who somewhat resembled George Herbert Walker Bush, and his archenemy, the world's worst weasel, Saddie the Baddie. And then … "Coming from Little Rock as they did," Grossman said, "it seemed the Clintons were a natural to be cast in the stone-age saga, 'The Klintstones,' which The Nation ran episodically."
The various permutations of the protagonists' names is one of Grossman's many trademarks. "The cowardly strategy of not calling people by their right names has been employed since the first fool told a funny story about a bear named Hairy, to avoid getting his head cut off by King Harry," he said. "And it might possibly be funnier than drearily calling a spade a spade.The art of caricature enchants me for its similar ability to combine truth and falsehood in a strangely appealing way."
Enter the O-Man. In 2008, Grossman began working on a comic strip that would tell the election story to the readers of the New York Observer. "Surely, Superman is the ancestor of all modern superheroes, and is himself a reincarnation of the Greek gods with their muscular physiques and secret identities," Grossman said. "In the early '60s I did a few comic strips for [the original] Monocle's Outsiders Newsletter featuring a black superhero named Captain Melanin, whose secret superpower was the Brotherhood Beam. It was the civil rights era. Suddenly in early 2007 there was Barack Obama, whose extraordinary poise and charisma seemed to be inspiring messianic hopes in a portion of the population. So it wasn't hard to imagine for him a secret identity with the ability to fly and to lead stranded whales to safety by walking on water."
Unfortunately, as Grossman said it was explained to him, the new publisher of the Observer happened to "be absent that day at Harvard when they taught the class on satire." He didn't get O-man! So, O-Man then moved to The Nation, where he has since appeared sporadically, while also doing guest appearances in the Boston Globe and on the web at Truthdig.com, and his own web site (where an original O-Man song by John Simon is also featured).
The great thing about the 2012 version of O-Man is that in the alternate universe where he resides it is not clear that there even is an election going on. All we know is that there are two competitors, O-Man and the square character named Milt Rhomboid who somehow has come to oppose him. "I'm rooting for O-Man," the so-called non-partisan Grossman said, "but if the unthinkable happens, you will be able to count on O-Man, like nobody else, to shake up that old dustbin of history."