Michael Jackson's 'Bad' Just Wasn't That Good
The album, which gets a 25th-anniversary re-release this week, made for a disappointing end to a tour-de-force '80s trilogy
The album, which gets a 25th-anniversary re-release this week, is best heard not as the conclusion of a tour-de-force '80s trilogy but rather as a transitional release.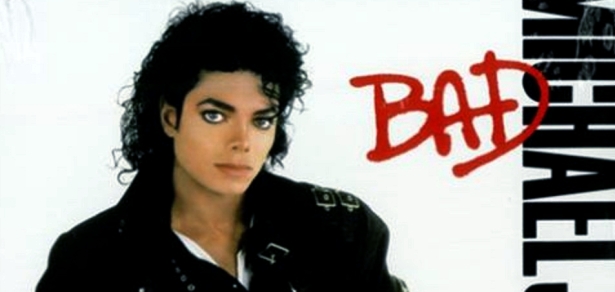 Epic
If we compare the three albums Quincy Jones produced for Michael Jackson to the standard Hollywood movie trilogy, how should we view Jackson's 1987 LP, Bad—reissued this week with a deluxe 25th anniversary commemorative packaging? With it following the spectacular, record-breaking success of Thriller, did Bad rise to occasion like Return of the Jedi and Revenge of the Sith, the two grand finales in George Lucas's respective Star Wars trilogy and prequel? Or did Jackson's final collaboration with Jones fail to meet high expectations, like the Wachowskis' The Matrix Revolutions?
While common wisdom in 1987 said that outshining Thriller would be nearly impossible, Bad, to a lot of ears, lived up to the task. In Rolling Stone, Davitt Sigerson wrote that, "Comparisons with Thriller are unimportant, except this one: even without a milestone recording like 'Billie Jean,' Bad is a better record." And USA Today's Edna Gundersen argued that Bad was Jackson's "most polished effort to date." But after having the luxury of 25 years to re-evaluate the impact and enduring power of Bad in relation to his previous two LPs, I'd argue the album is more Wachowskis than Lucas. For all of Jackson's bionic upgrades, Bad was bigger and bolder, but not better.
That's not to say you can dismiss Bad as a flop. It produce five consecutive No.1 singles, debuted at the top of the Billboard charts and held that position for six weeks, and became the fifth-most-selling album in history. The album showed Jackson's growing confidence as a songwriter and as a co-producer; he wrote nine of the 11 songs on the album by himself. And he proactively looked for ways to push his sound to the then-cutting edge of mainstream pop and R&B mainly through the use of the synclavier, other synthesizers, and drum programming, resulting in a sleeker, sometimes sinister soundscapes that were far more aggressive-sounding than the analog grooves on Thriller and Off the Wall.
Jackson also delivered some of the best music videos in history with Bad, specifically the Martin Scorsese-directed long-form cinematic piece for the title track, the noir-ish "Smooth Criminal" directed by Colin Chilvers, and the self-aware, middle-finger fantasia "Leave Me Alone," directed by Jim Blashfield and Paul Diener.
But for all of Bad's explosive power, it inevitably disappointed because it didn't equal or surpassed the magic of Thriller. Jackson fueled much of that letdown himself, though. Unlike his major rival, Prince, who followed up his career-defining 1984 LP, Purple Rain, by taking a hard left with the soul-psychedelic romp on Around the World in a Day, Jackson in interviews more often expressed Olympian commercial goals of breaking the sales records of his previous album than he did of pursuing new musical territory. And very much like how many filmmakers of blockbusters beef up defining fight scenes and plotlines, Jackson conspicuously restaged and amplified Thriller's signature moments with perfectionist's precision, making Bad sound sterile in too many places.
Similarities between the strategies for Bad and Thriller were glaring from the start. Both albums were preceded by anodyne ballad duets as the first singles. So instead of Paul McCartney on Thriller's "The Girl Is Mine," Jackson crooned alongside Siedah Garrett on "I Just Can't Stop Loving You," a listless pop confection that Jackson had originally intended to sing with either Whitney Houston or Barbara Streisand. While the single did indeed reach No. 1 on the charts, it never shared the heavy rotation of some of Jackson's other hits.
The parallels continued with the second single "Bad." The splendidly filmed, acted, and danced video picked up some of the sentiments from Thriller's "Beat It" as Jackson reprised his role of a dancing, urban warrior in a West Side Story framework. As for Eddie Van Halen's snarling rock-guitar solo on "Beat It," that spectacle was transferred to the spiteful rocker "Dirty Diana," this time with Steve Stevens grinding the forceful solo. Also on "Dirty Diana," Jackson revisited the theme of conniving women, done much better on the superior "Billie Jean" and on the Jackson's "The Place Hotel" (originally titled, "Heartbreak Hotel"). Had Bad come out only a year or two after Thriller, the obvious redundancies probably could have been chalked up as an artist building upon proven strengths. But five years and eight Grammy awards later, those songs sound calculated and corporate-minded.
MORE ON MICHAEL JACKSON
Bad also has stretches of dangerously forgettable filler, despite the high-end production. Does anymore remember his duet with Stevie Wonder on "Just Good Friends?" Better yet, was there any real reason why the song needed such a high-priced guest appearance? Other glossy padding included the turbo-charged "Speed Demon," the breezy "Liberian Girl," and the taut "Another Part of Me." Except for "Just Good Friends," all of these songs were released as singles. They hit the charts but are now hardly played. Perhaps the best indication of how inferior these songs were to say Thriller's third-string singles like "Human Nature" and "PYT" is the video for "Liberian Girl," which arrived overloaded with celebrity cameo appearances from the likes of John Travolta, Jasmine Guy, Paula Abdul, Whoopi Goldberg, and many others. Watching it 25 years later, the video recalls Brett Ratner's mishaps made on X-Men III: The Last Stand in which the filmmakers overstuffed the movie with too many mutants and too little solid material.
Bad reached its highest marks with the anthemic "Man in the Mirror" (arguably the album's emotional centerpiece), the instantly catchy "The Way You Make Me Feel" and the suspenseful "Smooth Criminal." Much of the success of the songs comes from Jackson sounding less concerned about nailing a hit that would outdo his previous works than he is with the sheer of singing great tunes. As for the videos, there's no disputing the ingenuity of Vincent Paterson and Jeffrey Daniel's choreography for the video of "Smooth Criminal" or the harrowing, if mysterious, storyline.
But whereas Bad falters as a successor to Thriller—the Herculean task of that is duly noted—the album makes for a fascinating transitional record to Jackson's 1991 album, Dangerous, particularly in its sonic design. Producing the album himself with Bill Bottrell, Jackson found a powerful ally on Dangerous in Teddy Riley, whose streamlined, digitized "New Jack Swing" rhythms dominated R&B in the early-'90s. The hot-ice beats on songs like "Bad," "Speed Demon," and "Smooth Criminal" hinted at Jackson's exploration into New Jack Swing and hip-hop.
As for the 25th deluxe package, it's not the extra disc of previously unreleased material recorded during the making of Bad that makes it must-have. It's the DVD of his 1988 concert at Wimbley. A year prior, Jackson embarked on his first solo tour. His showmanship and dancing were top-notch as was the stage production. Yet as dazzling as Jackson's live performance was, there were still some ho-hum moments. Most of them, of course, came when he sang material from Bad.