How Steve Sabol Helped Teach America to Watch Football
The legacy of the NFL Films president, who died today at age 69
The legacy of the NFL Films president, who died today at age 69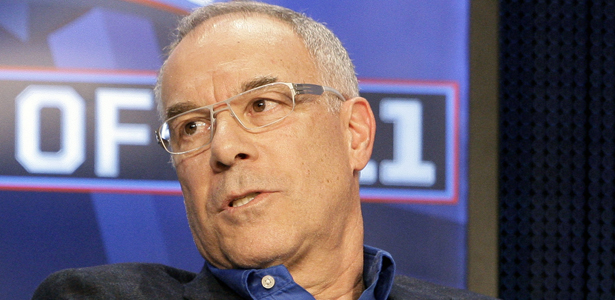 AP Images
Steve Sabol, the president of NFL Films, died today at 69, after a long struggle with an inoperable brain tumor. In the upcoming October issue of The Atlantic, writer Rich Cohen profiles Sabol, and his father, Ed, who founded NFL Films (then called Blair Productions) in 1962. Steve was there from the beginning, driving across the countryside to personally screen early, seminal films such as 1968's They Call It Pro Football for Rotarians and Boy Scouts alike. Over the years, he presided over the company's growth into a sport juggernaut that has produced some 10,000 features, supplies hundreds of hours of footage a year to the networks, and has won 107 Emmy awards—including a special lifetime achievement Emmy for Ed and Steve themselves. But the true significance of the Sabols, and NFL Films, went beyond far beyond rating or awards. Writes Cohen:
Slow motion, color, extreme close-up, ubiquitous micro-phones and cameras, omniscient voice-over: the Sabols pioneered the style of modern sports coverage. There are no secrets in the Sabols' NFL. Everything is revealed. As much as George Halas and Sid Luckman, or Tom Landry and Roger Staubach, it was Ed and Steve who created the modern game, a contest more in tune with the speed and violence of modern America than any other sport. Baseball? Please! Nine angels dancing on the head of a pin. Football is blood and guts, the ticking clock, sudden death, the sack, the blitz, the bomb--symbols of a nation locked in endless war. Almost every detail of the game has come to the attention of its fans through the sensibilities of the Sabols. Asked to describe his goals, Steve paraphrased Matisse: "The importance of an artist is bringing new signs into a language."...

Ed and Steve Sabol taught the average fan how to consume football: where to look, what to notice, when to exult. They revealed the game inside the game, the story beneath the story. In doing so, they helped football achieve its paramount position in American culture. Football is among the last entertainments that still draw a mass audience. Everyone is watching, or in the vicinity of someone who is.
Read "They Taught America to Watch Football" by Rich Cohen in its entirety.