How Instant Replays Changed Professional Tennis
Hawk Eye technology—and the challenge system that comes with it—has transformed the world's politest game.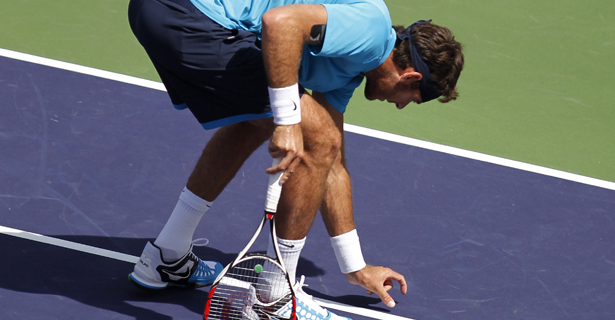 Reuters
It was nearing 1 a.m. New York time on Sept. 7, 2001, when the first tremors of a substantial tennis meltdown shook the U.S. Open. Fiery American newcomer Andy Roddick and his 20-year-old Aussie rival Lleyton Hewitt were in the fifth set of their quarterfinal matchup, and the pair had been trading groundstroke after punishing, sweaty groundstroke for more than three and a half hours. But suddenly, when Roddick was serving at 4-5, fate and optical illusion teamed up to do a mean, baffling thing to the teenage home-country hero.
A powerful cross-court forehand by Roddick just kissed the alley line furthest from the chair umpire, a neat trick that would move Roddick one point closer to the semifinal. Or, at least, that's what the linesman (and Andy Roddick) thought. Chair umpire Jorge Dias, from atop his perch on the other side of the court, saw something different. He overruled the line judge's call and awarded the point to Hewitt, sending Roddick into a tailspin of white-hot rage.
Afterward, TV replays would show that the ball might have actually landed in. But five points later, a still-bewildered Roddick congratulated Hewitt on his victory and then trudged bitterly out of Arthur Ashe stadium.
Fast-forward 11 years to the last match of Roddick's career—a fourth-round U.S. Open match against Juan Martin del Potro, just this Wednesday night. Early in the fourth set,Del Potro unleashed a monstrous first serve at 40-15. A line judge shouted that the serve was wide. Chair umpire Carlos Bernardes overruled, calling the serve an ace. Roddick disagreed.
But instead of scoffing, or scowling, or hurling a racket, the American simply raised his right hand. "Mr. Roddick is challenging the call," said the loudspeaker. Both panting players turned toward the stadium's JumboTron to watch a neon yellow orb travel across the screen, finishing its journey just wide of a thick white stripe. The word "OUT" appeared. Roddick was right: The serve had been long.
Then both players jogged back to the baseline. Del Potro tossed up a second serve, and play went on.
MORE ON TENNIS
Roddick, to be sure, was an older and a wiser man when he left tennis than when he arrived (though he remained a magnificently hot-tempered one throughout his career). But it's not just Roddick who's matured since that sour night in 2001. The game has evolved, too.
Hawk-Eye instant-review technology and its accompanying challenge system made their Grand Slam debut at the 2006 U.S. Open. Since then, the provision of three challenge attempts per set has largely been appreciated as a nifty little rule tweakage that boosts convenience and helps avert would-be tantrums like Andy Roddick's. But if we look a little closer, the truth is that challenges have subtly transformed the game of tennis as we know it.
In a post-Hawk-Eye world, elite-level tennis is injected with the purest form of justice: the kind that's unblemished by human error. Six years into the regulated, widespread use of Hawk-Eye, three in every 10 challenged calls in professional tennis are overturned on the spot. Three times out of 10, in other words, machinery baldly exposes the unintentional unfairness of tennis' long-standing tradition of human umpiring. Hawk-Eye's high-precision technology has restructured the power dynamic of a sport once governed only by physics and the honor system—for better or for worse.
HAWK-EYE TECHNOLOGY: A BRIEF HISTORY
Hawk-Eye is the patented name for a complex instant-replay system that detects the trajectory of a tennis ball as it bounces off the court. Developed in Romsey, England, in the early 2000s, the system tracks a tennis ball's path by compiling images provided by 10 high-speed video cameras mounted strategically at different viewpoints around the court, and then compiles an image to present to players, umpires, spectators, and TV audiences just moments later—usually via JumboTron.
Hawk-Eye's instant review was first used in tennis in 2002 as part of the BBC's Davis Cup coverage, and won an Emmy the next year for Outstanding Innovative Technical Achievement. The on-court replay system got its real big break, though, in 2004. A series of controversial line judgments were proven to have worked against Serena Williams in her three-set loss to Jennifer Capriati in the quarterfinals of the U.S. Open, and a clamor arose for better, more reliable line officiating.
Hawk-Eye then began cropping up at professional-level tennis events all over the globe for instant-review purposes. Early on, tournaments were allowed to decide for themselves how many challenges players were allowed. Some tournaments gave players an unlimited number of challenges, others permitted two or three per set, and others devised systems with allotments dependent on whether the challenges had been successful.
When the news broke in the spring of 2006 that the U.S. Open would be adopting the player-challenge system that fall, players' reactions were mostly positive. James Blake, the promising onetime Harvard man positioned at No. 21 in the ATP rankings, told USA Today: "The ball's moving so fast these days that sometimes it's impossible for anyone to see, even a trained official." Roddick, Blake's compatriot, had set a new record for the fastest serve in tennis just two years before—at the dizzying, blink-and-you'll-miss-it speed of 155 mph. "With instant replay," Blake said, "we can take advantage of technology and eliminate human error."
Larry Scott, the chairman of the Women's Tennis Association at the time, also endorsed the integration of the instant review technology. "With all that's on the line in tennis these days, we felt we had to pursue every means possible to utilize technology to make sure that calls were accurate without losing the human element of officials on the court," he told ESPN. "While tennis is at a very high level of officiating, there's no denying that through this technology players and fans can know that the right call was given."
Not everybody loved the idea, of course. Roger Federer believed the money being spent on correcting "just a few points"—roughly $50,000 per court at the time—could have been better used elsewhere. "I am against the whole idea of replays," the Swiss phenom, then 24, declared. True to his word, Federer would maintain a complicated, begrudging relationship with line-officiating technology for years afterward.
But whether Federer and his fellow agnostics liked it or not, Hawk-Eye and its challenge system were here to stay. In 2008, the four governing bodies of professional tennis (the International Tennis Federation, the WTA, the Association of Tennis Professionals, and the Grand Slam Committee) bestowed their blessing on a unified set of challenge rules to be used across tournaments at the pro level: Players would be allowed three unsuccessful challenges per set, with one extra allotted if the set reached a tie-break.
Today, a hefty portion of significant matches take place on courts equipped with Hawk-Eye's high-precision line judging. Hawk-Eye is used on the show courts at three of the four Grand Slam tournaments—the lone exception being the French Open, where the dusty red clay surface itself shows the exact location of the ball's impact. Thus, nearly every high-profile early-round match, and virtually all matches after the quarterfinal stage of a major, take place on a court equipped with Hawk-Eye systems. Hawk-Eye graced the courts at the Olympics in 2008 and 2012, and it's also in use at a majority of smaller tennis venues: The Indian Wells Tennis Garden, the California home of the BNP Paribas Open, has Hawk-Eye cameras installed on every one of its eight courts—and has been said to be setting a new standard.
The adoption of an instant-replay system in any sport can be interpreted as a vote of no confidence in the game's once-trusty honor system, or in the officials charged with managing it. So Hawk-Eye, a provision that allows players to challenge line calls—to question the authority, you could say—does feel a little antithetical to some of the core virtues of tennis; lest we forget, once upon a time tennis was known for its altruism, its respectful deference to authority, and its almost comical levels of chivalry.
(Tennis isn't the only sport that's learning to adapt to this new technology. Earlier this year, FIFA—the famously tech-averse world governing body of soccer—announced its intention to use Hawk-Eye goal-line technologies in the 2014 World Cup.)
BOTH MORE POLITE AND LESS
"What a polite game tennis is," the turn-of-the-20th-century British author J.M. Barrie once remarked. "The chief word in it seems to be 'sorry,' and admiration of each other's play crosses the net as frequently as the ball."
Indeed, many of the traditions from the early days of tennis are characterized by humble reverence to the chair umpire, the linesmen, and to the opponent across the net. At the dawn of lawn tennis, for example, if an umpire blew a call, the beneficiary of the wrongly awarded point would sometimes lose the following one on purpose. "This would be greeted by a discreet and genteel ripple of applause from the gallery accompanied by benign smiles of approval," the Telegraph reminisced in 1960. And when the contest ended, the Telegraph explained, "The defeated player leaped gaily over the net and warmly congratulated his opponent, all but kissing him on both cheeks."
In theory, then, the inclusion of a challenge system in tennis could violate the very principles of gallantry that the game was founded on. And perhaps it does. But while tennis does still hold dearly to some of its antique courtesy rituals (see: the never-sincere hand-wave of apology after a lucky netted shot hops in), anyone who witnessed Martina Hingis' blaze-of-glory breakdown at the 1999 French Open or any of Jimmy Connors' tirades of epic proportions can attest that by the time Hawk-Eye came along, the days of apologetic point concessions and bashful deference to the chair umpire were already long over.
And in practice, Hawk-Eye has actually made tennis a far more sportsmanlike game than it was in the past. The players, once under the thumb of the infallible officials, can now both question authorities and definitively prove it when they're wrong—which has curbed some of the on-court fits that became a hallmark of tennis in the Open era. Had the computer-assisted challenge system been around in John McEnroe's time, for example, he may never have uttered the "You cannot be serious!" heard 'round the world (and he's said as much himself).
Dr. Allen Fox, Ph.D., a pro tennis player-turned-sports psychologist and the author of Tennis: Winning the Mental Match, remembers watching Nicolas Kiefer, a talented, volatile German player who peaked at No. 4 in the world rankings in 2000, play a match just after the advent of Hawk-Eye. Kiefer, as Fox puts it, "always felt like he was getting cheated," and in this particular moment, he found himself on the unlucky end of what he thought was a bad call.
"He'd get all emotionally unraveled during his matches. The whole world was conspiring against him, and so forth," Fox says. "So he was starting to go into his histrionics act when he realized he could challenge it."
According to Fox, Kiefer challenged the call, and it turned out the line judge's ruling had been correct. "It sort of took all the wind out of his sails," Fox recalls. "I could almost see the wheels turning, and for a minute he didn't really know what to do."
It's players like Kiefer, Fox says, who most benefit from challenge-aided tennis—those players who take the line judges' calls personally, lose their composure, make excuses, or dwell on unfavorable points after they happen, or whose level of play drops when they're flustered. "It evens them out right away," Fox says. "The strong-headed [players], they straighten themselves out anyway." In other words, Hawk-Eye can help even the playing field by lessening the overemotional reactions that sometimes causes less resilient players' concentration to capsize.
Even the most resilient players, though, benefit from being able to challenge. Fox, a onetime NCAA tennis champion and Wimbledon quarterfinalist, says that no matter who you are, "It takes an effort of will to put [a perceived bad call] out of your mind. When you've actually won a point, but then through somebody's error you lose it, that's really hard to accept."
So Hawk-Eye helps everybody, according to Fox. "But," he adds, "it can keep the bad-headed guy in there longer."
That's not to say, though, that Hawk-Eye has fully eliminated tennis' quarrel-prone nature. Tantrums in the instant-review era are alive and well for plenty of other reasons—and player challenges have been known to create controversies of their own. There are still disputes over how quickly a challenge must be requested after a point has ended, for instance, and at the 2007 Wimbledon singles final, the normally imperturbable Roger Federer was so ruffled by some seemingly unbelievable Hawk-Eye rulings that he swore on live television and then insisted that the shot spotter be turned off for the rest of the match. And though Hawk-Eye is unquestionably more precise than the naked human eye, it, like all machines, has imperfections. It's advertised as having a 3.6-millimeter average margin of error, and, as the Czech power hitter Tomáš Berdych was dismayed to learn in 2009, its performance can be affected by shadows on the court.
KNOWLEDGE, POWER, AND ORDER ON THE COURT
The challenge system has also enacted a quiet revolution in tennis: It can weaken the officials' authority by making their blunders suddenly visible to everyone.
"In the old days, the chair umpire could overrule a linesman's call, and nobody would know if he [or she] wasn't correct in overruling," Fox explains. But today, with the advent of JumboTron-displayed instant playbacks, the fact of whether the ball in question actually landed in or out becomes public (very public) knowledge.
"That gives the players some control," Fox says—and, perhaps more importantly, it puts the pressure squarely on the officials to get their calls right the first time. There's a whiff of public shaming, Fox explains, when a linesman gets a call wrong—like Carlos Bernardes did on Wednesday night.
"When the chair umpire overrules a linesman, the player challenges, and then the chair umpire is wrong—that's disastrous," Fox says. "Because not only is the umpire claiming that [he or she] saw it, but that [he or she] saw it clearly. Clearly enough to overrule a linesman." Thus, the knowledge that a player has an arsenal of challenges at his or her disposal "probably makes the umpire more hesitant to overrule a linesman," Fox says. "Because if the umpire is wrong, [he or she] can be exposed."
After the 2007 Australian Open, the second Grand Slam to incorporate Hawk-Eye technology, ESPN reported that over the course of the fortnight, "There did appear to be fewer overrules by chair umpires of line judges' calls on Rod Laver Arena."
Federer, ever the staunch contrarian, addressed that same power shift when he told ESPN he found the entire addition of the Hawk-Eye system to be "nonsense." But Federer's chief complaint was that challenges actually put undue pressure on the players to know whether balls were inside or outside the line. "We would like to be able to rely a little bit on umpires," Federer said. "They tend to now just let us do the work, the tough stuff. They let us get embarrassed, basically." And that's true: The humiliation factor works on players, too. Being wrong in public is hard for everybody, and it's a bummer to have wasted a challenge when only a meager three are allotted. Plus, stadiums full of fans have been known to snicker at players who make challenges on obviously valid calls.
The inclusion of player-requested challenges has also built yet another layer of intrigue to the game of tennis—for spectators, and for players.
Fans were quick to embrace Hawk-Eye-assisted challenges as part of the spectacle, giving challenges their own little act in the larger repertoire of arena customs. Every time a player challenges a call at the U.S. Open, for instance, night-session crowds clap their hands in rhythm as the computer-generated yellow ball travels across the screen, their voices escalating until it plops into its predestined landing spot.
And on the court, challenges have become a handy way to play mind games or kill momentum from across the net. "Players will challenge occasionally just to disrupt the rhythm of the match," Fox explains. "If things are going badly, you slow the whole thing down. Make your opponent wait a little bit." Fox points out, though, that gamesmanship wasn't born when Hawk-Eye arrived. Players have long been known to take strategically timed bathroom breaks, change rackets, request new balls, and even take medical timeouts for the same reason.
HAWK-EYE CHALLENGES AND THE HAWK-EYE-CHALLENGED
There is also some amusing speculation around which players, and which types of players, challenge calls most effectively. Though little extensive research exists on the topic, Serena Williams, Jelena Jankovic, Andy Murray, and—hmm—Roger Federer were all identified in a 2009 Forbes report as some of the most miserable challengers at the previous year's U.S. Open. The same report revealed that the highest successful-challenge rates at the time belonged to James Blake and Caroline Wozniacki.
Some have even wondered if there's a cultural bent to how efficiently players challenge. The Australian, for instance, recently asserted that the British pro players in general are "hopeless at winning challenges." Similarly, a sports-reporter friend of mine remarked to me last summer that somehow, in the matches she'd just covered at the 2011 Davis Cup tie between the U.S. and Spain, the Spanish players seemed almost preternaturally good at making challenges. "They never seemed to lose one," she told me.
She also noticed on that trip to Austin that the entire Spanish team was almost always on the bench during matches, cheering on their teammates. (When I revisited that with her recently, she recalled that she couldn't help but notice that the U.S. players' support on the sidelines usually consisted of just their team captain, Jim Courier—and that their collective challenge rate was dismal by comparison.)
Those two phenomena, Fox says, may be linked.
The "best" challengers are those who only challenge calls they know for certain are incorrect. Some players, he explains, make challenges in hopes that an unfavorable call was wrong—and that approach would predictably lead to a lower success rate in challenges overall. So his speculation is that the Spaniards may be better challengers simply because they trust that the line judges' calls are correct.
Which could have something to do with their supportive sportsmanship off the court, according to Fox. "The Spanish players are known to be friends with each other, and there's a kindred spirit there," he says. "They've got a little more camaraderie than a lot of countries. They stick together. They build each other up." Fox hypothesizes that because the Spanish players grew up playing on the same circuits, and clearly still enjoy such a healthy solidarity between players, they've likely grown accustomed to both giving and getting the benefit of the doubt. "The Spaniards," he says, "are pretty darn good sports."
JUSTICE IS SERVED
In its own peculiar little way, the challenge provision has both bolstered the politeness of tennis and undermined it. Hawk-Eye and the challenge system have managed to inject modernity and autonomy into a sport deeply rooted in old-fashioned chivalry.
Some would call that a loss; others, a gain. That call, happily, remains open to interpretation.